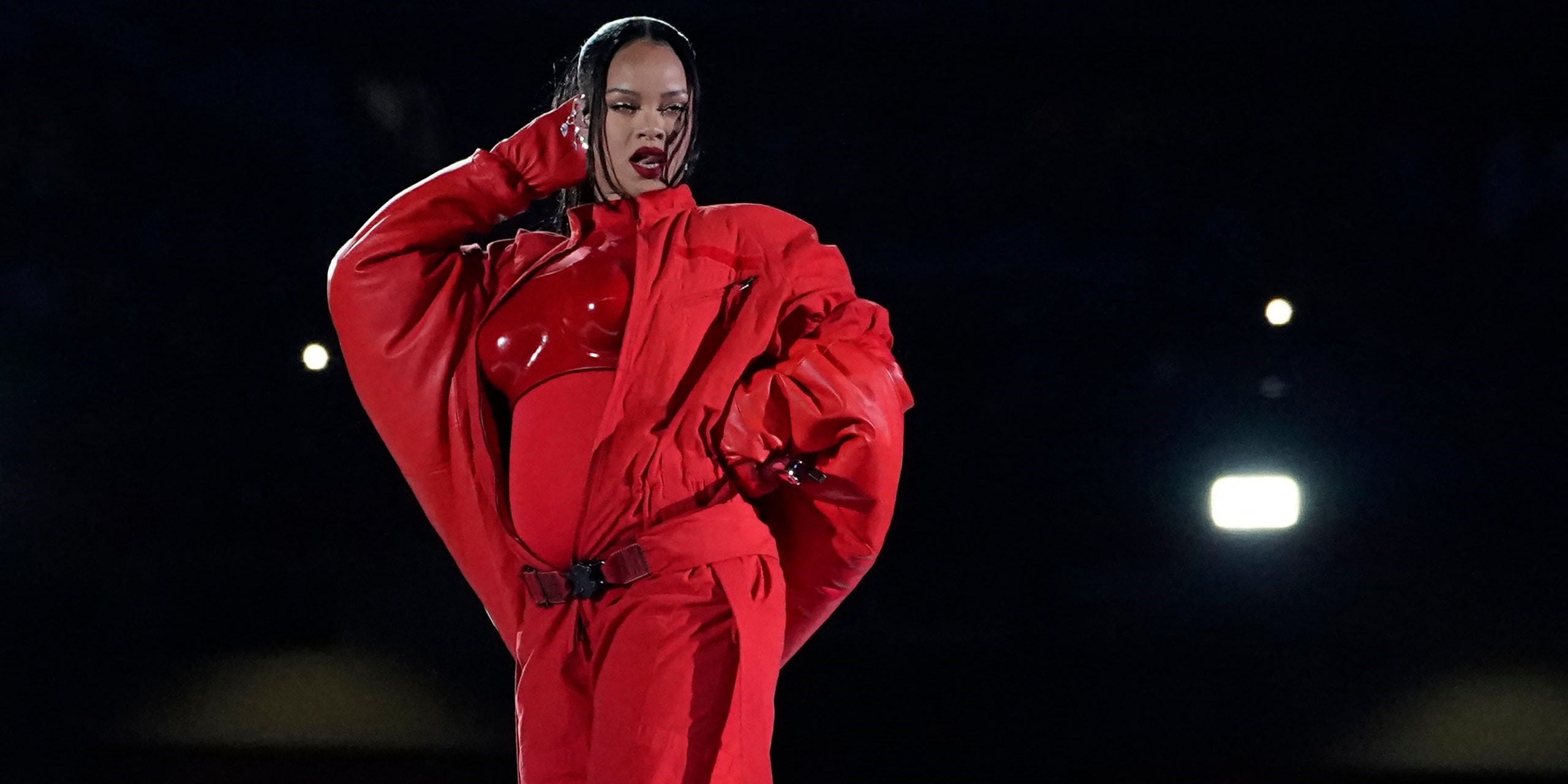 Rihanna Super Bowl 2023 appearance is the talk of the showbiz
One of her reps confirmed that she is expecting her second child
She performed for 13 minutes and it was the most challenging aspect of her performance
Rihanna Super Bowl 2023 appearance is the talk of showbiz across the US following her Sunday performance on Halftime Show.
The 'Lift me Up' hitmaker hasn't been on stage in the last seven years and this was the first time she was in seven years. What was special is that she graced the stage not as an artist but as a mother of one and heavily expectant with her second baby with rapper A$ap Rocky.
Eight celebrities; Lebron James, Bradley Cooper, Kevin Hart, Quest Love, Tech N9ne, Paul McCartney, Tracy Morgan and Jason Derulo attended the event at Arizona's State Farm Stadium.
IS RIHANNA PERFORMING AT THE SUPER BOWL 2023?
Rihanna Super Bowl 2023 was a huge success. She discussed her extensive pre-Super Bowl preparations with Apple Music, the Halftime Show sponsor in 2023, in a press conference. She said that she created 39 variants of the playlist.
Rihanna also revealed during the press conference that she initially had some reservations about participating in the show mainly because it would air three months after the birth of her firstborn son. However, being a mother has taught her a new power to conquer the world and see possibilities in impossibilities.
Her decision to perform at Super Bowl was for her son to see her do it at a time when many would expect her to turn the offer down. The concert culminated with a swarm of dancers, a magnificent fireworks display, and levitating stages that went up and down as Rihanna sang from the risers and the main platform. Even though it is seven years since she released a new album, her dazzling performance proved that the bad girl is still capable of putting on a show.
In fact, she said that she is open to experimenting, learning, and producing new and unique music. Her passion now as a mum shifts to having fun with her new music and she hopes to achieve this by being open-minded and trying different things regarding music production.
WHAT SONGS WILL RIHANNA SING AT THE SUPER BOWL 2023?
The famous Rude Boy marked the start of Rihanna Super Bowl 2023 performance. She also performed her classic song Bitch Better Have My Money which charged the crowd and the A-list celebrities in attendance. She then energised the crowd with her dance hits Where Have You Been and Only Girl. When the crowd thought they had heard enough, she levelled the musical speed with We Found Love.
While most Halftime headliners now include special guests in their performances, Rihanna defied convention and performed alone. She relied on the superb abilities of her numerous backup dancers as she tackled some of her mega-hit songs. The Barbados-born singer immaculately delivered hits such as Umbrella, Work, Run This Town, Wild Thoughts and All of The Lights. Although the crowd deeply enjoyed her songs, it was Diamonds that stole her performance as she delivered a masterpiece of it. It felt as though she never left the game for seven years.
Yet, with only 13 minutes slotted for her, she managed to cram 17 years of her work and entertained a multitude of fans present. She says this was her biggest challenge for the event but she got it done, nevertheless.
DID RIHANNA GET PAID FOR SUPER BOWL?
According to Brian McCarthy, the NFL's vice president of communications, the league does not pay halftime performers. It never pays an appearance fee, however, however, guest artists get paid on a union scale. Ideally, she didn't take home a paycheck for the 13-minute Rihanna Super Bowl 2023 performance.
But, she still gained indirectly. When performing, Rihanna added a particular touch. In the middle of her show, she took the time to powder her nose with a Fenty Beauty compact which is a new high for Fenty products placement.
DID RIHANNA ANNOUNCE HER PREGNANCY AT SUPER BOWL 2023?
Following her explosive performance on Sunday, a spokesperson for the singer announced to the media that she is expecting another child. The singer was asked if there would be any surprises during her concert at Arizona's State Farm Stadium in an interview last week.
Her reply left a lot of guessing points but no one thought she was referring to her unborn baby. She said:
"I'm thinking about bringing someone…we'll see." Fans naturally concluded she was referring to one of the several musicians she worked with before such as Jay-Z or Drake among others. Astonishingly, the Rihanna Super Bowl 2023 parable was about her pregnancy that captured the attention of many when performing.
A slight baby belly protrusion in her red Loewe-customed jumpsuit gave her away before one of her reps confirmed the news.