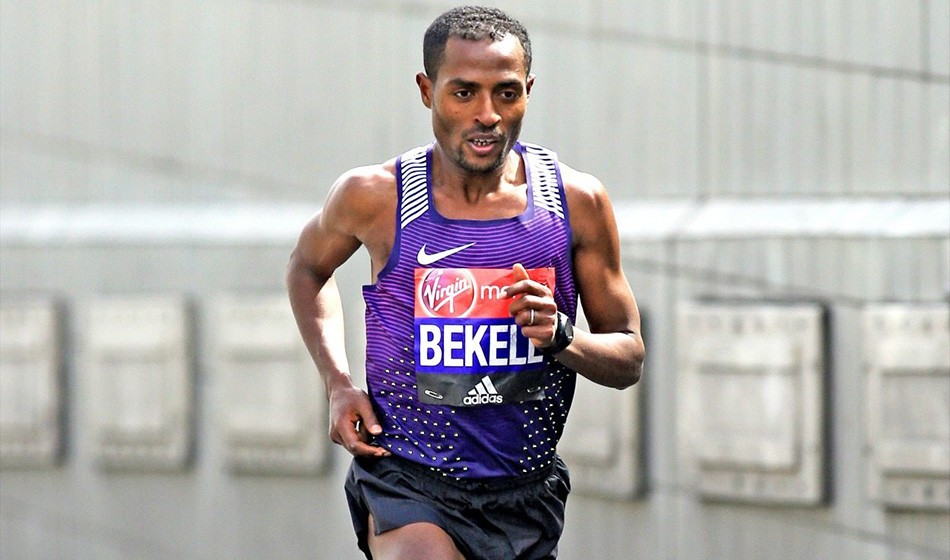 In this post, we will discuss about Kenenisa Bekele Net worth, his Family, and Lifestyle. also how Kenenisa Bekele the Ethiopian long distance runner spends his fortune.
Kenenisa Bekele: Biography
Kenenisa Bekele is an Ethiopian long distance runner who was born on 13
th
June 1982, in Bekoji, Ethiopia, Africa.
His parents are Kuli Megerssa and Bekele Bayicha and has a brother dubbed Tariku Bekele.
Kenenisa was the world record holder in both 5000-metre and 10000-metre from the year 2004 (5,000m) and 2005 (10,000m) until 2020.
The talent marathoner bagged a gold medal in both the 5000m and 10000m events at the 2008 Summer Olympics.
Kenenisa also made history in the 2004 Olympics when he won the gold medal in the 10,000m and a silver medal in the 5000m.
The medalist is the most successful runner in the history of the IAAF World Cross Country Championships, with six long (12 km) courses and five short (4 km) course titles.
In his list of achievements is also the 10,000 m title at the World Championships in Athletics in 2003, 2005, 2007, and 2009, which matched Haile Gebrselassie's four in a row win streak.
The marathon champ was unbeaten over 10,000 m from 2003 until 2011 when he, unfortunately, failed to finish at the World Championships final.
"At the 2009 World Championships in Athletics, he became the first man to win both 5000 m and 10,000 m title at the same championships. Over 5000 m he has also won an Olympic silver (2004), World Championship bronze (2003), two African Championship titles and one All-Africa Games gold medal. He also won the 3000 meters title at the 2006 World Indoor Championships."
Kenenisa broke yet another record on 6th April 2014 when he produced the sixth fastest marathon debut ever on a record-eligible course with his victory at the Paris Marathon. The course record time was 2:05:04.
He also won the Berlin Marathon on 25th September 2016 in a time of 2:03:03 which was a new personal best and the third-fastest marathon.
On 29th September 2019, he again won the Berlin Marathon in a time of 2:01:41, which was two seconds slower than the world record of 2:01:39 set by Eliud Kipchoge in the 2018 Berlin Marathon.
"Kenenisa made a disappointing start to 2010, finishing fourth in the Edinburgh Cross Country in a race he was favored to win – a trio of Kenyan athletes ran him out of the contest over the final lap. He spent the entirety of the indoor and outdoor seasons out with a ruptured calf muscle."
Kenenisa Bekele Net worth
Being one of the gold medalists, Bekele's net worth is expected to be high enough to match all his achievements.
As per the year 2021, Kenenisa's net worth is approximate $9,045,450 according to Net Worth Room.
This is both athletics money and prize money.
Kenenisa Bekele Salary
According to reports, the least Kenenisa' lowest salary was $350,000 while the highest was $1,000,000 in a year.
Kenenisa Bekele Endorsements
Although not much is documented about his sponsorship, Bekele is endorsed by companies like Nike and NN Group, with which he has signed deals.
Bekele has also used Nike products as part of the marketing. He has used Vaporfly and Alphafly shoes when running.
Kenenisa Bekele Business Ventures
Apart from the marathon, Kenenisa has also ventured into business. He is said to have a very rich business portfolio.
He has invested by building Kenenisa Hotel in central Addis Ababa, close to the airport. He also has invested in properties in Bekoji, around 170 miles south of the Ethiopian capital city.
"He has also built a state-of-the-art track and training facility in Sululta, which he hopes will provide the next generation of Ethiopian athletes an ideal training environment."
Kenenisa Bekele Foundation and Charity work
Bekele has participated in Charity runs in Addis Ababa in which the money raised is used for enhancing the local neighborhood.
Kenenisa Bekele Family
On 18th November, Bekele married an Ethiopian film actress called Danawit Gebregziabher. The two live in Addis Ababa with their three kids.
Kenenisa Bekele Assets and Lifestyle
As earlier mentioned, Bekele has a hotel and properties in Bekoji.
Kenenisa Bekele Social Media Followers
Bekele has 145.6 K followers on Instagram (@kenenisabekele _42) and 32.9 K on Twitter (@KenenisaBekele).