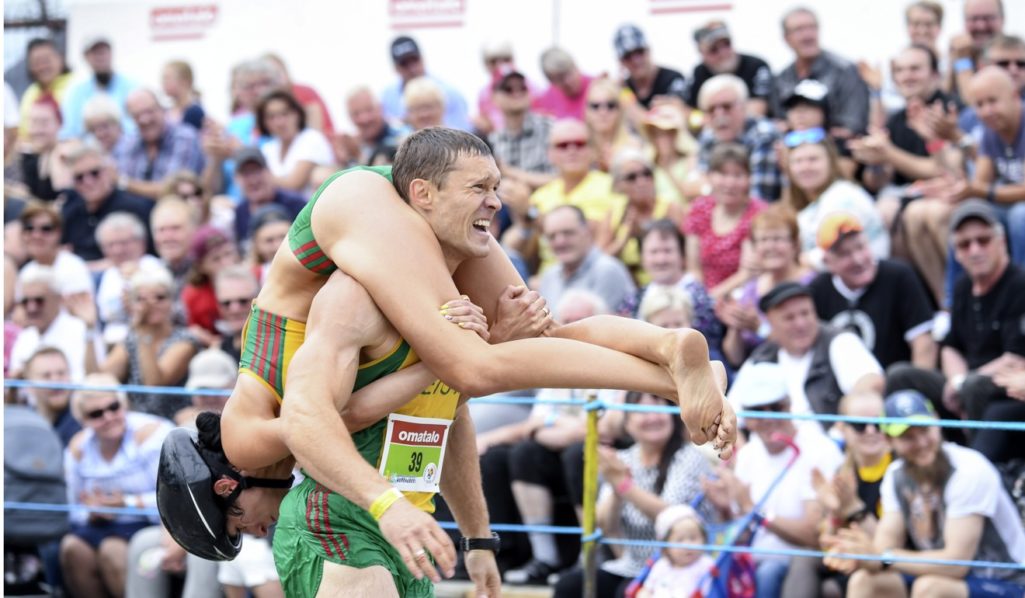 People see sports that are not important to them as weird or unusual. 

And that's why Europeans might refer to basketball and American football as "barbaric", while Americans might view soccer or cricket as weird. 

In our list of weird sports, you'll come across sports that you've never heard about. 
People become obsessed with a sport that is important to them and look down on unusual or weird sports that others enjoy.
Europeans might refer to basketball and American football "as barbaric," while Americans might view soccer or cricket as weird.
All the above mentioned sports are popular worldwide. You've probably heard about them at least once in your life.
However, there are certain sports that many people don't even know exist. These sports can be referred to as unusual or weird by people who come across them for the first time.
Here, we will discuss ten weird sports you probably didn't know existed.
1. Wife Carrying
Wife Carrying is a sport that involves a male competitor racing through two dry obstacles and one water obstacle while carrying a female teammate.
The female must weigh at least 39 kg, or additional weight is added to her.
2. Bog Snorkelling 
Bob snorkelling is one of the weirdest sports you probably have never heard of. It is a sporting event where competitors aim to complete two consecutive lengths of 60 yards (55 m) water-filled trench cut through a beat bog in the shortest time.
The players wear flippers, diving masks and snorkel and compete relying on flipper power alone. Traditional swimming techniques are not allowed.
3. Chess Boxing 
Chest boxing is a sport which combines chess and boxing. The competitors alternate between six rounds of chess and five rounds of boxing. Each round lasts for three minutes.
The governing bodies of chess boxing are the World Chess Boxing Organization (WCBO) and the World Chessboxing Association (WCBA).
The sport, which was inspired by a French comic, was invented by Dutch artist lepe Rubing.
4. Extreme Ironing 
Extreme ironing is thought to have its origin in England in the 1980s or 90s. It is basically a sport where you combine wrinkle-free clothing with an extreme sport like mountain climbing, skydiving or canoeing.
Germany hosted the first Extreme Ironing World Championships in 2002. Competitors have since then ironed clothes on Mount Everest, in the middle of a UK highway and underwater, among others.
5. Ostrich Racing 
Ostrich racing is quite common in many parts of the world. But there is no doubt that it is one of the weirdest sports in the world.
Just like in horse racing, a jockey puts a saddle and reins on an ostrich as he rides it around a track. An ostrich can run up to 43 mph, making it the fastest bird on land.
6. Underwater Hockey 
Underwater hockey requires an incredible amount of skill to play. It is played in a swimming pool, and each player wears a fin, thick gloves to protect their hands and a diving mask and snorkel.
In this sport, the players move the weighted puck with a short, one-handed stick and try to get it into a metal goal tray.
7. Dog Surfing 
There is no way dog sporting would miss our list of weird sports. The sport is just what it sounds like – dogs on boards riding the waves.
Dog surfing began as a competition in 2006.
8. Axe Throwing 
Axe throwing is a sport in which players throw an axe at a target while trying to reach the bulls eye. Each player is allowed five throws in a game with a maximum of 25 points.
On the target, the outside ring is worth one point, while the second ring is worth 2 points. Hitting the bulls eye earns the player five points.
Axe throwing is popular at lumberjack competitions.
9. Kabaddi
The name Kabaddi comes from the Tamil words 'kai pidi', which translates to 'hold hands' in English.
Kabaddi is simply a mix between wrestling and tag while holding your breath. The game consists of two teams taking turns crossing onto the opponent's side and touching as many opposing players as possible.
10. Unicycle Hockey
Unicycle hockey is exactly the way it sounds, hockey on unicycles. The teams have five players who must be on the unicycle at all times during the match.
The equipment used in this sport include a tennis ball and standard ice hockey sticks.