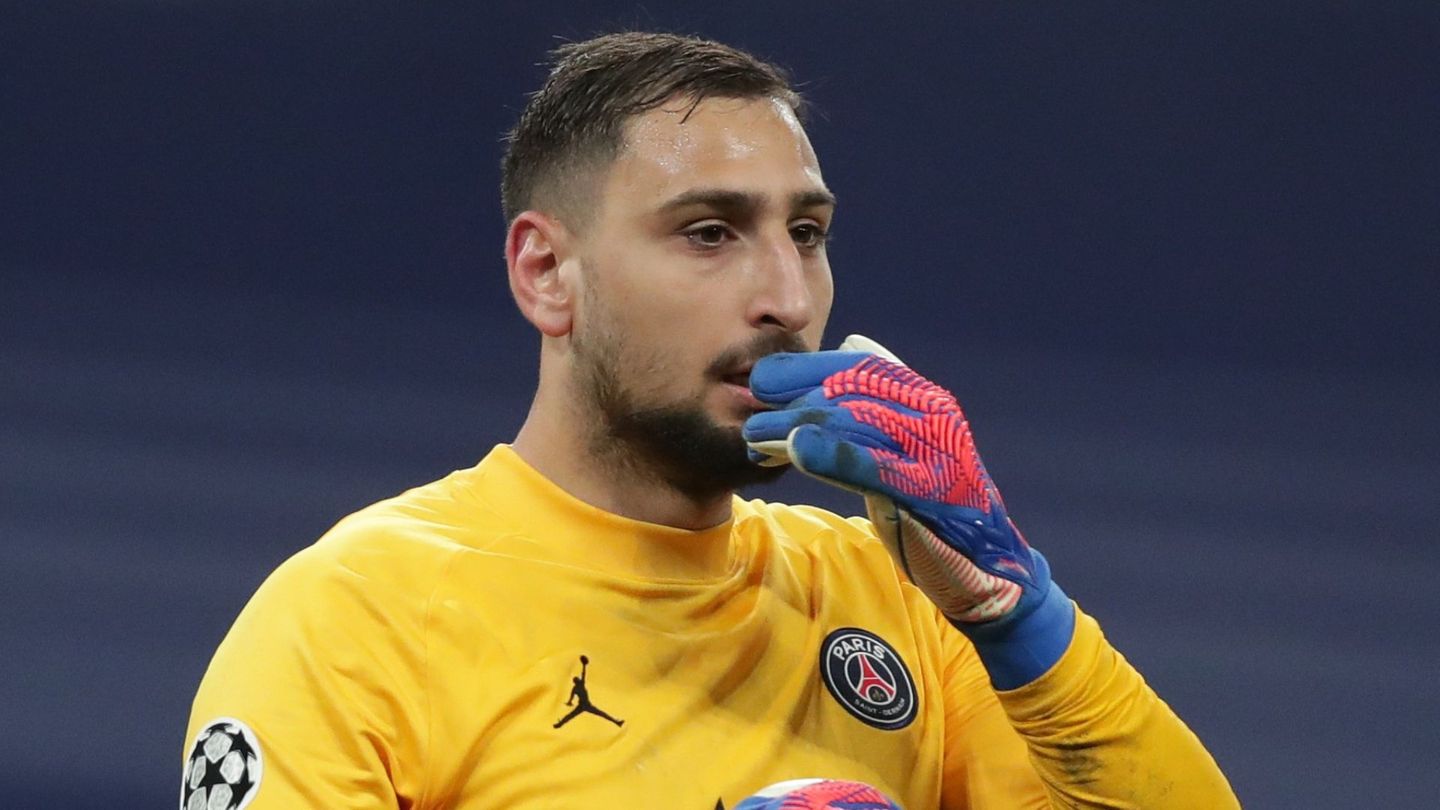 Gianluigi Donnarumma is an Italian-born footballer serving as the goalkeeper for Paris Saint-Germain (PSG)
Impressive reach, agile movement, and calm demeanour are his greatest assets
His fiancée Alessia Elefante keeps a low profile from the public
Gianluigi Donnarumma is an Italian professional footballer serving as the goalkeeper for Italy's national team and Paris Saint-Germain (PSG). He triumphed against Edouard Mendy to win the Lev Yashin award for best goalkeeper in European football in the year 2021. In 2015, when he was only 16 years old, Donnarumma made his professional debut for Milan. Since then, he has enjoyed a meteoric climb to stardom in recent years.
Instead of monitoring the position of the penalty taker's hips, Donnarumma concentrates on following their leg movement. This offers him an advantage in the penalty kick showdown. It enables him to read the direction of the shot better than most goalkeepers.
Gianluigi Donnarumma Biography
| | |
| --- | --- |
| Full Name | Gianluigi Donnarumma |
| Source of wealth | Football |
| Age | 23 |
| Place of Birth | Castellammare_di_Stabia |
| Height | 1.96 m |
| Nationality | Italian |
| Date of birth | February 25 1999 |
| Occupation | Footballer |
| Marital Status | Single |
Early Life
Gianluigi Donnarumma started his professional career with AC Milan in 2015 after coming up through the youth program of the team. At the age of 16 years, he became the second-youngest goalkeeper ever to make his debut in Serie A. He immediately broke into the starting line-up and earned a reputation as arguably the most promising young goalkeeper in the world at the time.
Career
Gianluigi Donnarumma spent his formative years playing football at the ASD Club Napoli academy in his hometown of Castellammare di Stabia. He joined the club in 2003. AC Milan paid €250,000 to acquire his services in 2013 when he was just 14 years old. From 2013 to 2015, he was a member of the Rossoneri junior program, where he consistently competed in the age group that was one level higher than his.
In February 2015, he got was given his first opportunity to compete with the senior squad by manager Filippo Inzaghi. Donnarumma signed his first professional deal with Milan in March 2015, making it effective as of July 1, 2015, and lasting through June 30, 2018. He initially got the role of the third-choice goalkeeper after promotion to the senior team by manager Sinia Mihajlovi at the beginning of the 2015–16 season. Donnarumma made his debut in the Serie A competition in October 2015 against Sassuolo at the San Siro stadium.
His career as a goalkeeper started at the age of 16 years making him the second-youngest goalkeeper in the history of Italian football. At the beginning of 2016, Donnarumma solidly superseded López as the first-choice goalkeeper for Milan, and the club immediately made a revised offer to him for a three-year contract extension. Throughout the 2019–20 season, Donnarumma continued to serve as one of the team's starting goaltenders. He played his 200th game for the club in July 2020 which was a Serie A away victory over Sassuolo.
Then, in May 2021, Paolo Maldini, the director of football for Milan, announced Donnarumma's exit from Milan.  Donnarumma signed a five-year contract with the Ligue 1 club PSG. The new deal came with a salary of €8 million for each season.
Donnarumma made his debut for PSG in a league game against Clermont in September 2021. PSG won the match 4–0. Donnarumma in November 2021 was crowned the winner of the Yashin Trophy. PSG said that he was the goalkeeper who had the best overall performance for the calendar year.
Donnarumma's core goalkeeping talents made headlines in a 2015 ESPN profile. It highlights the goalkeeper's massive yet slender stature, impressive reach, agile movement, and calm demeanour as his greatest assets. Donnarumma received accolades from Matt Jones for his shot-stopping skills and his speed when sprinting off to take on opponents.
Personal Life
Alessia Elefante is the fiancée of Gianluigi Donnarumma. Alessia keeps a low profile in the eyes of the media despite the fact that she lives a lavish lifestyle. She does not appear in public very often and she does not maintain a highly active presence on social media.
FAQs
What is Gianluigi a Donnarumma's net worth?
$33 million.
What is Gianluigi a Donnarumma's salary?
$12 million per year
Is Gianluigi a Donnarumma Indian?
No, he is Italian