Leonardo Bonucci biography and net worth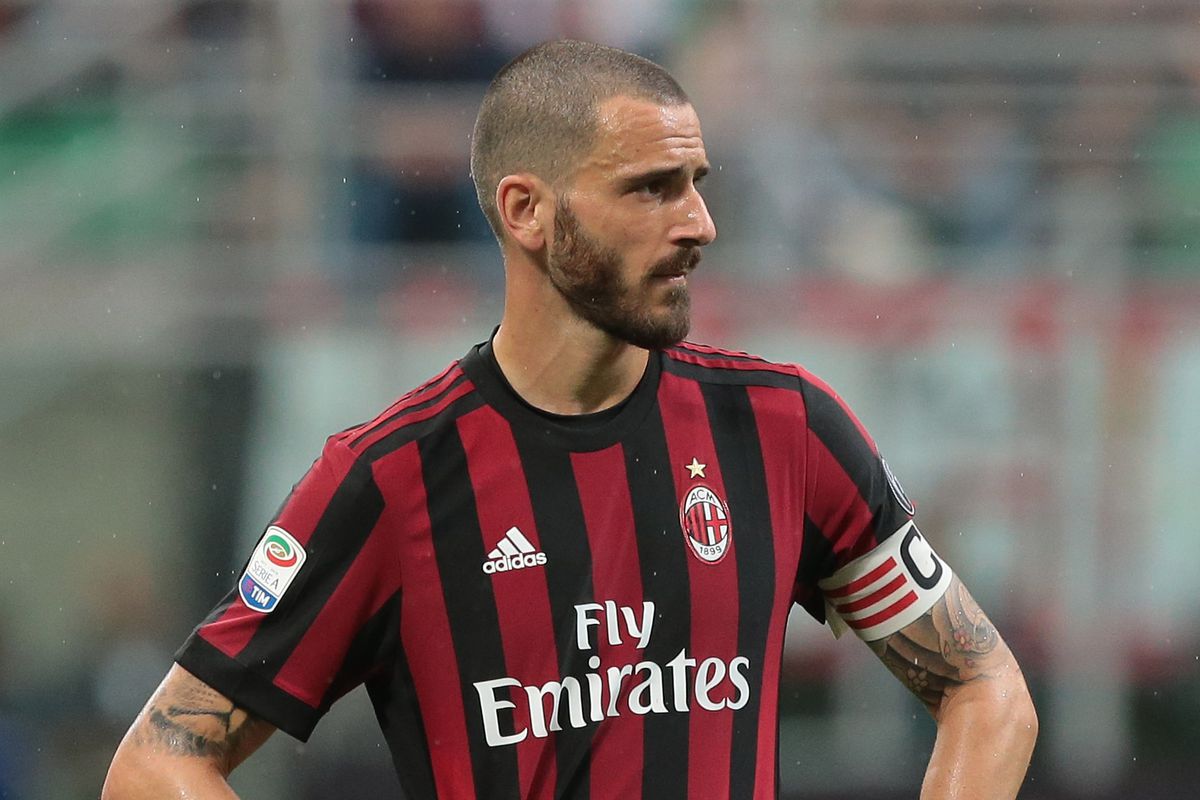 Leonardo Bonucci is a father of three
He married Martina Maccari in 2011 after meeting her in 2008
His eldest son is a fierce supporter of Juventus' rival team, Torino
Leonardo Bonucci Cavaliere is an Italian professional footballer who plays as a centre back and captains both Serie A club Juventus and the Italy national team. He was given the honorary title of Cavaliere by the Order of the Merit of the Italian Republic (OMRI) in 2013. Everyone is aware of his capacity to perform his defensive prowess in a manner that is effective.
Leonardo Bonucci Biography
| | |
| --- | --- |
| Full Name | Leonardo Bonucci |
| Source of wealth | Football |
| Age | 35 |
| Place of Birth | Viterbo |
| Height | 1.90 m |
| Nationality | Italian |
| Date of birth | May 1 1987 |
| Occupation | Footballer |
| Marital Status | Married |
Early Life
Leonardo Bonucci was born on May 1, 1987, in Viterbo, Italy. His parents, Claudio Bonucci, and Dorita Bonucci say he is one of their greatest joys. Bonucci grew up in Pianoscarano. This village is located close to Viterbo. The town is most recognized for its medieval architecture. Bonucci, who was somewhat short and stocky for his age, showed an early interest in football when he was a child. It wasn't long before Leonardo's family ensured that they provided his passion for the sport with enough grounds for expression.
His participation with the Pianoscarano team of his hometown gave him a lot of zeal to pursue it on a professional level.  In those parts, he didn't just have his first taste of competitive football at a very young age. He devoted the better part of his childhood to be a part of the team. Pianoscarano was disbanded as Bonucci prepared to make the transition to club football. But when he was 13 years old, joined Viterbese's under-15 squad. He played for the club until the year 2004.
Career
Bonucci began his professional career with Inter Milan in 2005, but he left for Treviso and Pisa on loan for the following several seasons. This was before making the move to Bari in 2009. His technique, ball-playing ability, and defensive performances alongside fellow Italian centre-back Andrea Ranocchia earned him a move to Juventus the following season.
There, he later became a key member of the club's three-man defensive line, alongside Giorgio Chiellini and Andrea Barzagli. He established himself as one of the best defenders in world football. In addition to winning a number of other championships, he helped lead the team to six consecutive Serie A championships between 2012 and 2017. He also made appearances in the finals of the UEFA Champions League in both 2015 and 2017. His move to AC Milan in 2017 followed with a return to Juventus in 2018. Juventus won two more consecutive league titles then.
Since making his senior debut in 2010, Bonucci earned over 110 caps for Italy's national team. He represented Italy at two FIFA World Cups (2010 and 2014), and three European Championships (2012, 2016, and 2020). He also appeared in one FIFA Confederations Cup (2013) and won the Euro 2020.  Additionally, Leonardo Bonucci has various individual accolades for his achievements. They include naming to the UEFA Europa League Squad of the Season in both the 2013–14 and 2017–18 seasons.
In 2016, he was honoured as the Footballer of the Year in Serie A. He was also selected for the Footballer of the Year position on the UEFA Team of the Year in 2016. In 2017, selected for the FIFA FIFPro World11 and the IFFHS Men's World Team. In addition to these honours, he joined the 2016–17 UEFA Champions League Team of the Season and the 2016–17 ESM Team of the Year.
Personal Life
Leonardo Bonucci married Martina Maccari in 2011. She is a blogger and fashion model and they dated since 2008. The couple has three children; Lorenzo, Matteo, and Matilda. Lorenzo Bonucci, the eldest of Leonardo Bonucci's sons, currently supports Juventus's in-city rivals, Torino. That's despite the fact that his father was a star player for Juventus for many years.
Bonucci mirrors family love in a big way. In October 2012, while he was on vacation in Italy with his wife and infant son, a robber attempted to rob them at gunpoint. He demanded Bonucci's watch but the footballer punched him hard enough and chased him down the street. The thief and his accomplice made their getaway from the location of the crime on a motorcycle.
Besides, Bonucci is a well-known and respected figure in the movement to end bullying. In December of 2017, he had a part in the music video for Benji & Fede's song "Buona Fortuna," talking about bullying.
FAQs
What is Leonardo Bonucci's net worth?
$31 million
What is Leonardo Bonucci's salary?
$12 million
How much does Bonucci earn a week?
$221,000