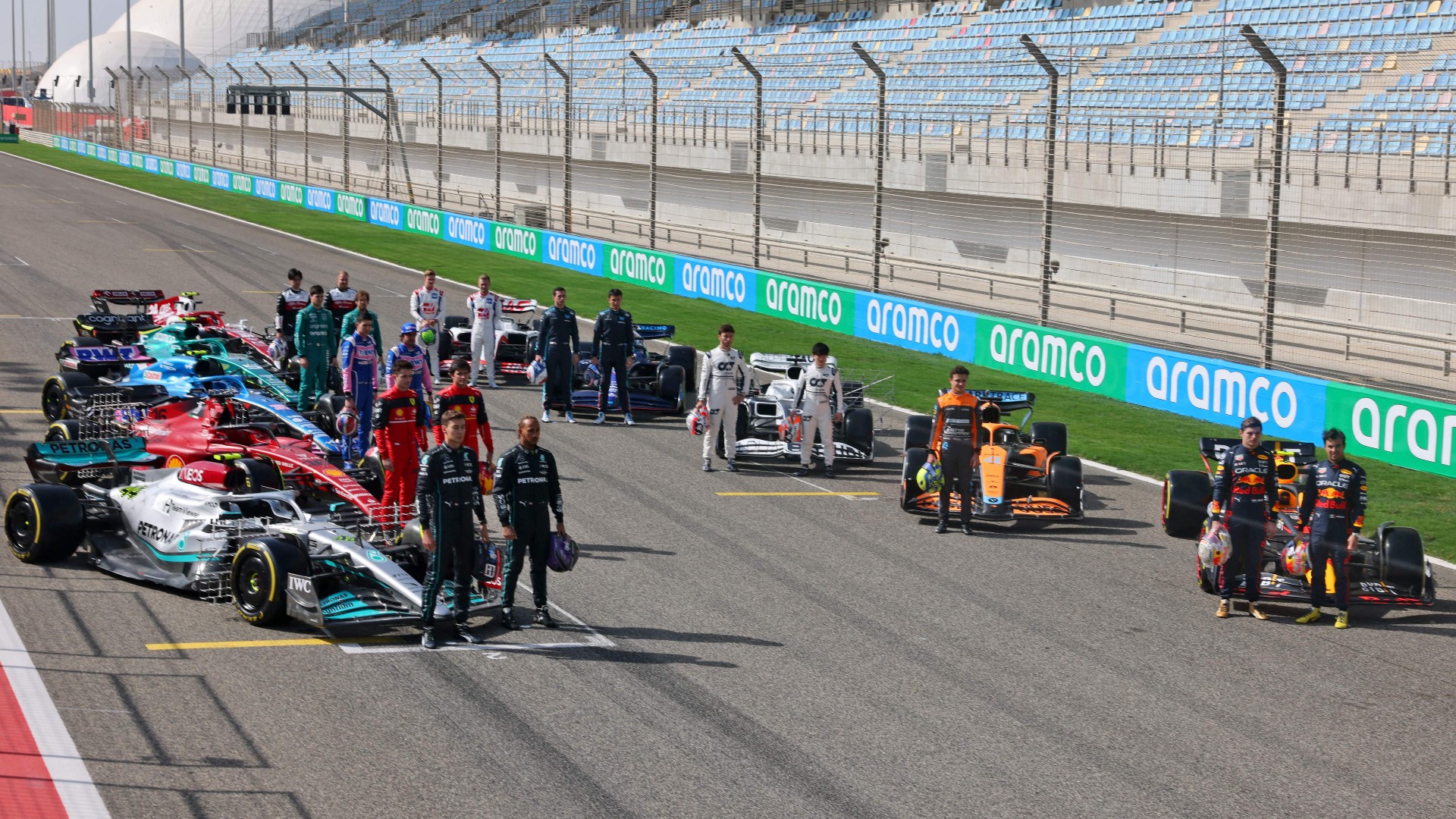 The hot weather condition in Bahrain made it harder for drivers, with almost every driver taking their turn to understeer wide
Bahrain's official pre-season was the last test ahead of the 2022 season
Ricciardo tested positive for Covid 19 and was consigned in his room, leaving Lando Norris alone for the test
Three days of pre-season testing in Bahrain separated the teams from the season's first race.
The heat was a far cry from Barcelona's cool spring temperatures, and as the day progressed, reliability issues began to emerge.
There was plenty to talk about ahead of the season's first race with some major car evolutions since the 2022 machines were last on track.
Here's how all ten teams fared in Bahrain. In lap count order
1. MERCEDES
Total Laps – 384
Fastest Lap – 1m 32.759s (Russell)
In Bahrain, Mercedes had a mixed bag of results. They set the lap record with 384 laps around this desert track, but they didn't even make the top of the timing sheets.
When they unveiled their very sleek side pods on Day 1 and went in a completely different design direction than everyone else, they caused the biggest stir of the entire testing.
2. ALPHA TAURI
Total Laps – 370
Fastest Lap – 1m 33.002s (Tsunoda)
AlphaTauri has a lot of laps and no real reliability issues. So far, things have gone well for the team, and they have a proven performer in Pierre Gasly, who is only getting better with age.
Yuki Tsunoda has stated that he has gained confidence and can continue with a season under his belt.
The car is the only thing that raises eyebrows, with nothing particularly eye-catching on display.
3. FERARRI
Total Laps – 349
Fastest Lap – 1m 32.415s (Leclerc)
On Day 1 and 2, Ferrari was the talk of the town, with both drivers laying down consistently fast laps.
Everyone in the paddock was prompt, and they didn't appear to have any reliability issues.
Red Bull may have pipped the Scuderia at the end of Day 3, but they still seem to be in good shape to make a run this season.
4. ALFA ROMEO
Total Laps – 343
Fastest Lap – 1m 32.985s (Bottas)
After a rocky start in Barcelona, which included numerous mechanical issues, Alfa Romeo's run in Bahrain went smoothly.
Zhou Guanyu put in a lot of laps and even a practice standing start, while Valtteri Bottas also put in a lot of time on the track.
The Finn did come to a halt twice due to hydraulic problems, but these appeared to be minor issues compared to Barcelona's.
5. ASTON MARTIN
Total Laps – 339
Fastest Lap – 1m 33.821s (Vettel)
This was a good test for Aston Martin, another team that breezed through the race relatively unscathed.
The only blemish on the ointment was Sebastian Vettel's pit stop on Day 2, but the German wasn't stranded in the pits for long once the team recovered his car, and the issue was minor.
Their speed is a bit of a mystery, but with the first race only a few days away, there's no reason to be concerned.
On the first two days,
6. RED BULL
Total Laps – 319
Fastest Lap – 1m 31.720s (Verstappen)
Red Bull quietly but confidently continued with their program.
On Day 3, they ran a car that looked completely different, thanks to a slew of upgrades, including a new side pod design. And whatever it was that they did, it worked.
Sergio Perez won the morning session, and under the lights, Max Verstappen was easily the fastest that a Dutchman spin was quickly forgotten.
7. ALPINE
Total Laps – 299
Fastest Lap – 1m 32.698s (Alonso)
Day 2 saw Esteban Ocon shine, topping the timing sheets in the morning session despite the scorching temperatures.
With so many long runs under his belt, the Frenchman put in a strong performance, which Fernando Alonso was able to match on the final day.
Despite no obvious reliability issues, the Spaniard put in a quick lap late on Day 3 under the lights to raise a few eyebrows.
8. WILLIAMS
Total Laps – 258
Fastest Lap – 1m 33.959s (Zhou)
Williams had a strong first day, but things went wrong on Day 2.
Nicholas Latifi was driving when the brakes caught fire, spinning him around.
Things progressed quickly after that, to the point where the team could not repair the car in time to race again, and the Canadian was limited to only 12 laps.
But on Day 3, he made up for his lack of running by completing a whopping 124 laps.
As the first race approached, Alex Albon had a quiet but composed test and appeared to have settled in well with his new team.
9. MCLAREN
Total Laps – 199
Fastest Lap – 1m 33.191s (Norris)
McLaren was one of the favorites in Barcelona, but things started to go wrong on Day 1.
Daniel Ricciardo was unable to drive after becoming ill and was later diagnosed with Covid, which forced him to miss all three days.
Then Lando Norris had braking issues, with overheating appearing an issue for the team.
But the problem couldn't be fully fixed, and the youngster lost a lot of time running over the three days, not to mention having to limit his longer runs to the final day
10. HAAS
Total Laps – 253
Fastest Lap – 1m 32.241s (Schumacher)
Haas's test began in the most unpromising of ways.
They could not compete on the first morning due to freight delays caused by no fault of their own, but the FIA later agreed that they could run late on Days 2 and 3 and early on Day 3 to make up for the time lost.
Once on the track, nagging reliability issues limited their laps in each session, but each case was quickly resolved and did not prove fatal.
And what about the good news? When they were on track, they looked as quick as McLaren. Kevin Magnussen didn't waste any time getting back up to speed,