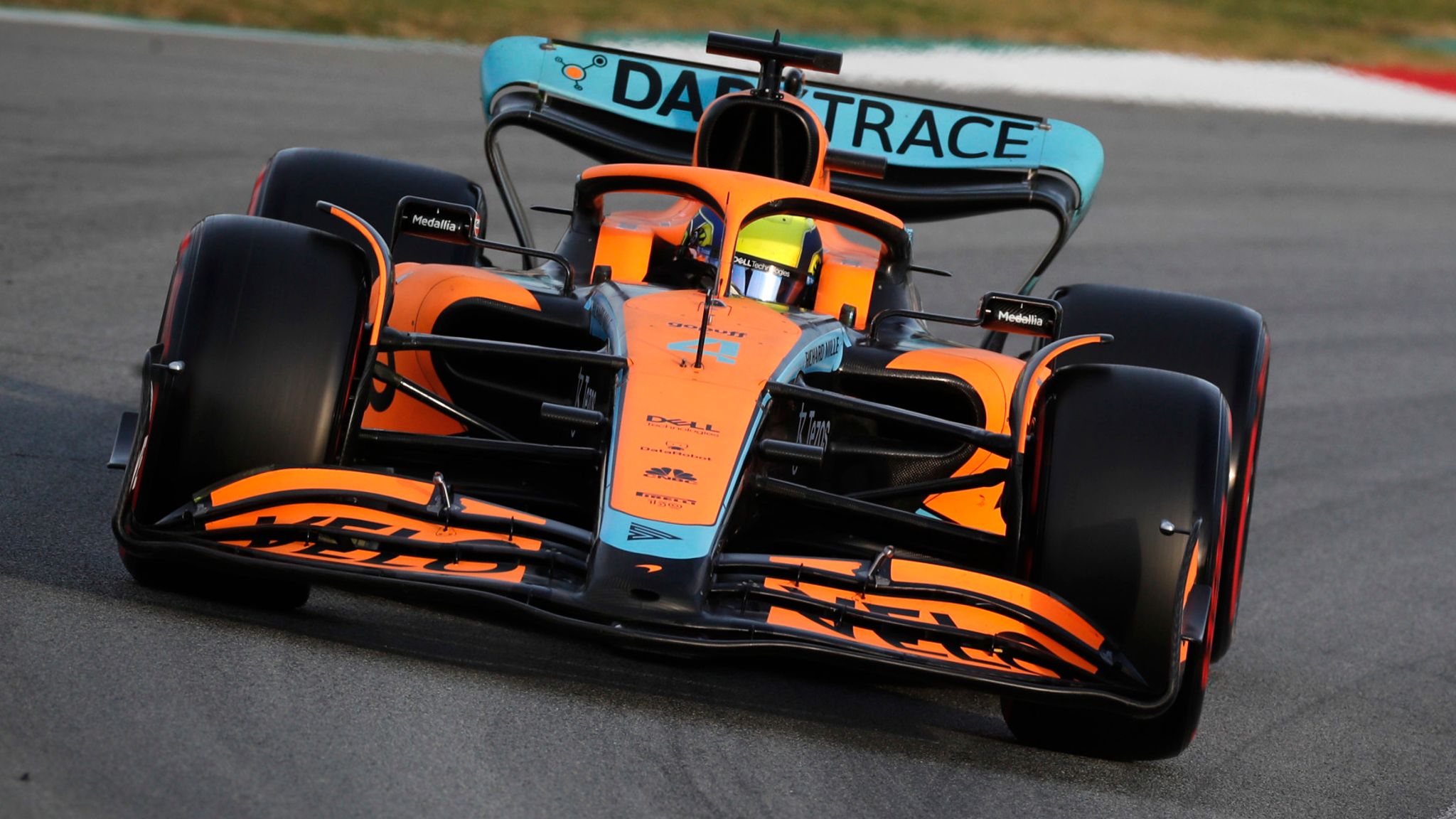 Who was the Fastest on Day one F1 pre-season testing?
What happened on day 1 of the F1 Barcelona pre-season test
Day one timesheet of the F1 Barcelona pre-season testing
What is the reason for pre-season testing?
Lando Norris topped the timesheets on the first day of the F1 pre-season testing in Barcelona on Wednesday, February 23, kicking off the 2022 Formula One season.
Last season, Red Bull's Max Verstappen won the world championship against Mercedes' Lewis Hamilton, but the Englishman is back to strive for a record eighth drivers' crown.
Charles Leclerc of Ferrari got off to a solid start and led for the majority of the day.
They were the leading tandem for the majority of the day after swapping places with Carlos Sainz in Ferrari's F1-75.
They competed for a total of 153 laps, more than any other team.
However, later in the day, Norris established the mark with a lap of 1:19.568, more than a half-second faster than Leclerc, on the softer C4 tires that proved to be the difference-maker.
In both the morning and afternoon run, Max Verstappen, who was ninth in terms of pace but on a slower tire, recorded a total of 147 laps in his championship-defending Red Bull.
Fernando Alonso and Yuki Tsunoda joined him in the century club, as did Norris, who had a minor power unit issue earlier in the day.
After his new teammate, George Russell, piloted the Mercedes in the morning, Lewis Hamilton put in 50 laps to finish fifth, a position behind him.
The Ferraris of Carlos Sainz and Charles Leclerc, who combined for 153 laps, were sandwiched between the Mercedes and Norris.
Day one-time sheet of the F1 Barcelona pre-season testing
1) Lando Norris, McLaren, 1m19.568, C4 tyre
2) Charles Leclerc, Ferrari, 1m20.165, C3
3) Carlos Sainz, Ferrari, 1m20.416 C3
4) George Russell, Mercedes, 1m20.784, C3
5) Lewis Hamilton, Mercedes, 1m20.929 C3
6) Sebastian Vettel, Aston Martin, 1m21.276, C3
7) Yuki Tsunoda, AlphaTauri, 1m21.638, C3
8) Fernando Alonso, Alpine, 1m21.746, C2
9) Max Verstappen, Red Bull, 1m22.246, C2
10) Valtteri Bottas, Alfa Romeo, 1m22.572 C3
11) Alex Albon, Williams, 1m22.760 C3
12) Mick Schumacher, Haas, 1m22.962 C3
13) Lance Stroll, Aston Martin, 1m23.327 C2
14) Nicholas Latifi, Williams, 1m23.379, C3
15) Nikita Mazepin, Haas, 1m24.505, C2
16) Robert Kubica, Alfa Romeo, 1m25.909, C3
What is the purpose of pre-season testing?
The goal of pre-season testing is for teams and drivers to familiarize themselves with their new cars.
In addition, certain new rules have been established, thus familiarizing themselves with them before the real races begin is critical.
Pre-season testing also allows fans to assess which teams have it right and which have work to do.
While the tests are never entirely accepted as the genuine pecking order because teams sandbag their speeds to mask their true skill levels, they nonetheless provide an overview while leaving suffering teams nowhere to hide.
Mercedes and Red Bull, whose narrowly matched vehicles saw Hamilton and Max Verstappen battle for the title last year.
The two rivals still head into the season as favorites, a clean slate of regulations and cars means the door is open for other teams to catch up or perhaps leap to the front.
"Personally, I'm not discounting any teams," claimed Mercedes boss Toto Wolff. "Everybody could be high up in the standings at the beginning of the season."
The relevance of the day's effort to the actual title competition is unclear, with Verstappen, Norris, Esteban Ocon, and Lance Stroll leading the way on day one last season.
However, reliability troubles hit the newcomers, Robert Kubica only managed nine laps in the Alfa Romeo before Valtteri Bottas only managed 23.
Last season's backmarkers, Haas, only completed 43 laps.
The Barcelona shakedown test will take place between February 23 and 25, with no live TV broadcast or time.
A second official test will be held in Bahrain on the 10th and 12th of March, ahead of the 2022 Formula One season opener on the 18th and 20th of March at the same location, the Bahrain Grand Prix.