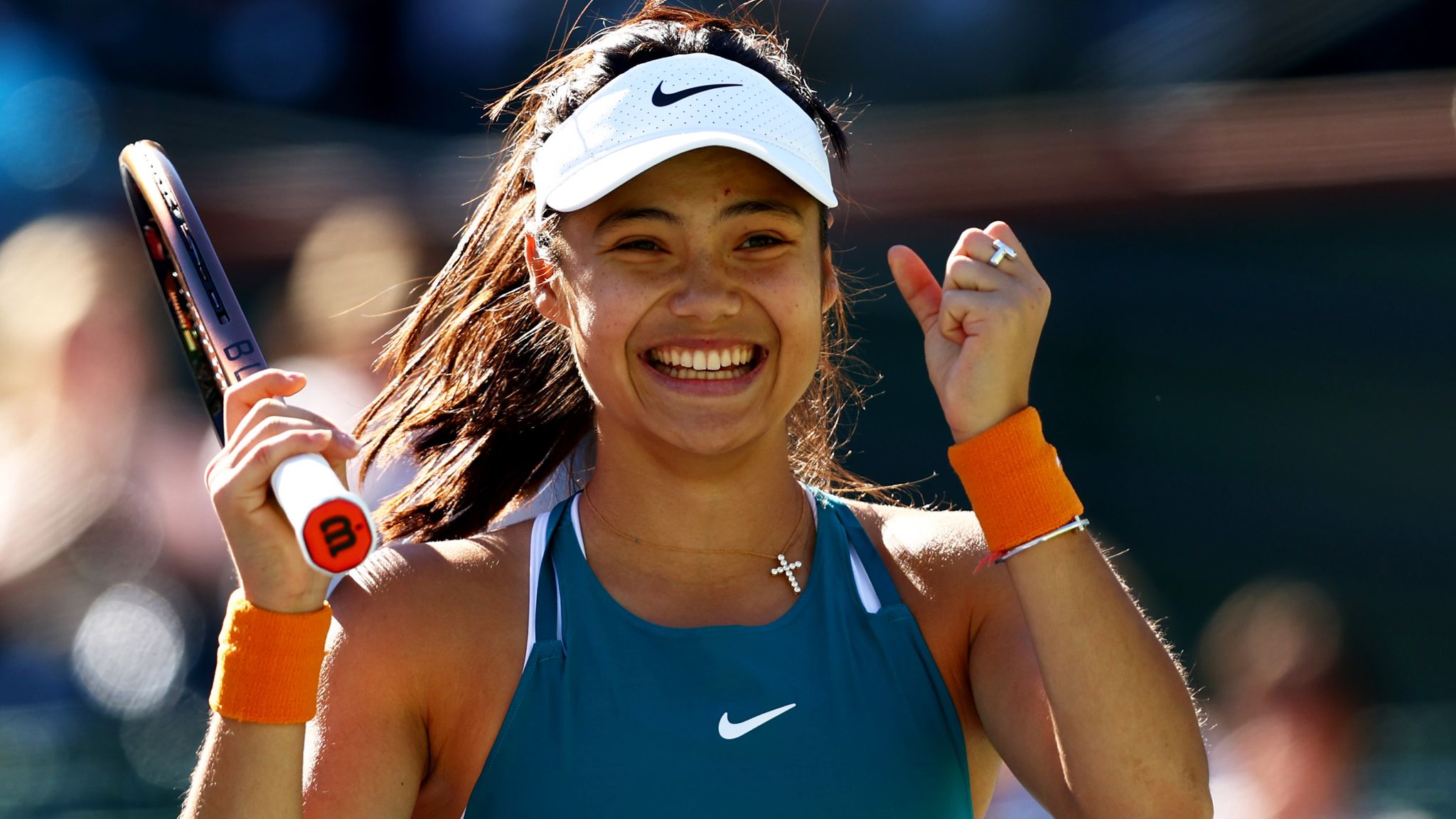 Emma Raducanu is asking fans to have manageable expectation from her
She hasn't won another Grand Slam since winning the US Open 2021
Several things, including being without a coach, suffering from Covid-19 and picking blisters at the Australian Open affected her performance
Ever since Emma Raducanu won the US Open 2021 in New York, life changed for her as tennis fans upped their expectations.
They always want her to win but she hasn't been so lucky ever since.
With her first opening match victory against Caroline Garcia, the expectations are high once more.
Although she admitted that she would have narrowly lost to Garcia on Friday, Raducanu beat Garcia in three sets; 6-1, 3-6 and 6-1.
She shrugged off injury worries heading into the event to deliver some superb tennis.
"I thought the level of tennis was pretty high and it means a lot to have just come through that. It could have gone either way," Raducanu told Tennis 365.
The Indian Wells early victory was her fourth win – in round matches. Raducanu doesn't want people to think she is playing terrible when she is just trying to get back into the top 15 after being outside the top 300 for a year ago.
"I feel like that (big expectations) probably happened after the US Open, I think everyone just suddenly expected me to win everything and clean up everything I played," Tennis 365 reports.
WHAT CHALLENGES DID EMMA RADUCANU GO THROUGH AFTER US OPEN VICTORY?
When Raducanu asked fans to go easy on her with their expectations, she knows all too well what she has been through.
HIP INJURY
A left hip injury prompted Raducanu to retire early – after 3 hours and 36 minutes of play in Guadalajara, Mexico in February.
Raducanu returned for the final two games of the season with her upper left leg severely wrapped and then announced her retirement.
It is a near miracle that she returned to the game almost three weeks later with a successive start at BNP Paribas Open 2022.
CORONAVIRUS BOUT
The British No.1 tested positive for coronavirus days to Mubadala World Tennis Championship in Abu Dhabi in December 2021.
The championship was the last one for WTA 2021 season. All hopes were high after winning the US Open 2021 Grand Slam.
BLISTERS
After battling Covid-19, Raducanu was ready to add another Grand Slam in the Australian Open. But painful blisters she picked during the tournament shattered her dreams.
The teen did her best to fight through the pain, but lost in three close sets to Danka Kovini in the second round at Melbourne Park.
When Raducanu took a picture of her hands, she showed off the palms. At the top of her right palm and below her middle finger, there were painful blisters.
DID THE ABSENCE OF A COACH AFFECT EMMA RADUCANU AFTER US OPEN WIN IN 2021?
Since her US Open victory, Raducanu parted ways with her coaches Andrew Richardson and Mark Petchey. What followed was a streak of losses.
She suffered her first major defeat in Romania at the Transylvanian Open. Talks of her coach began after her 6-2 6-4 loss to Aliaksandra Sasnovich at the Indian Wells 2021. She walked off in the second round after a gallant defeat.
Petchey coached Raducanu between July to December 2020 and March to April 2021. Their arrangement was temporary and ended way back before she shook the world at Flushing Meadows.
Then, Andrew Richardson took over and left after the teen won the coveted cup.
Petchey said that while the Briton's constant changing of coaches raised eyebrows, it is difficult for a professional player to get a perfect coach.
In Raducanu's case, Petchey says it will be very difficult because of a set of factors her age notwithstanding," Metro UK reported.
"Especially when dealing with something so unique as an 18-year-old who's won a Grand Slam and also wants to have a good conversation," he says.
Just before the Transylvanian Open, the British teen said she was learning how to coach herself but was aware of how important a coach is.
Raducanu made some sought of a comeback in Romania for the first two rounds of the game.
With deep Romanian roots – her father was born in Romania – she posted stellar performance in Cluj-Napoca. She rose like a phoenix from the ashes to beat Polona Hercog 4-6, 7-5, 6-1.
However, she lost her third-round – quarter-final –  to M Kostyuk suffering a 6-2, 6-1 defeat.
Then, after months of staying without a coach for months, she picked Torben Beltz – Angelique Kerber former coach.
The German coach will steer Raducanu through WTA tour in 2022. Beltz worked with Kerber for 10 years and disconnected for a while in 2013 before linking up again.
Beltz Kerber rise to the top 10 in tennis charts by 2013 when they took a hiatus. When they linked up towards the start of the 2016 season, Kerber made history as that was her best season.
Fast forward to 2022, fans have high expectations that she will scoop more Grand Slams this season.