Why Emma Raducanu will stay longer without a coach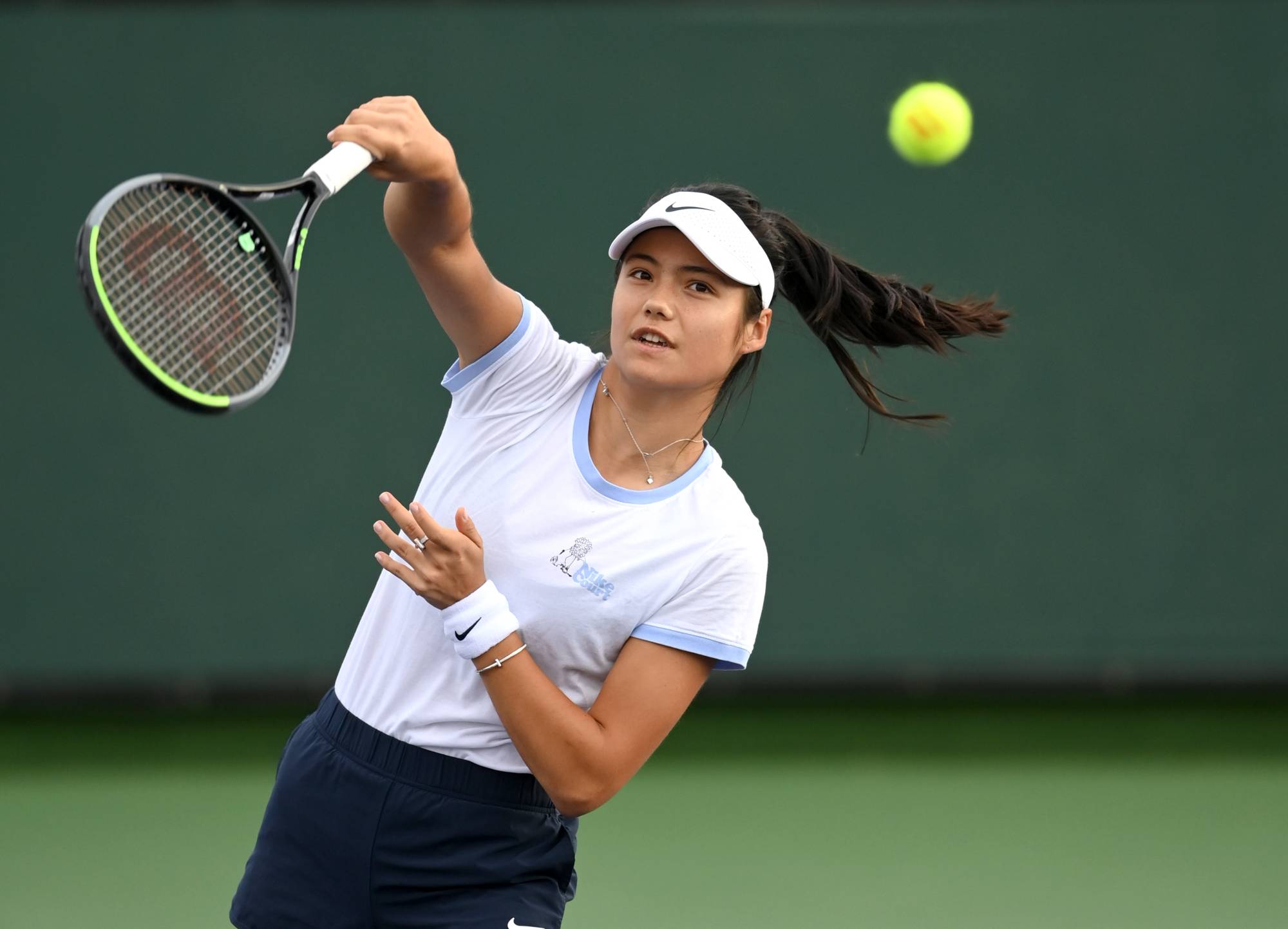 Ever since 18-year-old Emma Raducanu beat tennis big wigs to lift the U.S Open 2021 title, she is quite the sensation in tennis world.
The British teen now seeded 22nd in the world is becoming a daily topic due to her ongoing hunt for a coach.
Talks of her coach began after her 6-2 6-4 loss to Aliaksandra Sasnovich at the Indian Wells 2021. She walked off in the second round after a gallant defeat.
It was her first match after a grand performance at Flushing Meadows. She was at the time being coached by Jeremy Bates.
Raducanu's former coach Mark Petchey recently opened up addressing questions of why he is not coaching the teen star.
Why Is Mark Petchey Not Coaching Emma Raducanu?
Petchey coached Raducanu between July to December 2020 and March to April 2021. Their arrangement was temporary and ended way back before she shook the world at Flushing Meadows.
Then, Andrew Richardson took over and left after the teen won the coveted cup.
Petchey says that while the Briton's constant changing of coaches is raising eyebrows, it is difficult for a professional player to get a perfect coach.
In Raducanu's case, Petchey says it will be very difficult because of a set of factors her age notwithstanding," Metro UK reports.
"Especially when dealing with something so unique as an 18-year-old who's won a Grand Slam and also wants to have a good conversation," he says.
He says this is just the beginning; she will pass through more hands by the time she settles on the right coach.
"And I think, to be honest, that Emma will go through a lot of coaches during her career. Because she will take what she needs from someone and she will find someone else who will be good for something else. She's very proactive about the way she wants to build her game."
Petchey advises people to stop the hullaballoo on the hiring and sacking narrative adding that Raducanu will have many collaborations by the time she establishes he career fully.
"People need to understand that there will be a lot of collaborations during her career, rather than the 'hiring' and 'firing' of a coach. It feels so personal, and people need to stop getting hung up on hiring and firing."
Why Is Emma Raducanu A Special Player?
Having worked with Petchey, he describes Raducanu's style as point-on always.
He told Tennis.com that Raducanu's engineering on the court best comes while under pressure.
The former coach also says that her movement is highly efficient but she makes it look so easy yet it is an art she had to master
"She plays her best tennis under pressure. She backs herself, moves much better than people give her credit for – it's every efficient, and so it looks very easy. But, she moves incredibly effectively on the court."
Is Emma Raducanu Currently Coaching Herself?
World no. 22 says she is learning how to coach herself but is aware of how important a coach is.
Raducanu is readying for the Transylvania Open in Romania which will mark the end of her season this year.
All eyes are on her even as she continues with her hunt for WTA Tour experienced coach.
She was spotted recently training with Esteban Carril – former coach for Johanna Konta.
Admittedly, she told Sky Sports that she is now learning how to coach herself though having a coach is always better.
"Part of the experience I am having is being able to learn to coach myself.
"Sometimes it won't always work, like in Indian Wells, but in the long term if I keep doing that then I will be better in the situations in the future.
Transylvania Open
Raducanu made some sought of a comeback in Romania for the first two rounds of the game.
With deep Romanian roots – her father was born in Romania – she posted stellar performance in Cluj-Napoca. She rose like a phoenix from the ashes to beat Polona Hercog 4-6, 7-5, 6-1.
However, she lost her third-round – quarter-final –  to M Kostyuk suffering a 6-2, 6-1 defeat.
Speaking after her first match, Raducanu said that, "It feels like a huge win, it is my first WTA Tour win which makes me very happy."
"It was difficult for me but I feel to win my first WTA match does mean a lot because I was on a losing streak, so I got my first one. I am really pleased to have come through that today.
"It definitely means a lot, it's my first win, I knew that in my head so I was battling really hard to get on the board. To play in Romania, I had amazing support so they definitely helped me."