Emma Raducanu inspired Cameron Norrie to win Indian Wells title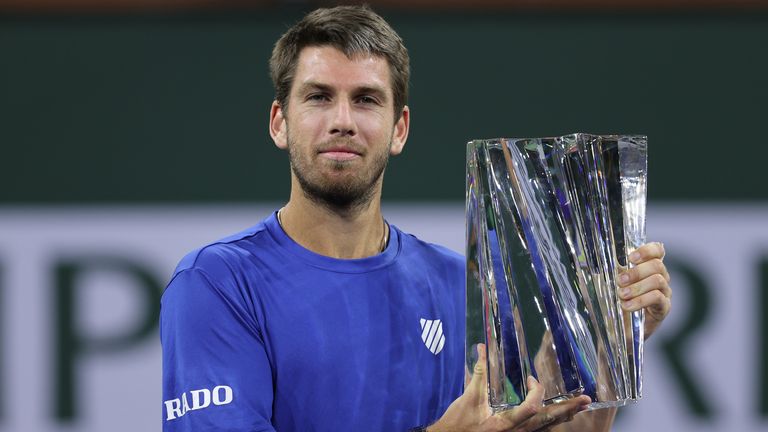 British No.1 player Cameron Norrie beat the odds to lift the biggest victory in his tennis career at Indian Wells.
Norrie won the coveted Indian Wells title after flooring Nikoloz Basilashvili 3-6 6-4 6-1 in the finals concluded on Monday. He goes down the annals of history as the first British national to win the title.
And this success came with elevation in the world tennis rankings. Norrie now ranks the world's No. 15 player. His new victory comes with lots of goodies including a tempting cash prize.
But, his confession that he drew his inspiration for victory from US Open 2021 winner Emma Raducanu is mindboggling.
How Did Emma Raducanu Inspire Cameron Norrie To Win At Indian Wells?
Raducanu, 18, stunned the world after clinching a win at the U.S Open 2021 finals in New York.
She played the finals against Canadian Leylah Fernandez who floored big guns in the tennis world to reach the finals.
Raducanu's win still remains a fairy tale that the BNP Paribas Open Champion drew lessons and inspiration from.
Norrie says that after his ATP 250 event win at Los Cabos, he gained new strength to shine in California. This marks his 47th victory in 2021.
The 26-year-old British tennis star owes it partly to Raducanu.
"What she has done has been extremely impressive and she inspired me a little bit, that was crazy," he says.
"I don't know what's more believable, her winning the US Open or me winning this — 50-50 maybe."
How Much Is The Prize Cameron Norrie Won After Winning Indian Wells Title?
The Indian Wells title pot comes with a £880, 000 cash reward. The amount is to appreciate his outstanding performance in the final three sets against his opponent, Basilashvili.
Prize money hasn't changed at all since 2019 when the tournament was last held. It has a cumulative award of £12million shared across men's and women's draws.
Overall winners – men and women – walk away with £880, 000. A further £6 million is available for every tour.
The Indian Wells is among the highest paying events after the Grand Slams.
How Much Is Cameron Norrie's Net Worth After Indian Wells Victory?
Norrie's net worth stands at £3.6 million after the Indian Wells pay. Before the California tournament, he was valued at approximately £3million.
Of the £3million net worth – excluding the pot prize from the Paribas Open – Norrie earned at least £1.5 million in 2021.
His ATP tour throughout the year has been successful with things on the court returning to normalcy after the COVID-19 pandemic.
Sponsorship and endorsements ramp up his total income.
Cameron Norrie History
Norrie has an interesting life just as he is astounding on the court. Norrie is a Brit who has seen the best of Europe and Africa. He was born in South Africa.
His father David is Scottish while his mother Helen is Welsh. They both worked as microbiologists in the South when Norrie was born in 1995.
He lived in New Zealand where his parents still reside until he was 16 and left for London.
WHEN DID CAMERON NORRIE START HIS TENNIS CAREER?
Norrie's mother, Hellen introduced him to Tennis at a tender age. At 6 years, he would practice child tennis play in his driveway and his passion grew even bigger with time.
He looked up to Andre Agassi and Rafael Nadal as his tennis idols.
Norrie's tennis journey started as a junior player back in New Zealand. He rose to No.10 world player as a junior player and his parents later funded his overseas travel when he was 15.
He travelled Europe learning more about tennis. and the following year, he moved to London when he was 16. A year later (2012) he professed his allegiance to the United Kingdom since his parents are both British Nationals.
Funding in London was not an issue and he trained for three years at the National Tennis Centre. A host family took him in until he completed his training.
He turned professional in 2017 after pausing his studies at Texas Christian University (TCU).
Just before he turned pro, he caused ripples in Junior Grand Slams. Norrie participated in the Australian Open, French Open, Wimbledon, and US Open.
In all these, he won the Australia Open. Soon after, he realized that the European Circuit had its challenge.