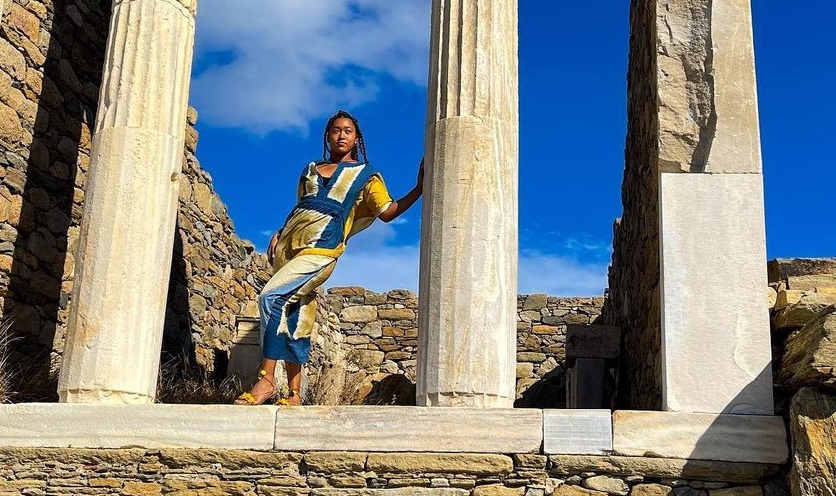 Life after a much-deserved break from tennis seems all rosy for tennis star Naomi Osaka.
Her indefinite break from tennis took her to Greece – here Osaka is having a time of her life on the Greek Island.
And the traveller in her has not held back from sharing her great moments on the iconic island of Mykonos. Or, the historic sites in Greece.
Her photo ops speak of cosy times – especially where she soaks in the sun aboard a boat in Mykonos.
Naomi Osaka Greece Tour
At the famous Temple of Isis (III), she poses against a staggering background of the uncarved rock wall for the temple. She looks sassy and passionate, a testament she is regaining her lost self.
The Temple of Isis (III) towers gallantly on the Greek Island of Delos. It is a haven for photo enthusiasts. The blue skies come into focus and Osaka depicts this clearly.
It mirrors a soul at peace after a daunting season coupled with frustration on the court.
Why Naomi Osaka Took A Tennis Break
For the 2021 season, Osaka has not had it easy on the court. It's been a trying time for her.
Osaka pulled off from the French Open and the Wimbledon citing her mental health was at stake.
At the U.S Open, her resilience was pushed even harder when she lost to World number 73 Canadian tennis player Leylah Fernandez, she was devastated.
The 18-year-old Canadian thrashed Osaka despite never having played in the Grand Slam.
Her thrashing by Fernandez – 5-7, 7-6 (2), 6-4 – at Flushing Meadows in the U.S Open pushed her to more pain.
The third-round defeat in the U.S Open came with a barrage of mixed feelings for Osaka. And this compounded her decision to take a break from tennis.
"I feel like for me, recently, when I win, I don't feel happy, I feel more like a relief. And then when I lose, I feel very sad," she told the press after the match.
An emotional Osaka opined that she is at a point in life caught up between a rock and hard place wondering what to do.
Adding that she doesn't know when she will play her next match, she offered, "I think I'm going to take a break from playing for a while."
Naomi Osaka's Loss In Western & Southern Open
In August, Osaka suffered a humiliating defeat from Jil Teichmann in the Western & Southern Open. Jil thrashed Osaka 3-6 6-3 6-3 on the court.
Speaking of her loss, she said that she did her best and would sleep comfortably at night.
The Western & Southern Open was her first major appearance this year after her withdrawal from French Open early in the year.
While explaining why she opted to walk away from French Open, she said that her mental health is at stake.
Naomi Osaka Battle With Depression
Her decision to stay out of the French Open in the second round and in Wimbledon was the culmination of a three-year journey with depression.
Osaka broke down during the press conference in Cincinnati. The presser was emotional to her and she seemed to try and control herself in order to deliver her speech.
She left the room, before returning after several minutes. She cited that the main reason for her withdrawal from the French Open was her mental health.
She also confessed to battling anxiety episodes before meeting the media which topped to her depression. The losses she suffered in the last months nearly pushed her to the edge.
Dealing With Press, Social Media Insensitivity
With such a challenging year, Osaka has had to deal with insensitivity by the press and fans on social media.
This criticism is one of the reasons she ended up depressed.
Roger Federer last month asked the press and social media fans to go slow on tennis players.
Federer who acknowledged how hard it is to fight such kind of insensitivity noted that Osaka has had it rough.
The World No. 9 player says that time to correct these wrongs is now calling for more harmony between reporters and players.
Federer maintains that improved relationship by both parties is the first step to chart a better path for players to handle tennis stress better.