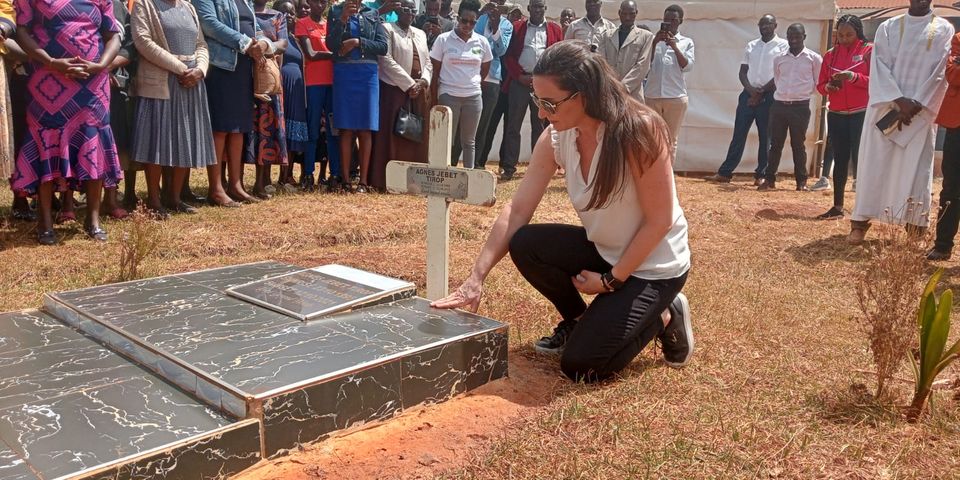 Adidas Vice President Global Sports Marketing Jennifer Thomas visited Tirops home in Kenya
Together with other officials, they planted trees near her grave
She described her as a jovial athlete
Adidas Vice President Global Sports Marketing Jennifer Thomas on Wednesday visited the graveside of slain World Athletics Cross Country Champion Agnes Tirop in Nandi County, Kenya.
The top officials from the German Sportwear manufacturer were flanked by Tirop's Angels Foundation officials. The visited her grave and honoured the late cross country champion by planting trees near her grave.
Thomas with a radiant smile said it is hard to forget Tirop because she was always happy and exuded special energy whenever she took the tracks.
The adidas marketing boss said that it was always the company's dream to visit her home following her death in October 2021.
"We are honoured to be here to see their home, to see the community and to share a little bit of love for a past champion," said Jennifer Thomas according to Daily Nation.
She added: "I didn't know her as well as my co-worker did but Agnes always had a big smile on her face. It's lovely to see images of her smiling at their home. She was always laughing and joking with a big smile and she was a champion of champions.
She said that Adidas will continue working with Kenyan athletes to the best of their ability now that it understands their challenges.
WHAT HAPPENED TO AGNES TIROP?
The decorated long-distance runner took her last breath on the Wednesday, October 13, 2021. She was found dead in her house with multiple stab wounds. It wasn't immediately clear what was behind her death but police investigations determined that that her husband Ibrahim Rotich was behind the gruesome murder.
Reports by family and neighbors gave an account of a couple who had a trouble relationship. Just before her death, Tirop had just returned to her home after a long period of separation with Rotich, 43.
The suspect's family had earlier tried to resolve the couple's infightings which was partly fruitful as Tirop returned to her husband's home only to be reported dead to days later. Police reports indicate that Rotich called Tirop's family crying after the incident and informed them that he had done something wrong.
He later disappeared for days but a police dragnet caught up with him in Kenya's coastal city of Mombasa. He pleaded not guilty and the case is still ongoing. Unknown to many, Tirop and Rotich appeared like the perfect family with beautiful photos of them cuddling online.
But this was just a façade with a dark side to it. They constantly argued about Tirop's property which Rotich, 41, wanted registered under his name.  It is believed that they had this argument prior to her death when she realized that Rotich registered some of her property in his name.
ARE KENYAN ATHLETES GRAPPLING WITH GENDER-BASED VIOLENCE?
According to Viola Lagat, a long distance runner and Tirop's Angels Foundation chairperson, gender-based violence is still a thorn in the flesh. She said that it is a broader issue now that is not just confined to athletes.
As a Foundation whose pioneer founder is a victim of GBV, they are creating awareness on the vice. Lagat hopes that combined effort will eventually slay GBV which is claiming many lives in the country.
"We are just at the first step to create awareness on the GBV which has been witnessed in the past and led to the loss of our hard working athlete whose star had just started shining.
"In the next few years, GBV should be something of the past. Our goal is to reach out to everyone to speak up and fight the menace in the community. Those affected should come out and speak," she told Daily Nation.
WHAT ARE AGNES TIROP CAREER STATS?
Agnes Tirop was a world record holder and a two-time world championship bronze medalist. She carved her niche in 5000 m and cross country running. She was among Kenya's team in the Tokyo 2020 Olympics.
Tirop came in fourth in the 5000 m race at the Olympics. Nonetheless, she retains world records she broke before the Tokyo 2020 Olympics. The deceased broke the world record in a 10 kilometers women-only event in Germany. She set a time of 30:01 in the event. In early October 2021, Tirop came in second in the Giants Geneva race posting a 30:20.
Her name first hit the headlines in 2012 during the world junior cross country championships. She came second after Faith Chepngetich Kipyegon. She was picked for the 2012 African Cross Country Championships together with Kipyegon. She was the runners-up as Kipyegon took the win.
In the 2013 IAAF World Cross Country Championships, she defended her second position as Kipyegon took lead.