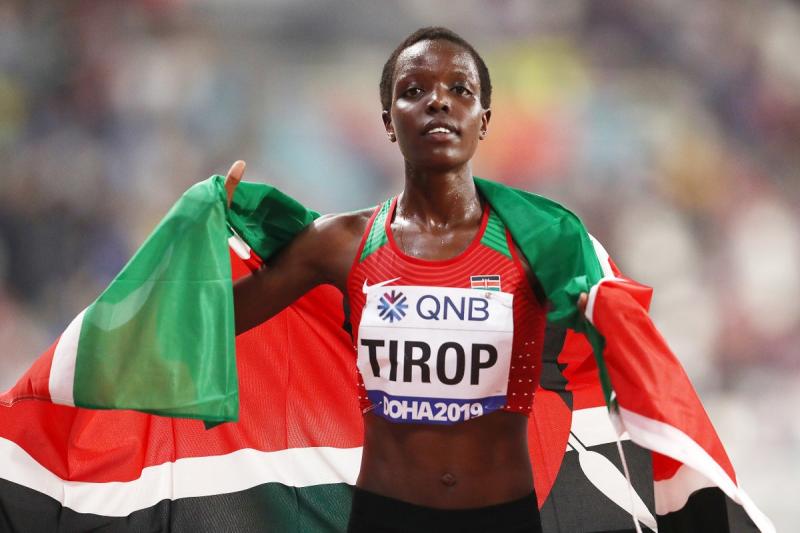 What could have happened to Kenya's international long-distance runner Agnes Jebet Tirop following her death on Wednesday, October 13?
This is a question in the minds and hearts of many people across the world. Was it a case of love gone sour? Jealous neighbor or just settling scores?
There are no answers at the moment but here is what we know so far.
What May Have Happened
The 25-year-old suspect was found dead with blood oozing from stabs in her body at her Iten home.
According to the Iten police boss Tom Makori, they are treating her husband as the prime suspect in the murder.
Makori says that the late international long-distance runner had a stab wound on her neck. This, the police say is indicative of murder.
The suspect is yet to be traced. His phone was off at the time police found Tirop's lifeless body in their house.
"Her husband is still at large, and preliminary investigations tell us her husband is a suspect because he cannot be found. Police are trying to find her husband so he can explain what happened to Tirop," the police boss says.
What Neighbours Are Saying About Tirop's Love Life
According to her Iten neighbors, the couple's love life has not been rosy at all. They have had their low moments and had separated until Monday when she returned home.
Her family and that of her family tried to reconcile the Olympian and her husband after a period of infighting.
Police reports further state that Tirop's husband called his in-laws crying asking God to forgive him for something he's done.
However, photos of the couple on social media speak of a couple madly in love. In two of those photos, Tirop cuddles with her husband and puts on a huge smile.
But, her death stems from an argument she had with her husband regarding the transfer of her property. She had not consented to this and when she realised she confronted him and hell broke loose.
He was irked and his anger pushed him to hacking his wife to death, police investigations reveal following his arrest in Mombasa.
Tirop's Impressive Athletics Stats
The deceased is a world record holder and a two-time world championship bronze medalist.
She carved her niche in 5000 m and cross country running. The Uasin Gishu-born long-distance runner was among Kenya's team in the Tokyo 2020 Olympics.
Tirop came in fourth in the 5000 m race at the Olympics. Nonetheless, she retains world records she broke before the Tokyo 2020 Olympics.
The deceased broke the world record in a 10 kilometers women-only event in Germany.  She set a time of 30:01 in the event.
In early October 2021, Tirop came in second in the Giants Geneva race posting a 30:20.
Tirop's name first hit the headlines in 2012 during the world junior cross country championships. She came second after Faith Chepngetich Kipyegon.
She was picked for the 2012 African Cross Country Championships together with Kipyegon. She was the runners-up as Kipyegon took the win.
In the 2013 IAAF World Cross Country Championships, she defended her second position as Kipyegon took lead.
Why President Uhuru Kenyatta Is Mourning Tirop's Death
As soon as reports of her death emerged, President Uhuru Kenyatta termed her death a big blow to Kenyan athletics.
Uhuru mourned Tirop as a Kenyan hero and champion who contributed immensely to the country's sporting ambitions and profile.
"It is unsettling, utterly unfortunate and very sad that we've lost a young and promising athlete who, at a young age of 25 years, she had brought our country so much glory through her exploits on the global athletics stage including in this year's 2020 Tokyo Olympics where she was part of the Kenyan team in Japan," the President condoled.
"It is even more painful that Agnes, a Kenyan hero by all measures, painfully lost her young life through a criminal act perpetuated by selfish and cowardly people."
The President asked law enforcement agencies to move with speed and arrest the culprits.
"I urge our law enforcement agencies led by the National Police Service to track down and apprehend the criminals responsible for the killing of Agnes so that they can face the full force of the law."