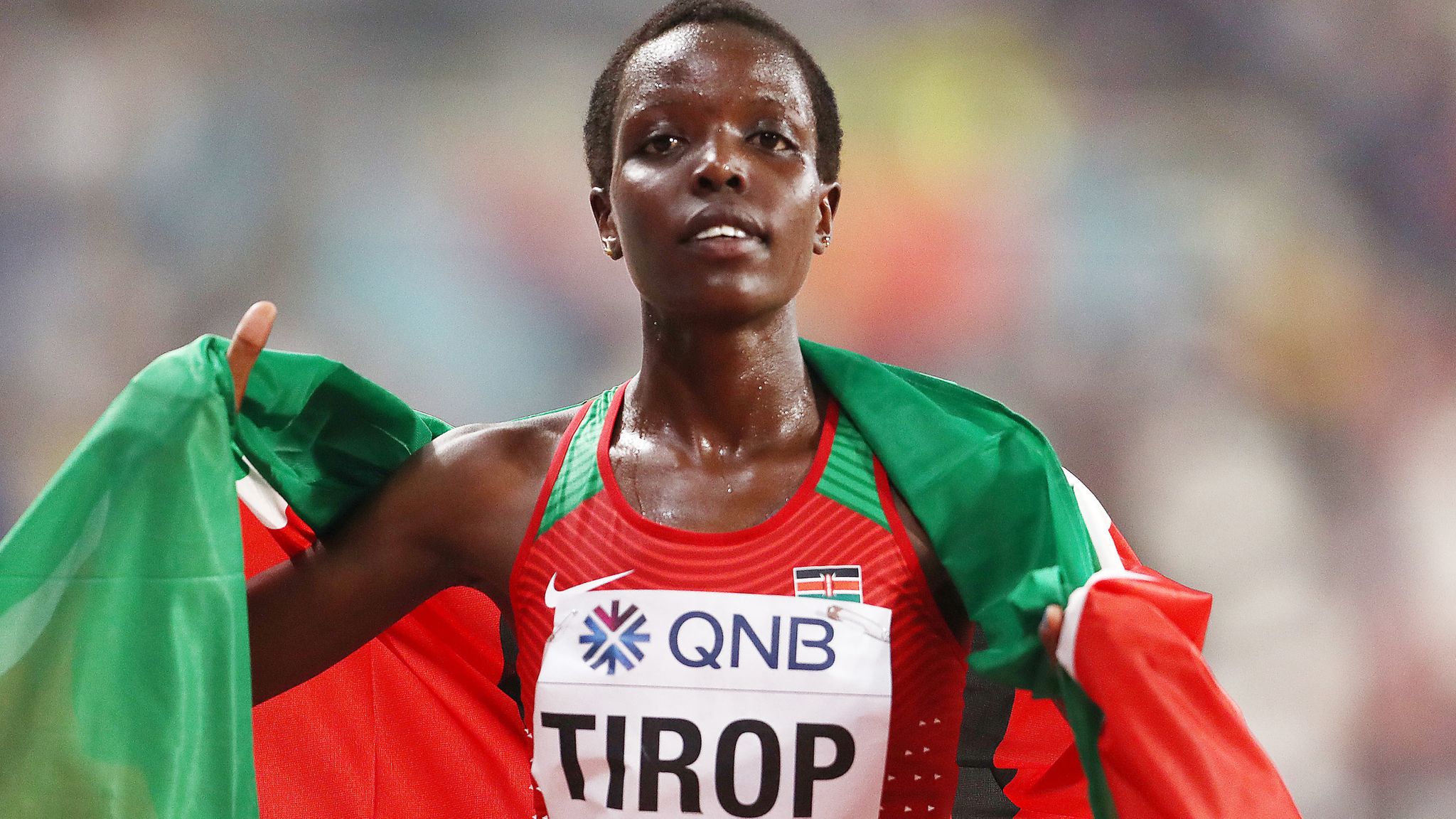 Kenyan Athletes Agnes Tirop
The murder of slain world cross country champion Agnes Tirop last year was a hard tackle for Kenyan athletes and former World Marathon Champion Catherine Ndereba is all too emotional about it.
Tirop's death was yet another sad case of a young, bubbly star who lost her life to Gender-based Violence (GBV). Sad enough is that she lost her life just when her star in the tracks started shinning.
Agnes Tirop Conference
As a tribute to Tirop, who was supposedly murdered by her husband, the Ministry of Sports put together the Agnes Tirop Conference. The Ministry of Sports announced that the conference would allow stakeholders to identify solutions to escalating incidences of GBV faced by sportsmen.
In honouring her memory during the Agnes Tirop Conference recently, Ndereba made a special appeal to the government. In a voice full of emotions, Ndereba appealed to President Uhuru Kenyatta to come to the rescue of female athletes.
She said that GBV cases on women who carry Kenya's prestige in athletics are at an alarming level. This, she said, calls for special intervention by the government in protecting her people.
Ndereba urged for an increase in the number of women assigned to positions of decision-making since they were better positioned to inform government policy on gender-based violence.
She also called on the government to take steps to guarantee that those guilty for the violence are brought to justice and held accountable.
"It is a call to our head of state and his team and all of us, in general, to come up with a way of taking care of our sportsmen and women," she said with tears welling up her eyes
"It is my prayer that my beloved country will get to the place whereby we will be able to put all those responsible to account."
Additionally, Ndereba noted that both male and female athletes needed protection, citing examples of athletes who had lost their lives as a result of gender-based violence and those who were dealing with mental health issues.
For instance, she spoke about veteran athlete Hosea Macharinyang who, unfortunately, battled chronic depression. Yet, no one came through for him which could have saved him from a lot distress.
Ndereba proposes there be a place where athletes can voice their concerns and have someone listen to them while also acting upon their recommendations.
Eliud Kipchoge on Plight of Kenyan Athletes
World marathon champion Eliud Kipchoge said there is a big gap in helping out athletes battling mental disorders. Kipchoge cast aspersions on some coaches for ruining many athletes' lives.
As a result, these artists end up being alcoholics and messing up their lives. Kipchoge maintains that there is a need to address mental wellness for Kenyan athletes.
To achieve this, Kipchoge says that there is a need to weed out rotten characters from the sport – coaches.
Agnes Tirop's Death
The 25-year-old long distance runner was found dead with blood oozing from stabs in her body at her Iten home on October 13, 2021.
According to her Iten neighbors, the couple's love life has not been rosy at all. They have had their low moments and had separated.
Her family and that of her husband Ibrahim Rotich tried to reconcile them after a period of infighting.
Police reports further state that Tirop's husband called his in-laws crying asking God to forgive him for something he's done.
However, photos of the couple on social media speak of a couple madly in love. In two of those photos, Tirop cuddles with her husband and puts on a huge smile.
But, her death stems from an argument she had with Rotich over the transfer of her property. She had not consented to this and when she realised she confronted him and hell broke loose.
He was irked and his anger pushed him to hacking his wife to death, police investigations revealed following his arrest in Mombasa.
Tirop is a world record holder and a two-time world championship bronze medalist.
She carved her niche in 5000 m and cross country running. The Uasin Gishu-born long-distance runner was among Kenya's team in the Tokyo 2020 Olympics.
Tirop came in fourth in the 5000 m race at the Olympics. Nonetheless, she retains world records she broke before the Tokyo 2020 Olympics.
The deceased broke the world record in a 10 kilometers women-only event in Germany.  She set a time of 30:01 in the event.
In early October 2021, Tirop came in second in the Giants Geneva race posting a 30:20.
Tirop's name first hit the headlines in 2012 during the world junior cross country championships. She came second after Faith Chepngetich Kipyegon.
She was picked for the 2012 African Cross Country Championships together with Kipyegon. She was the runners-up as Kipyegon took the win.
In the 2013 IAAF World Cross Country Championships, she defended her second position as Kipyegon took lead.