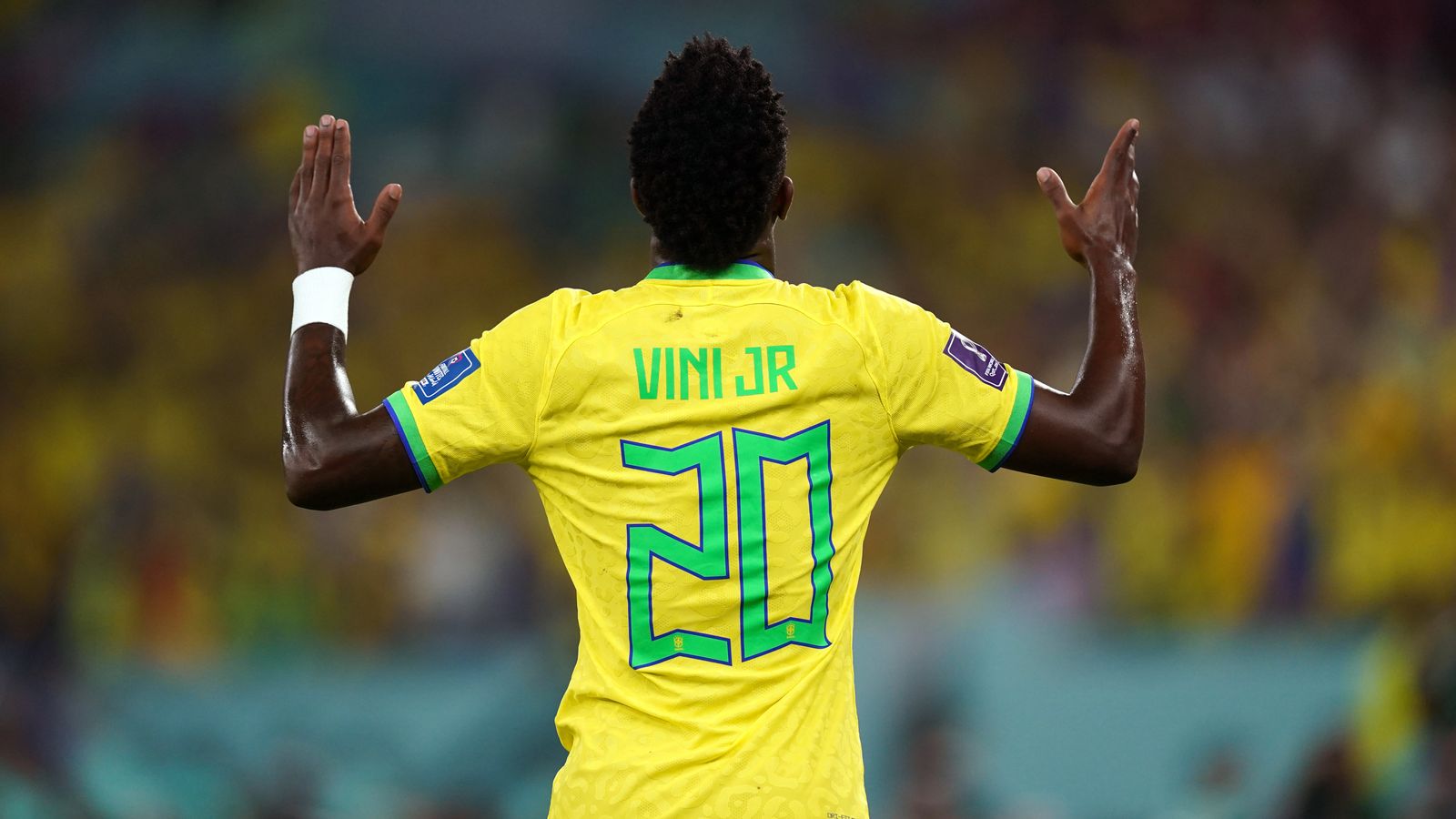 Impressive Brazil defeated South Korea 4-1 in the World Cup Round of 16 match.
Goals from Vinicius, Neymar, Richarlison, and Paqueta.
Brazil will face Croatia in a blockbuster quarter-final clash.
Brazil defeated South Korea 4-1 in their World Cup Round of 16 match on Tuesday, setting up a mouthwatering match versus 2018 finalists, Croatia, in the final eight. Brazil displayed an excellent exhibition of offensive football throughout the match. With this victory, Brazil advanced to their eighth straight World Cup quarterfinal and 17th overall.
Impressive Performance
In the seventh minute, Raphinha skillfully avoided a challenge on the left side of the box and sent a low ball skidding through a crowd of players to Vinicius Junior, who took one touch to control the ball and caressed it in with his second touch to put Brazil well in control.
Jung Woo-young clumsily kicked Richarlison, knocking him to the ground, and French referee Clement Turpin pointed to the spot. Neymar scoring his 76th goal for Brazil by converting a penalty in the first half, moving one goal short of Pele's all-time national team scoring record.
After the significant setback, South Korea became more courageous, with Alisson making a fantastic save to save Hee-Chan Hwang's spectacular 25-yard attempt on goal. At the same time, holes started to appear in the rear, which was afterwards filled.
Thiago Silva's ball that split the defence allowed Richarlison to make it 3-0 for Brazil in the 29th minute. Paqueta added a fourth goal seven minutes later by arriving in the area just in time to volley in a Vinicius cross.
The five-time champions played an exhibition second half after Lucas Paqueta's fourth-minute volley, with only the outstanding Korean goalkeeper Kim Seung-gyu keeping them out as they got ready for Friday's quarterfinal matchup with Croatia.
After the break, Tite's team attempted to increase their simply insurmountable lead, but goalkeeper Seung-Gyu Kim's inspiring performance prevented them from doing so. In fact, their opponents even managed to slightly lessen the victory's lustre in the closing minutes when substitute Seung-Ho Paik scored a consolation goal from 25 yards after a corner was cleared into his path.
Honouring a Legend
Fans chanted Pele's name and unfurled a sizable banner bearing his likeness behind one of the goals in the tenth minute of each half at Stadium 974, where there were numerous banners and shirts in his honour. Pele formerly wore the No. 10 shirt.
At the sound of the final whistle, Neymar made his way down the tunnel to retrieve a banner honouring one of the greatest players in the history of the sport. Pele's daughters disputed that he is "ready to say goodbye" just yet, but it was revealed on Saturday that the 82-year-old had been brought to the hospital due to health issues.
Last Game in the Stadium
It was the final World Cup game played at Stadium 974; it will be completely demolished after the tournament. The port-side structure, which accommodates more than 40,000 spectators, was built in part from repurposed shipping containers and could be transported to other nations that require infrastructure.
What the Results Mean
Brazil has now advanced to the World Cup quarter-finals, where they will play Croatia on Friday for a spot in the semi-final.