Katie Taylor biography and net worth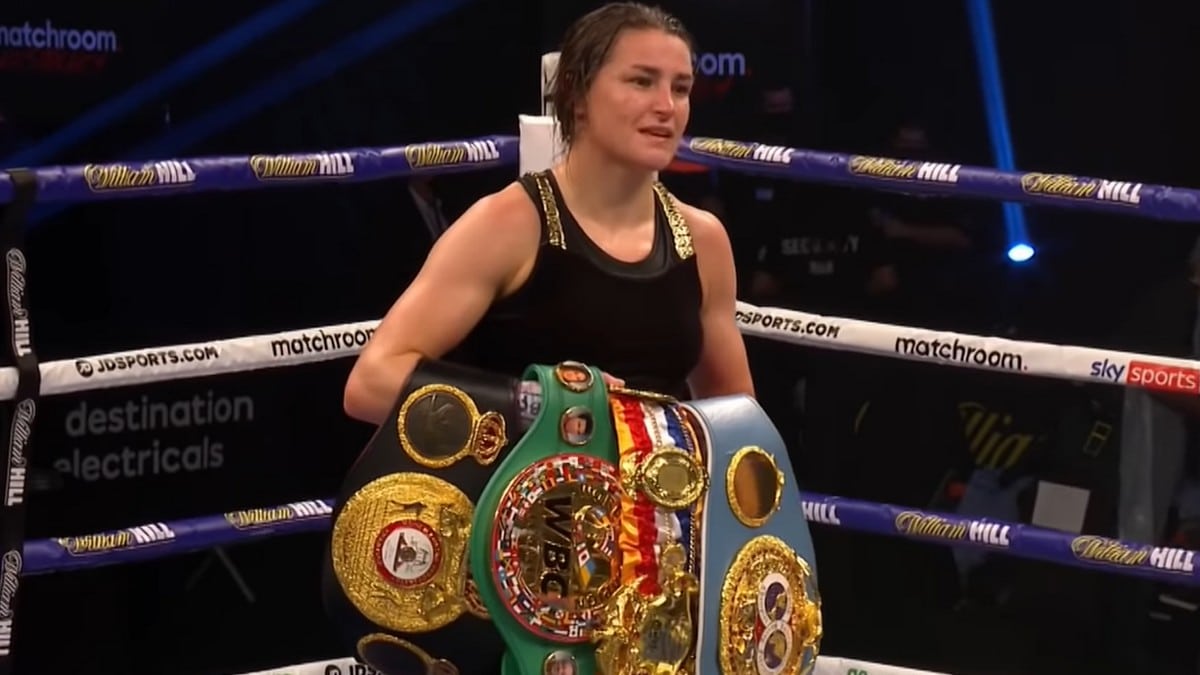 Katie Taylor is arguably the best female boxer in the world now. She is the current undisputed lightweight champion. 

Katie Taylor is one of only eight boxers to hold all four major world titles in boxing simultaneously – WBC, WBA, IBF and WBO. 

BoxRec ranks the Ireland international as the best active female, pound-for-pound, in the world. 
Katie Taylor is one of the names which pops up when female boxing is the topic of discussion. Katie Taylor biography has a lot to tell about her boxing career. 
The Irish international was previously a footballer before embarking on a boxing career. However, her success in the boxing world is what made her a public figure.
Katie Taylor, also known as The Bray Bomber, competes in the lightweight and light-welterweight divisions. She is the current undisputed champion, having held the WBA title since 2017, the IBF since 2018 and the WBO, WBC and Ring magazine since 2019. 
The 36-year-old has also held the WBO junior-welterweight title since 2019. And there is more to Katie Taylor biography. 
Katie Taylor Biography 
Full Name                                                     Katie Taylor
Date of Birth                                                July 2, 1986 
Age                                                                 36
Place of Birth                                               Bray, County Wicklow, Ireland
Nationality                                                   Irish 
Height                                                           5 ft 5 in (168 cm)
Occupation                                                  Boxer 
Marital Status                                             Unmarried 
Early Life 
Katie Taylor biography has it that she was born on July 2, 1986, in Bray, County Wicklow, Ireland. Her mother, Bridget, is Irish, while her father, Pete Taylor, is English-born. 
Katie attended St. Kilian's Community School in Bray between 1999 and 2005. She was involved in different activities during her childhood days, including boxing, football and camogie (Irish stick-and-ball team sport). 
She was a member of a local athletics club, Bray Runners, while studying at St. Kilian's. Several American colleges offered Katie scholarship programs, which she turned down. 
Young Katie joined University College Dublin after passing her high school exams. However, she didn't complete her university studies as she opted to focus on her boxing career. 
Boxing
Katie's father is one of the factors behind Katie's success in boxing. He coached the future boxing star alongside her two elder brothers, Lee and Peter. 
Katie Taylor first caught the attention of boxing fans in 2005 when she won gold in the European Amateur title in Norway. The young boxer then competed at the World Amateur Championships where she reached the quarter-finals later that year. 
The Ireland international won the Best Boxer award in 2006 after defeating world champion Tatiana Chalaya in the European Amateur. Katie became Ireland's first world champion when she defeated Erica of Argentina in 2006 in World Women's Boxing. 
Katie won her second World title in 2008 at AIBA Women's World Boxing Championship. Her third world title came at the 2010 AIBA Women's World Boxing Championship when she defeated Cheng Dong in the finals. 
The talented boxer won her fourth World title on May 19, 2012, after defeating Sofya of Russia. And there is more to add to Taylor Katie biography, who made her professional boxing career in November 2016. 
As of 2022, The Irish athlete has a boxing record of 21 wins and zero losses. Six out of her 21 wins have been knockouts. 
BoxRec ranks Taylor as the world's best active female lightweight and the best active female, pound-for-pound. She retained her WBA, WBC, IBO, IBF and the Ring female lightweight titles on April 30, 2022, when she defeated Amanda Serrano.
Personal Life 
Katie Taylor biography would be incomplete without talking about her personal life. The female boxer and family attend St. Mark's Church in Dublin. The church is part of the world's largest Pentecostal denomination, Assemblies of God. 
Taylor likes to keep her relationship status private. And that's why it is unknown whether she is in a relationship. 
During an interview with The Irish Mirror in 2019, Taylor said that she is too busy with boxing that she doesn't have time for a relationship. 
She told The Athletic earlier this year that she hates being asked about her relationship and general personal life. 
FAQs 
Was Katie Taylor a footballer? 
Katie Taylor was a footballer before committing herself to boxing. She played senior club soccer for several teams including Peamount United, Lourdes Celtic, St Catherine's and St James's Gate.
Katie also represented the Ireland women's national team at the U17, U19, and senior levels. At the 2004 UEFA Women's U19 tournament, Katie scored four goals against Macedonia.
What is Katie Taylor's net worth? 
Katie has a net worth of $2 million. 
How much money has Katie made from boxing? 
Katie has made around $2 million in boxing. She earned $1 million in her rematch with Delfine Persoon.