Manny Pacquiao boxing career and life after boxing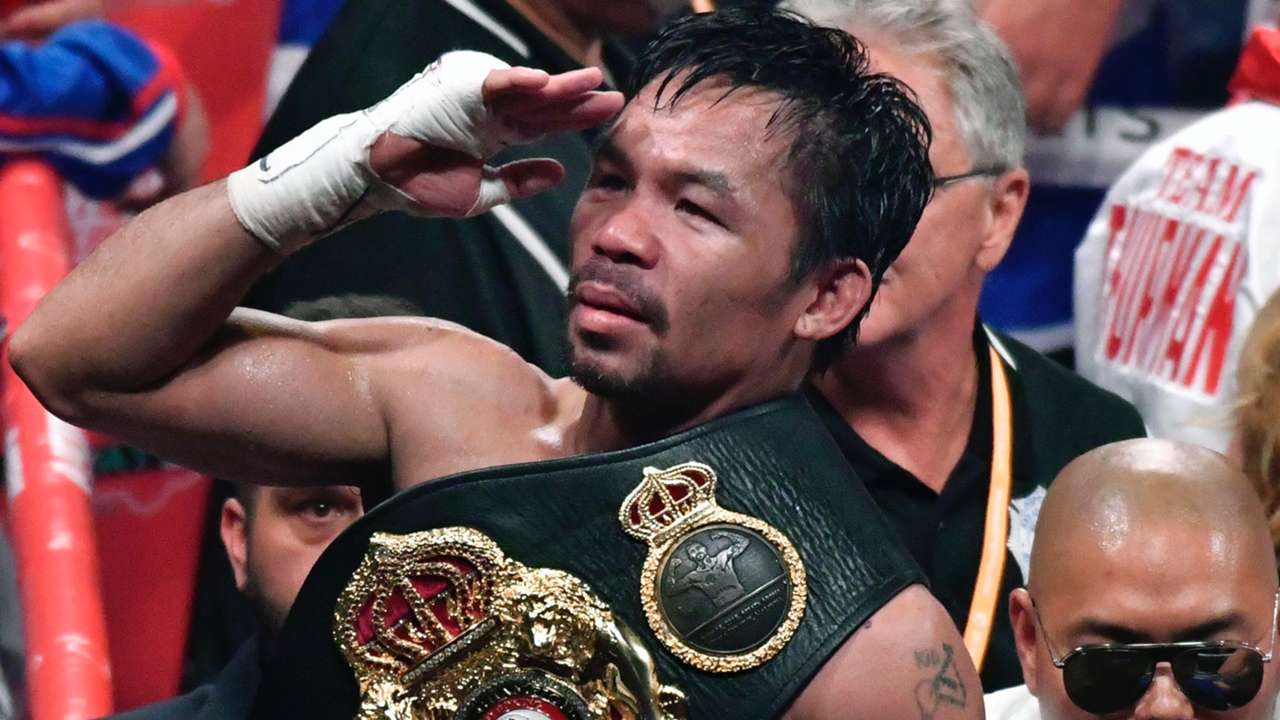 Manny Pacquiao is arguably one of the greatest boxers the world has ever seen. The legendary fighter won 12 major titles. 

Pacquiao is a former basketball player and coach. The Filipino has also starred in several movies. 

Manny is an active politician in the Philippines. He retired from boxing after declaring his candidacy for the President of the Philippines last year.
Manny Pacquiao is one of the greatest professional boxers of all time. The legendary fighter is currently a Filipino politician. He served as a senator of the Philippines between 2016 and 2022. 
Manny Pacquiao built a name for himself in the boxing world during his professional career days. The retired boxer won twelve major titles. 
Pacquiao competed in different weight classes. He is in the history books as the only eight-division world champion. The fighter was the first boxer to win the lineal championship in five weight classes. 
Manny Pacquiao is the first boxer to become a recognized four-time welterweight champion.
The legendary fighter is in the history books as the only boxer to hold world championships across four decades (the 1990s, 2000s, 2010s and 2020s). 
Manny Pacquiao joined Politics in 2010 when he became the elected representative of Sarangani. He announced his retirement from professional boxing on September 29, 2021.  
Manny Pacquiao biography
Full Name Emmanuel Dapidran Pacquiao Sr.
Date of Birth December 17, 1978
Age 43
Place of Birth Kibawe, Bukidnon, Philippines
Height 5 ft 51/2 inches
Nationality Filipino
Occupation Former boxer and a politician
Marital Status Married
Early Life
Manny Pacquiao was born in Kibawe, Bukidnon on December 17, 1998. Manny Pacquiao's father is Rosolio Pacquiao whereas his mother is Dionisia Dapidran. His mother is an actress.
Manny's parents separated when he was in grade six. He was raised in General Santos, Philippines. 
Manny Pacquiao was introduced to boxing by his maternal uncle at 12. For six months, Sardo Mejia, Pacquiao's maternal uncle, trained his nephew in a makeshift home gym. 
Manny began boxing in a park in his home town where he fought against other junior boxers. The Filipino international was considered the best junior boxer in the southern Philippines at 15. 
Boxing Career
Manny Pacquiao made his professional boxing debut in January 1995 at 15. He won his first major title, the WBC flyweight, on December 4, 1998.
The WBC flyweight title won by Manny Pacquiao was just the beginning of many he would later win. Manny went on to achieve great success in boxing, becoming one of the most decorated boxers of all time.
Over the years, Manny fought against the best boxers in the world in different divisions. He defeated 22 world champions during his professional boxing career. Some of the most notable fighters Manny Pacquiao defeated in the ring include Timothy Bradley, Juan Manuel Marquez and Chatchai Sasakul. 
Manny has the most consecutive boxing world titles fight victories at different weights between 2005 and 2011. Manny claimed the WBA Welterweight title at 40 years and 215 days, making him the oldest welterweight boxing world champion. 
Pacquiao has the most boxing world titles in different weight divisions, eight. The Filipino star has held sanctioned belts in the Super Featherweight and Lightweight divisions, the WBC Flyweight, The Ring Featherweight, IBO and The Ring Light Welterweight, WBO Welterweight and the IBF Super Bantamweight. 
Manny Pacquiao's last bout was against Yordenis Ugas in August 2021. Manny has a boxing record of 62 wins in 72 fights. Thirty-nine of Manny's wins were through knockout. He recorded eight losses and two draws in his boxing career. 
BoxRec ranks Manny Pacquiao as the greatest Asian fighter of all time. As of 2022, BoxRec ranks Manny as the greatest pound-for-pound boxer of all time. 
The legendary fighter officially retired from boxing on September 29, 2021.
Life after retirement (Political Career)
Manny Pacquiao retired from boxing ten days after declaring his candidacy for the President of the Philippines. However, he began his political career while still a professional boxer. 
Manny joined politics in 2007 when he announced his campaign for a seat in the Philippine House of Representatives.  
The legendary Filipino boxer was elected to the House of Representatives in May 2020, representing Sarangani province. He was re-elected to the 16th Congress of the Philippines in 2013. 
Manny was officially elected as a senator on May 19, 2016, after garnering over 16 million votes. He vied for the presidency seat, which he lost to Marcos Jr, the current President of the Philippines. 
Personal Life
Manny Pacquiao married Jinkee Jamora on May 10, 1999, and they are blessed with five children. Pacquiao is practising and preaching Evangelical Protestantism. 
Pacquiao was given the special rank of Senior Master Sergeant on May 4, 2009. 
Manny Pacquiao is a former coach and basketball player for Kia/Mahindra. He has also featured in several movies and released several albums and songs. 
Manny Pacquiao has a net worth of $375 million.