Meet Angela Cullen the lady behind Lewis Hamilton's F1 success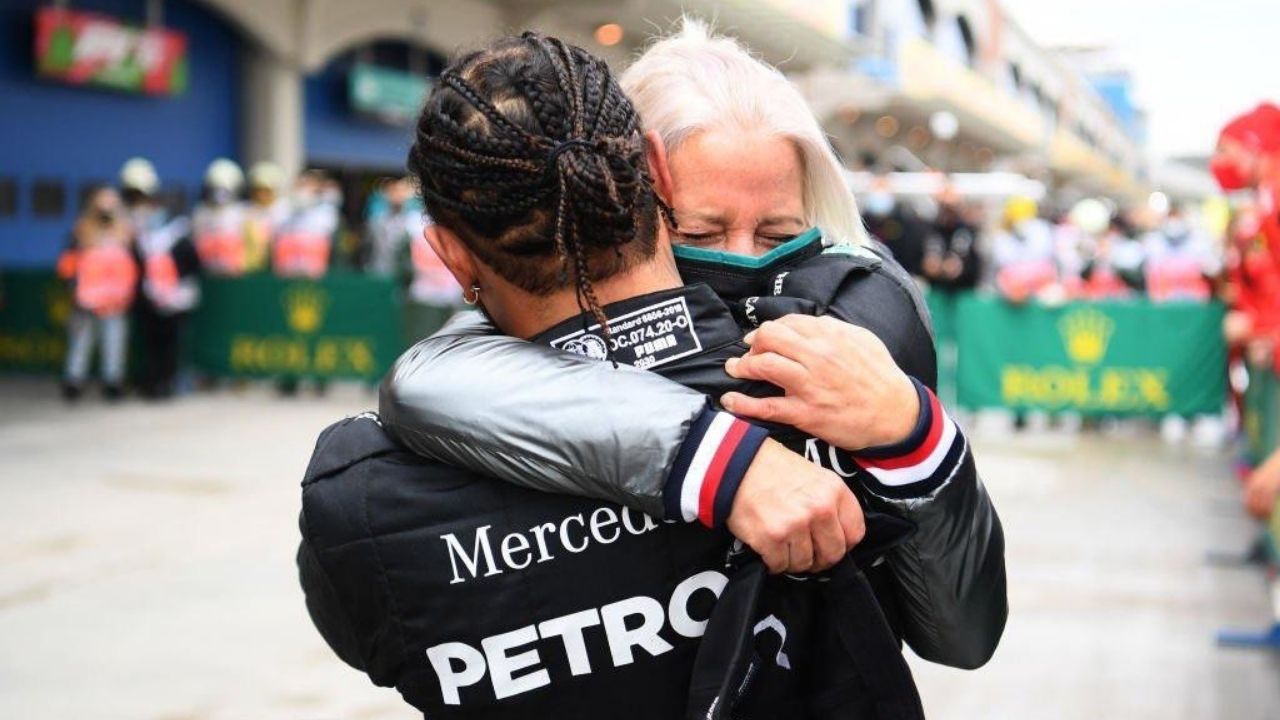 Angela Cullen has played a more significant part in Lewis Hamilton's Formula One success

According to the seven-time Formula One Champion, the two are incredibly close

She was first employed as a physiotherapist and has since developed into much more.
 Every fan of Formula One is familiar with the beautiful blonde woman (Angela Cullen) who is always seen standing at Lewis Hamilton's side.
She is typically the person with whom Lewis Hamilton celebrates his victory after a race and the one with whom he bids farewell immediately before the start.
Throughout the last few seasons, she has been one of the primary forces behind Lewis' dominance in Formula 1 competition.
Angela Cullen is a
physiotherapist
Although Cullen was first employed as a physiotherapist, she has since developed into much more.
She is in charge of Hamilton's diet schedule, logistics, and travel plans for four days out of the week. She is also responsible for making those preparations.
In this article, we will investigate Angela Cullen's background as well as her unique relationship with Lewis and her private life, which has been kept a secret.
Lewis considers Angela "one of the greatest things that have happened to him."
As we've mentioned before, most Formula One fans are aware that Angela works as a physiotherapist for Lewis. Still, fans may not realise that her tasks also include managing his daily routine, personal logistics, nutrition, sleep habits, and other aspects of his trip plans.
"People for sure won't understand it, naturally, because they see it from a distance. But she has been one of the greatest things that have happened to me in my life," Hamilton said.
In addition, Angela is always there to lend Lewis her emotional support. She helps Lewis to maintain the healthiest mental state possible with her assistance.
Therefore, it should come as no surprise that the Briton in the year 2020 referred to her as "one of the finest things that have occurred" to him.
Lewis and Angela spend some of their free time together 
Their bond also exists outside of the realm of Formula One where they both work. Angela has been observed on multiple occasions engaging in various activities with Lewis in their spare time. These instances have occurred during a number of events.
For instance, after the COVID-19 pandemic caused the 2020 Australian Grand Prix to be postponed, Lewis lingered in Australia and went mountaineering with Angela.
After the 2021 Monaco Grand Prix, Lewis, Angela, Toto Wolff, and a few other friends were seen having a good time aboard Sir Philip Green's yacht in Saint-Jean-Cap-Ferrat, located in the French region of Saint-Jean-Cap-Ferrat. This was one of the other times that the two were seen hanging out together.
Both Angela and Lewis Hamilton have loyal matching tattoos on their wrists 
Lewis and Angela have memorialised their unique friendship by obtaining identical tattoos that say "Loyalty" on the inside of their wrists.
Lewis has won four world championships with Angela and is in contention to win a fifth. Mercedes has been performing as well as they typically do this season.
With one more victory, Lewis Hamilton would become the first driver in Formula One history to amass eight world titles, solidifying his position as one of the best drivers if not the best.
Cullen knows that becoming successful in Formula 1 is extremely difficult, but she enjoys the sport's difficulty anyway.
Angela Cullen is Professionally trained as a physiotherapist
Cullen was a New Zealand national hockey team member between the ages of 15 and 21. He was born and raised in Auckland.
Before moving to the United Kingdom, she received a degree in health science from her home country, with a concentration in physiotherapy.
As soon as Cullen came on shores, she began working with athletes competing for the British Olympic squad in the track and field, cycling, and triathlon events. She did her work at the English Institute of Sport.
However, a coworker named Peter McKnight nudged her in Hamilton's direction and suggested that the two individuals should collaborate.
Angela is married with two kids
The Alps region of France is home to Angela Cullen and the rest of her family.
She is determined to shield her family from the scrutiny of the press at all costs. Because of this, Angela's children and husband rarely go to races despite being devoted Formula One fans.
According to Angela, the demands placed on F1 by the media make the work of both her and the drivers more difficult.