Sharon Chepchumba wins Sports Personality of the Month award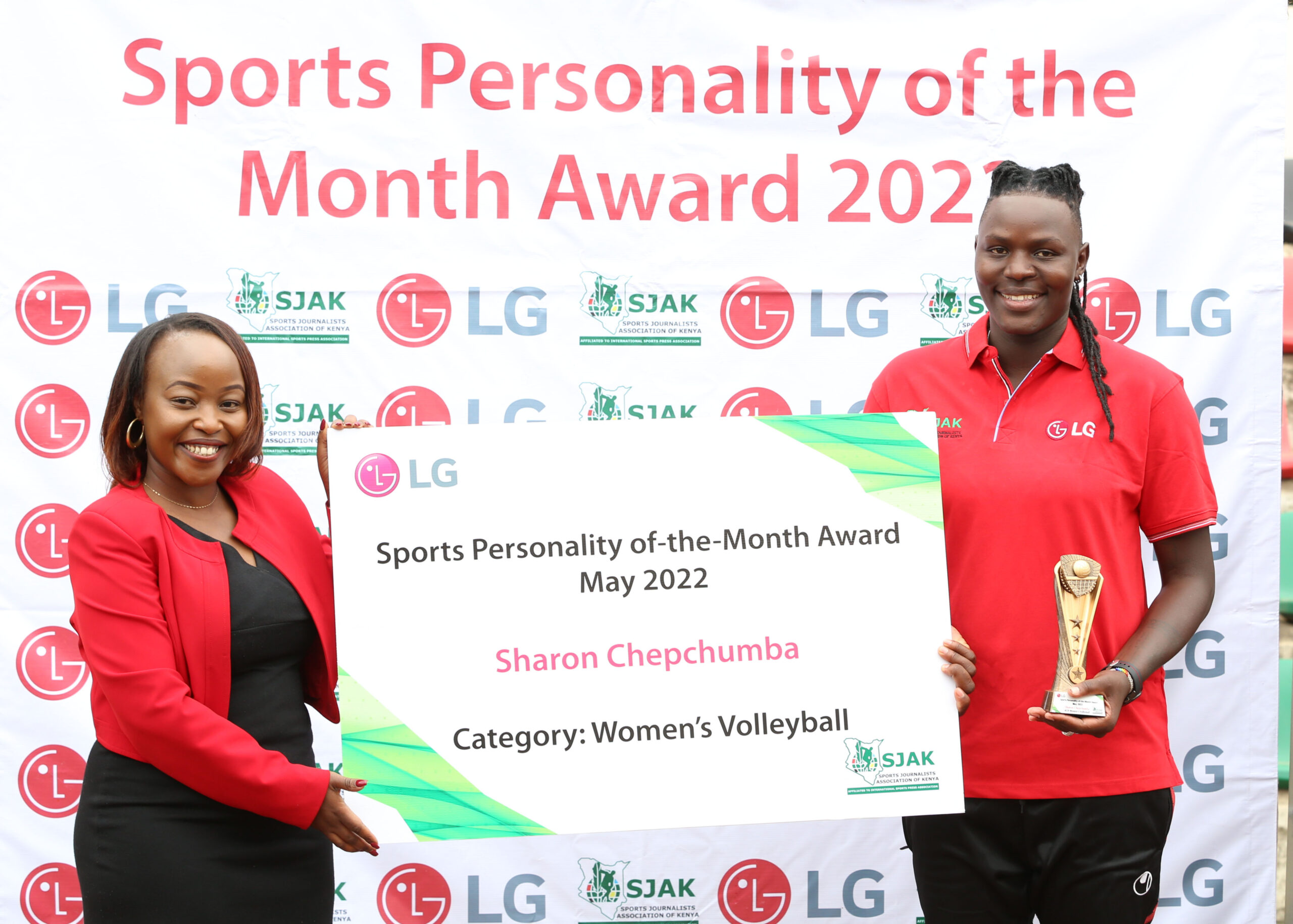 Chepchumba was named MVP at the Africa Club Championships
She was awarded with a state-of-the-art LG Fridge
She believes it is a challenge to work harder
After guiding her club Kenya Commercial Bank to the Africa Club Championship title where she was named Most valuable Player, Sharon Chepchumba has been named as Kenya's Sports Personality of the month of May by the Sports Journalists Association of Kenya (SJAK) in conjunction with sponsors LG.
The opposite hitter was one of KCB's biggest performers in the tournament in Kelibia, Tunisia, where they clinched the title for the first time since 2006, their second continental crown.
To clinch the award, Chepchumba beat a healthy field that included two starring performers from the just concluded Deaflympics in Brazil.
She beat Simon Kubai who won double gold in the 5,000m and 10,000m as well as Isaac Makokha who became the first ever Kenyan golfer to win a medal at the Summer Deaflympics. Strathmore Leos'  Brunson Madigu was also nominated after being named MVP at the Kabeberi Sevens.
"I am really grateful. Winning this award means a lot to me because I have had a challenging season due to injury, this motivates me more even as we head to the World Championships to help my national team win. This is the first time I have owned this type of a fridge," Chepchumba said as she received the award.
She added; "I thank LG for this acknowledgment and SJAK as well for monitoring our work. I usually see other sports disciplines awarded on TV, I am grateful that it has come to be a reality. It is also encouraging for other players who will look at this and know that hard work will always be rewarded"
The former Kenya Pipeline star has been a consistent figure for KCB since joining two years ago when the team started their revolution and proved her money's worth with huge performances in Tunisia as the team won the continental title.
National team head coach Paul Bitok, who is also the KCB Technical Director says he was pleased for Chumba who he believes has a huge career ahead of her.
"She is very hard working and has demonstrated that she is the best in Africa in her position. She deserves this award because of what she puts out in training and on the court," the tactician stated.
Meanwhile, Chumba says she has received various offers from club abroad including in North Africa, but is not yet quick to make a decision on her next move.
Since the Olympic Games in Tokyo where she also starred for the national team Malkia Strikers, Chumba has been a much sought after figure.
"Yes, there are various offers that have come to the table but I want to take my time and make a good conscious decision. I want to make the best decision for my future. I can't say I am not comfortable at KCB because they have given us very good contracts. I will only move for a team that gives way better and that is why I am taking my time," she says.
Chumba adds; "There are teams in North Africa and also in Europe but I can't name them now. Maybe I will be with KCB next season or maybe not. That will all depend on what comes on the table."