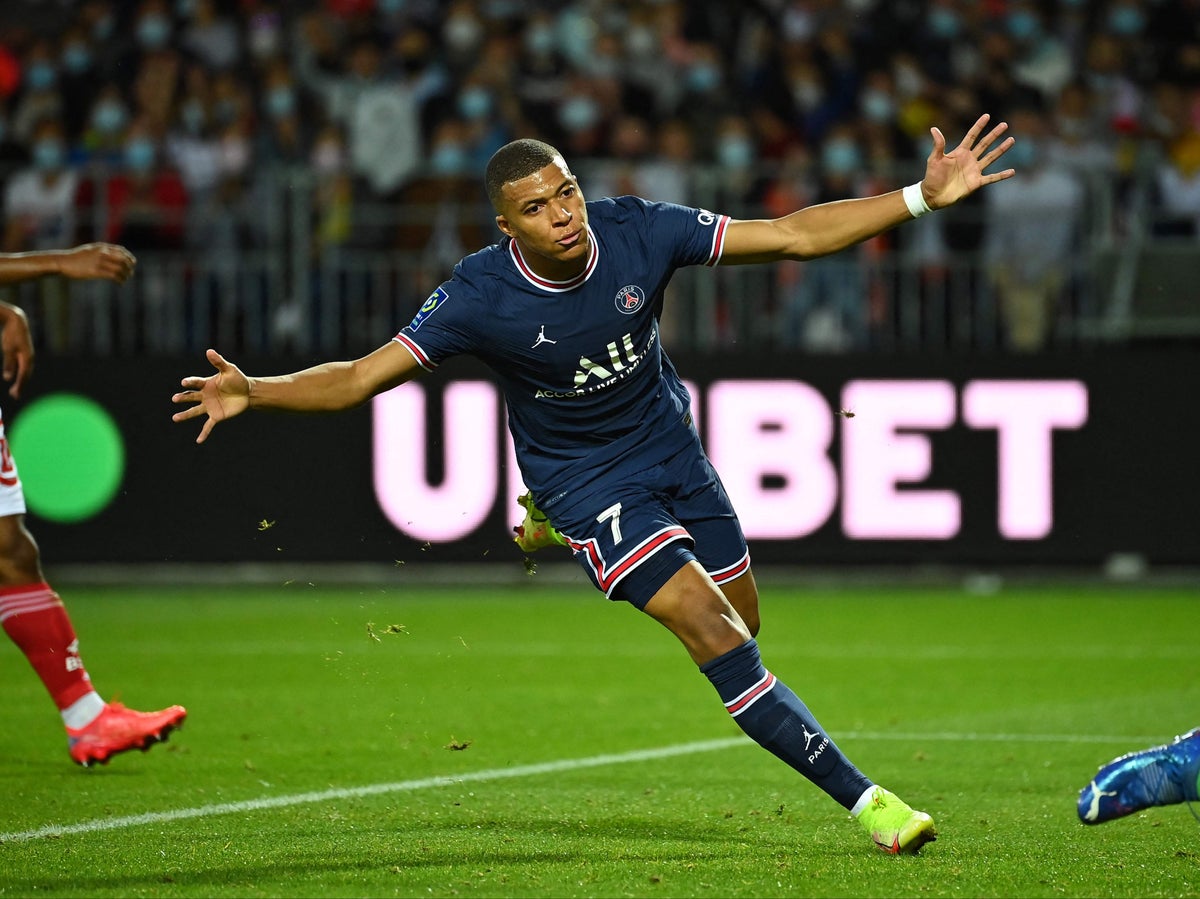 Kylian Mbappe is one of the most talented players in the world. The Paris Saint Germain star has dribbling skills and high speed.

Kylian Mbappe comes from a sporting family. His father is a coach, his mother is a former handball player, and his younger brother is a footballer. 

The Frenchman has a net worth of $110 million.
Kylian Mbappe biography and net worth. Kylian Mbappe is one of the best players in the world. The Frenchman is renowned for his exceptional pace, dribbling skills and finishing ability. 
Kylian Mbappe is a versatile forward who often plays as a winger. The youngster can dribble easily with both legs, and that's why he plays on either flank during matches. Mbappe has a great vision that enables him to create and provide chances for his teammates. 
Mbappe is a clinical finisher which makes him also a good center forward. He is a threat to many defenders due to his physicality, speed and skill moves. 
Kylian Mbappe plays for Paris Saint Germain in Ligue One and the France national team. The 23 years old has won the Ligue One title five times in his career. He was part of France's squad that won the 2018 FIFA World Cup played in Russia.
The Paris Saint Germain star has also won numerous individual awards, including the 2017 Golden Boy. 
Kylian Mbappe's Biography
Full Name Kylian Mbappe
Age 23
Place of Birth Paris, France
Height 1.78 m (5 ft 10 in)
Nationality French
Date of Birth 20 December 1998
Career Footballer
Marital Status Single
Early Life
The France international was born on December 20, 1998 in Paris, France. He was raised in Bondy, a 10.9 km town from Paris. 
Kylian Mbappe comes from an athletic family. His mother, Fayza Lamari, is a former handball player whose origin is in Algeria. Mbappe's father, Wilfred, is a football coach whose origin is Cameroon. 
Ethan, Kylian Mbappe's younger brother, is a footballer who played for Paris Saint Germain's academy in 2018. 
Kylian Mbappe began playing football at AS Bondy, a football club managed by his father. According to Antonio Riccardi, who was his coach at the local club, Mbappe showed his potential at the age of 6. He did things that other kids could not do with the ball. 
Kylian Mbappe's dribbling was fantastic to watch before he was even a teenager. He was often put to play with kids bigger than him because he was way above his age group when it came to playing. 
The French youngster later joined Clairefontaine, where he continued to impress. Top European clubs like Real Madrid, Liverpool, Chelsea, Manchester City and FC Bayern Munich attempted to sign him at a young age. 
Career
Kylian Mbappe joined AS Monaco in 2013 and played at their academy until 2015, when he joined the seniors team. He got the world's attention during the 2016-17 season when he won the Golden Boy award.
PSG signed him on loan the following season, where he made 27 appearances and scored 13 goals. Kylian Mbappe played in the 2018 FIFA World Cup in June. He was one of the best players in France who won the tournament.
Paris Saint Germain officially signed Kylian Mbappe from AS Monaco after the world cup. A transfer fee worth 180 million euros was paid to AS Monaco by PSG, making Kylian Mbappe the most expensive teenager in the world. 
Kylian Mbappe has been one of the best players in Ligue One since his permanent move to PSG. He has helped the French club win Ligue One title five times; 2018, 2019, 2020 and 2022. Mbappe also helped PSG reach the UEFA Champions League final in 2020, which they lost to FC Bayern Munich. 
Personal Life
Kylian Mbappe's favorite team has always been Real Madrid. His idols were Zinedine Zidane, Ronaldo Nazario and Cristiano Ronaldo. Mbappe had pictures of his favorite footballers in his room as a child. 
The 23 years old football star is a non-vegetarian. Mbappe, who has the nickname Donatello does not smoke. However, he drinks alcohol.
Apart from playing football, Kylian Mbappe loves playing video games, listening to music and playing tennis. 
Mbappe is not married; he is dating Alicia Aylies. The youngster has more than 50 million followers on Instagram and 5.9 million followers on Twitter. 
Kylian Mbappe has a net worth of $110 million. He has a sponsorship deal with Nike.
FAQS 
What is Mbappe's current market value?
Kylian Mbappe has a market value of $213 million. 
How much does Kylian Mbappe earn at PSG?
Mbappe earns approximately $1.15 million every week at PSG.
What is Kylian Mbappe's net worth?
Kylian Mbappe has a net worth of $110 million. 
What cars does he own?
Kylian Mbappe drives Ferrari. He also has a Mercedes Benz, BMW, Audi and a Range Rover.