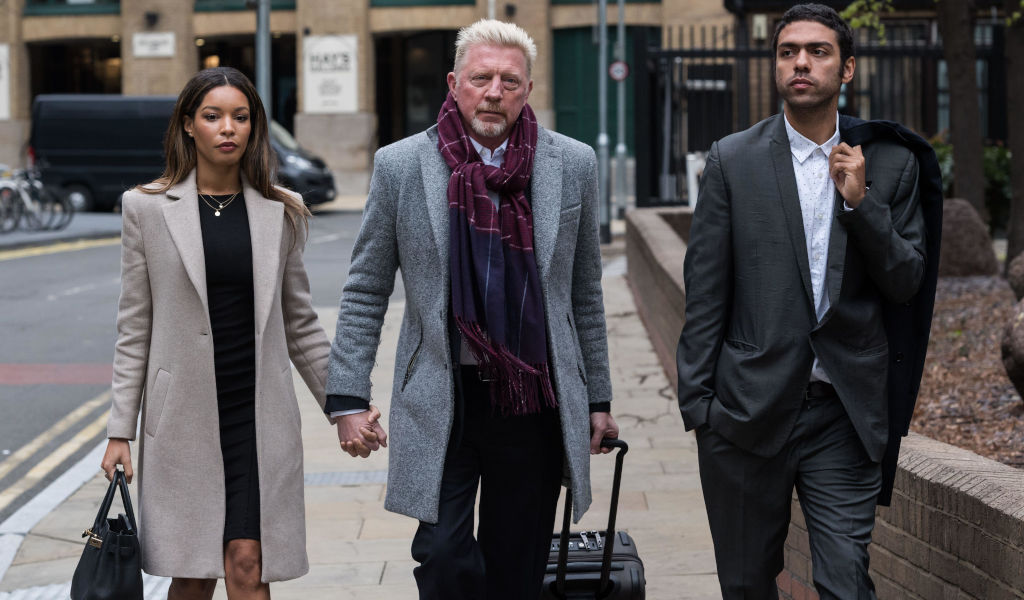 Southwark Crown Court found Borris Becker guilty of four charges under the Insolvency Act
Evidence suggests he willfully hid millions of pounds in assets to avoid paying his dues
However, he was acquitted of 20 other charges levied on him
Boris Becker is guilty of four offences under the Insolvency Act, Southwark Crown Court has ruled in his bankruptcy trial.
The court found Becker guilty of hiding millions of pounds in assets to avoid paying his obligations.
However, Becker was cleared of 20 more charges levelled against him.
In addition to this, he was accused of hiding two of his Wimbledon championship trophies.
Nine charges brought against him for not turning over the medals and trophies he earned during his tennis career were thrown out for lack of sufficient evidence.
As of June 2017, Becker had been declared bankrupt for unpaid loans totalling more than $5 million, with his Mallorca estate serving as collateral.
The Three-time Wimbledon champion claims to have sought competent guidance when he wanted to protect his assets following his bankruptcy judgment.
When Becker moved to the United Kingdom in 2012, he had been sentenced to ten years in prison for tax evasion in Munich.
To avoid paying a 3.3 million Deutsche Mark tax debt, Becker lied about his residence from 1991 to 1993, according to the Munich District Court.
In light of Becker's bankruptcy trial and following scandals, the ITF Hall of Fame member's reputation has suffered.
Lawyers for the Central African Republic's Attaché for Sports/Humanitarian/Cultural Affairs in the European Union would argue that Becker was entitled to diplomatic immunity because of his position.
However, the Central African Republic's Foreign Minister countered that Becker was "not an official diplomat for the Central African Republic."
Jonathan Laidlaw QC, Becker's lawyer, said that during Becker's bankruptcy, he was too 'trusting and reliant' on his advisors.
It was evident that Judge Deborah Taylor had told the jurors to disregard Becker's fame.
"You must treat him in exactly the same way you would treat someone you have not heard of and is not in the public eye," she said.
Becker, who resides in Wimbledon, was flanked by partner Lilian de Carvalho Monteiro throughout the trial. He was bailed ahead of sentencing at the same court on April 29.
HOW DOES BORIS BECKER FEEL ABOUT THE BANKRUPTCY TRIAL?
Before the court's verdict, Becker said it was "shocking and embarrassing" for when he was declared bankrupt in 2017.
Becker says he was taken aback by this declaration, and it ended in humiliating him.
"As you can imagine, I was very shocked at the fact. Because it was all over world news, and I walked through the gate of Wimbledon and everyone knew. I was embarrassed because I was bankrupt," Daily Star reports.
During this period, Becker and his then-wife Sharlely Becker were alleged to have been residing in "different quarters" of their rented property.
HOW DID BANKRUPTCY AFFECT BORIS BECKER'S LIFE?
It's also been difficult for the 54-year-old to make money because of the media attention that's come his way since the story surfaced.
Becker says being in the news every week for bankruptcy is extremely difficult.
"It is very difficult when you are bankrupt and in the headlines every week for it. It is very difficult to make a lot of money with my name."
WHAT IS BORIS BECKER KNOWN FOR?
Becker, a former coach of Novak Djokovic, is accused of neglecting to return nine trophies and faces 24 offences under the Insolvency Act.
Two of his three Wimbledon men's singles titles, his Olympic gold medal from 1992 Atlanta Olympics title, two Australian Open trophies, and his Davis Cup trophy and gold coin are all in target.
The German tennis legend was born on November 22, 1967, and retired from the sport in 2001.
At the age of 17, he won the first of six Grand Slam singles titles – three Wimbledon Championships, two Australian Opens, and one US Open.
Additionally, he won three year-end championships, 13 Masters Series titles, and a gold medal in doubles at the Olympics.
Both the ATP and the ITF named him Player of the Year in 1989. Pete Sampras, Novak Djokovic, and Roger Federer are all tied for the record of seven Wimbledon final appearances by a male player.
In the past, Becker's personal life has been tumultuous because of his early success and recognition. Since his playing days ended, he has tried earning a living in many ways.
He coached Djokovic for three years, and played professional poker. He also ran other multiple businesses through his Spanish firm.
Becker was estimated to be worth $ 35 million in 2020.
HOW DID BORIS BECKER BECOME BANKRUPT?
When it comes to prize money and endorsement deals, the former world No.1 earned roughly $ 50 million US dollars (about £38 million) during the course of his career.
He went on to train current Djokovic, served as a BBC pundit, and as a brand ambassador for companies including Puma.
But Becker claimed that once he retired, the amount of money he made "dropped considerably."
After divorcing his wife Barbara Becker in 2001, he had to support his daughter Anna Ermakova and her mother in a deal that included a £2.5 million Chelsea flat, he revealed in an interview.