Emma Raducanu Got BBC Sports Personality Of The Year Award.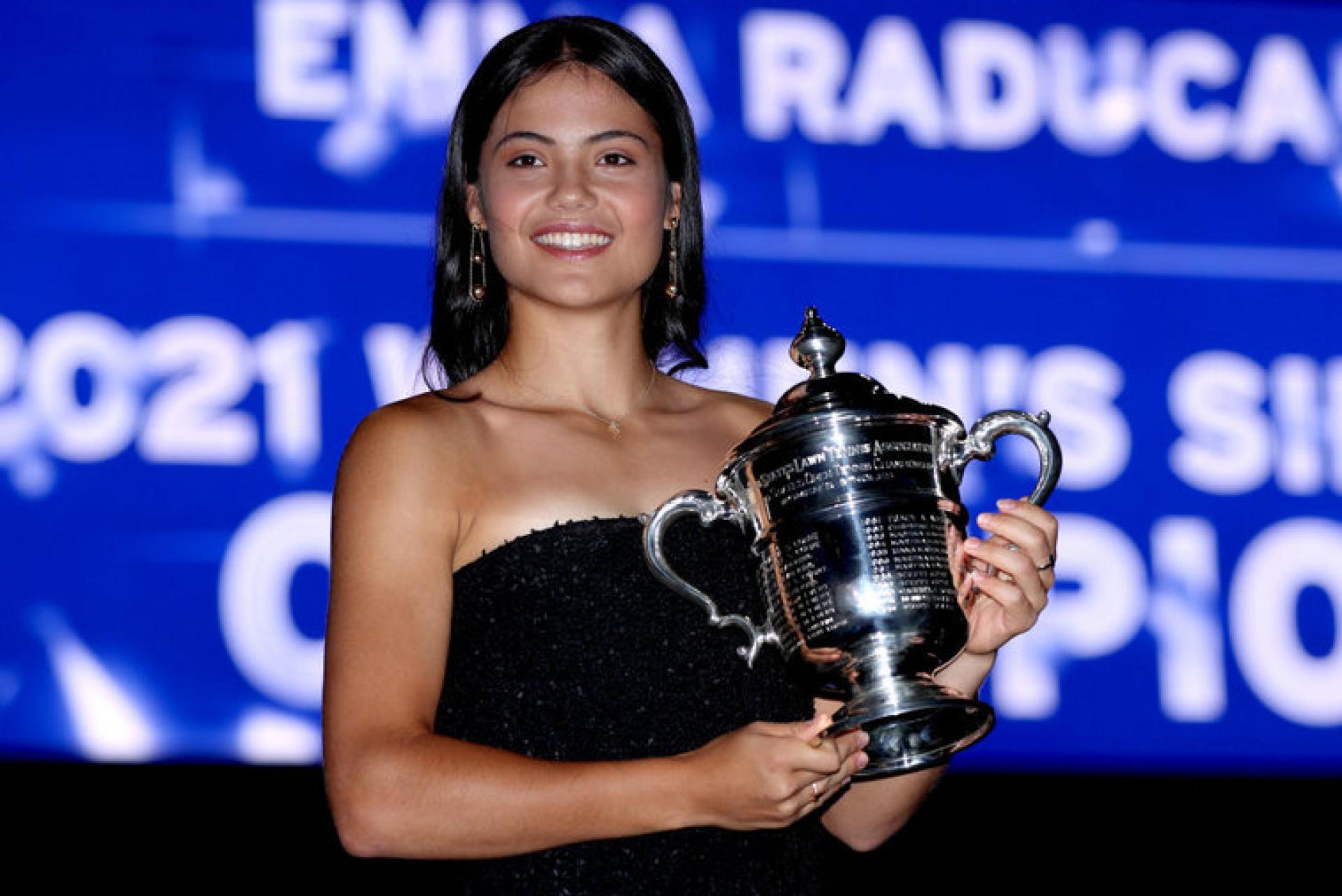 Emma Raducanu Award:
This year bring lots of fan following, and life lesson also award for Emma Raducanu, She Has Been Awarded by BBC as BBC Sports Personality Of The Year Award.
Emma Raducanu's 2021 season is worth a million words. It is mostly about her success for the year and her effort to change the tennis landscape as a greenhorn who proved everyone wrong.
Raducanu was little known until mid-2021 when she rose from the ashes like a phoenix. In late June, the 19-year-old made her debut on Court 18 in front of a crowd of British tennis fans.
Some cheered as Vitalia Diatchenko was demolished 7-6 6-0, and a celebrity was born. Markéta Vondrouová, the runner-up in the 2019 French Open final, was no match for her.
Supporters on the newly christened Raducanu Ridge, who had been watching their new heroine's exploits on a big-screen television, began to daydream about their new heroine's heroics.
She then faced Ajla Tomljanovi in the round of the 16 matches, which helped her gain more love from the audience. This was the beginning of a stellar Emma Raducanu 2021 season.
Raducanu 338 at the start of July. An eye-catching run into the second week of Wimbledon saw her ranking jump to 179 and then 150 ahead of the US Open.
So, what did Emma Raducanu's 2021 season bring?
US Open 2021 Victory
At 18, Raducanu became the eighth-youngest player to win a Grand Slam in the Open Era. Hingis is still the youngest, after winning the Australian Open in 1997 at the age of 16.
Emma Raducanu's 2021 season saw her thrash Canadian teen Leylah Fernandez the women's single at Flushing Meadows. Although Raducanu did not drop a set in the ten matches, it did not mean the absence of challenges.
She admitted it was a tough contest with only a few points here and there making the difference. Three of them qualifiers just to make it into the main draw – and made history by becoming the first qualifier ever to win a Grand Slam.
Mega Prize and Sponsorship
Affluence comes as a result of a job well done. And this followed Emma Raducanu's 2021season in quick succession. There are plenty of firms out there eager to support athletes who have the potential to become a symbol of their sport and country.
Raducanu isn't the only one in this category. Billie Eilish and Justin Bieber were among her other attendees at the Met Gala following her breakthrough in New York City.
She was dressed to impress by Chanel and Tiffany & Co. on the red carpet. According to a press release, it was then revealed that she had signed an agreement with the renowned American jeweller worth £2 million.
After being impressed by her Met Gala performance, fashion titans Dior hired her as the global face of their business.
Prior to winning the US Open, she was only paid £100,000 in endorsements from Wilson and Nike. She recently signed an agreement with Evian, a bottled water manufacturer.
Furthermore, she has been touted to become an athlete worth $1billion.
This year's SPOTY winner has risen from 343rd to 19th place in the world rankings in the two years between 2020 and 2021.
Emma Raducanu Finally Has a Coach
One of the intrigues of Emma Raducanu 2021 season was the fact that she played without a coach after New York victory. Since her victory at Flushing Meadows, the 18-year-old British hasn't won any tournament thereafter. Andrew Richardson was coaching her but left after the tournament.
The British teen now seeded 23rd became a hot topic due to her futile hunt for a coach.
Talks of her coach began after her 6-2 6-4 loss to Aliaksandra Sasnovich at the Indian Wells 2021. She walked off in the second round after a gallant defeat.
Last month, Raducanu did not face off with legendary Simona Halep at the Transylvanian Open. This is after the British was beaten in the quarter-finals 6-2, 6-1 by Marta Kostyuk in Cluj-Napoca.
Kostyuk beat the 18-year-old U.S Open Grand Slam winner in the two sets in 57 minutes. Her game was pressure-ridden and similar to Raducanu's tactics at Flushing Meadows in September.
However, she picked Torben Beltz, a former coach to Angelique Kerber. According to the Press Association, the German coach will steer Raducanu through WTA tour in 2022. Beltz worked with Kerber for 10 years and disconnected for a while in 2013 before linking up again.
He helped Kerber rise to the top 10 in tennis charts by 2013 when they took a hiatus. When they linked up towards the start of the 2016 season, Kerber made history as that was her best season.
BBC Sports Personality of the Year
It's hard to believe Emma Raducanu 2021 season is over. And she is already planning for 2022 as the year's accolades pour in for the year 2021.
After a positive Covid-19 test, the 19-year-old accepted her BBC Sports Personality of the Year award from her hotel room in Abu Dhabi.
Before going to Australia for the start of the WTA season and the first Grand Slam of the year, she will be able to spend Christmas in her native Middle East.