Tennis
Novak Djokovic Australian Open 2022 : Will he play or not?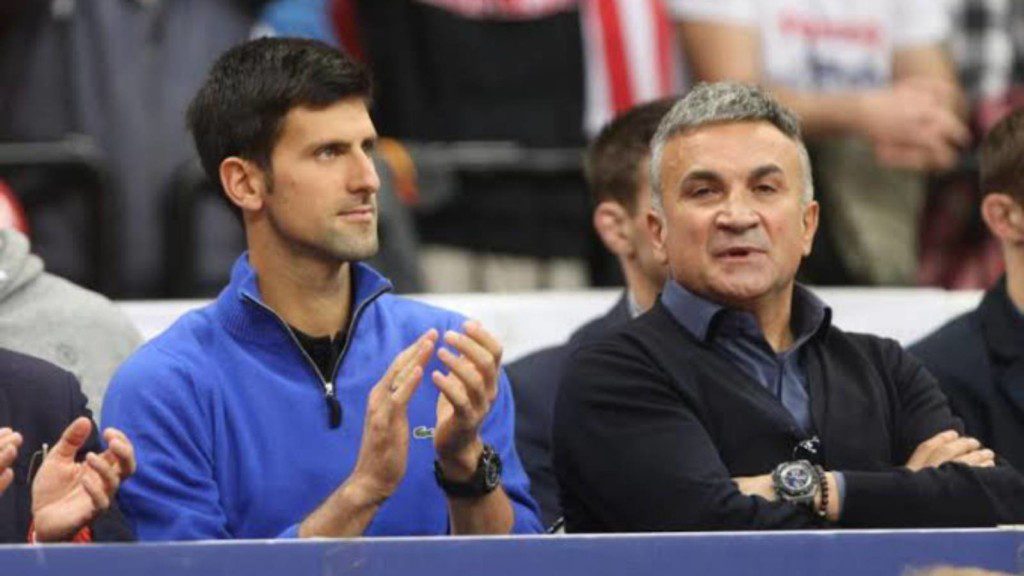 Chances of world No.1 Novac Djokovic Australian Open 2022 are so slim after his father Srdjan Djokovic called out official over mandatory COVID-19 vaccination rule.
Craig Tiley, the Australian Open tournament chief maintains that unvaccinated players will not be allowed to participate in the 2022 season-opening Grand Slam. The rules come to play even as Djokovic maintains his stance not to disclose it or not he is vaccinated.
Srdjan Djokovic Speaks on 'Blackmail'
His father says that his son who is the world No.1 is being blackmailed by tennis officials. Srdjan while speaking to Sports Illustrated said that he does not anticipate Djokovic playing in the Australian Open next year.
Srdjan said the vaccination rules by the tournament's officials are tantamount to blackmail. He says his son should not be forced to be vaccinated so as to play adding he is willing to play in the tournament.
"As far as vaccines and non-vaccines are concerned, it is the personal right of each of us whether we will be vaccinated or not," he told TV Prva.
"Everyone has the right to decide on their health. Will he publish it? I don't think so. I don't know that decision either. And if I did, I wouldn't share it with you. He has the right to decide as he wants."
Novak Djokovic Ready For Australian Open But…
Srdjan said it was unbecoming for Australian leaders supporting the all tennis players vaccination rule. He added that the ultimate decision on whether Djokovic debuts for the Australian Open depends on what these leaders will 'pose'.
"He would want it with all his heart because he is an athlete, and we would love that too. Under these blackmails and conditions, he probably won't [play]. I wouldn't do that. And he's my son, so you decide for yourself."
Djokovic's participation in the Melbourne Park Grand Slam sparked a heated debate in the tennis world. However, even after his father's take on the whole issue, the Serbian remains non-committal on his appearance.
The 34-year-old misses an opportunity to dethrone Rafael Nadal and Roger Federer by clinching a 21st Grand Slam title.
What Else Would Make Djokovic Miss Out on the Australian Open?
Sometime in mid-October, Djokovic expressed concern over quarantine requirements for players in the Australian Open.
He urged tennis officials at the time to speak in one voice and involve players in making decisions concerning the opening of the Grand Slam in Australia.
He told Tennis365 that he would hate a repeat of quarantine issues that dogged him this year. Djokovic says the quarantine experience is a nightmare he doesn't want to battle.
The Serbian said tennis players remain in the dark about the opening of Grand Slam in Melbourne next year. Conflicting statements about the requirements made it even worse.
Novak Djokovic Opposed to Quarantine
A statement by Scott Morrison, the Australian Prime Minister cited that all tennis players would quarantine upon arrival in Australia for 14 days. They would quarantine in a hotel.
The PM's message followed leaked private emails sent to all WTA players. The email stipulated that those who've been vaccinated will move freely. However, the story is different for unvaccinated players who will undergo a 14-day mandatory quarantine.
In addition, they would be subjected to regular testing after the two-week quarantine.
The confusion was further fuelled by Victoria Premier Dan Andrews who implored unvaccinated players would not compete. And it came to pass recently after Tiley's official statement.
At the time Djokovic said he was unsure if he would compete in the Australian Open. He told Blic the main problem was that if he was on a plane with a person who is positive, 'whether you are vaccinated or not, you automatically have to go to the room for 14 days'.
WTA 2021 Quarantine Memories
This is reminiscent of what happened in 2021 where WTA players were forced into mandatory quarantine after travelling with COVID-19 positive players.
Djokovic painted a clear picture of it all and fears that it could repeat itself again in Australia. He said that happened to Viktor Troicki in January 2021. Not only him, but also 70 players had to be quarantined. He talked to a lot of players and that is something that everyone has a bad memory of, he offers.
The Paris Masters champions called on other tennis players to unite and speak in one voice in order to influence the decision-making process.
He defended his vaccination controversy saying that it is a private matter which should not be subject to public scrutiny. Djokovic maintained he will keep it a personal affair.