Athletics
Inside the life of 1500m Olympic champion Faith Kipyegon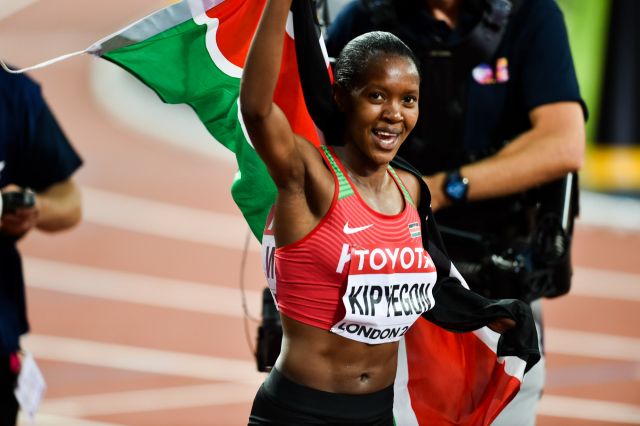 Faith Kipyegon the reigning 1500m Olympic champion has come a long way to shatter world records. And it is all thanks to Vivian Cheruiyot who inspires her to keep getting better. Over above her net worth that has remained a top-secret, Kipyegon loves her family to bits.
At 27, the bubbly Kipyegon has a knack for smiling. Kenyans love her smile. But, there is so much more to her smiling demeanour; it is what keeps her spirits alive and sharpens her focus even more.
The mother of one stellar athlete career inspires generations but it is also beneficial to her community. However, let's get to know Kipyegon better.
Who is Faith Kipyegon?
Kipyegon was born in the highlands of Bomet in 1994 and took up competitive running a as a teenager. She is a mother of one, a girl now three years old.
She is married to Timothy Kiptum, the 2012 Olympic 800m bronze medalist. Behind her global fame as a Kenyan middle-distance champion lies a simple woman.
Her love for chapatti and beef stew is unrivalled and sometimes, she has cheat days with French fries. In her diet plan, these deep-fried potatoes otherwise known as chips in Kenya are a no-go zone.
But, she is human and to human beings are temptations! Whiling away time for Kipyegon the 1500m champion has so much to do with watching Nollywood films.
Her daughter is an avid cartoon lover, her favourite being Diana.
Faith Kipyegon Career Stats
Kipyegon ran her first competitive race in the 2010 World Cross Country Championships women's junior race and won a gold medal. She won a second gold medal in the 2011 World Cross Country Championships junior race.
That same year she scooped another gold medal for the 1500m at the World Youth Championships.
Her major breakthrough came thereafter at the 2012 World Junior Championships in Barcelona where she took home a gold medal.
Since 2014 when she turned 20, she has won or finished second in every major championship.
In her winning streak, she made history by winning the 2014 and 2017 Commonwealth Games, and the 2021 Diamond League title.
Faith Kipyegon Olympic Wins
Kipyegon successfully defended her 2016 Rio Olympics title in 1500m by posting a new record of 3:53.11 at the Tokyo 2020 Olympic games.
She made history by becoming the first woman to win back-to-back Olympic gold medals in 1500m.
Veteran Russian runner was the only athlete to achieve such a feat after Tatyana Kazankina in 1976 and 1980.
Her first gold medal brought power connectivity to her parents' home in Keringet, Nakuru County. Despite most of the country being connected to the power grid, her village lagged behind.
However, Rio win brought with it goodies for the entire village.
What is Faith Kipyegon's Secret to Success?
Just like in revision after failing a test, Kipyegon uses her YouTube time wisely. She watches tons of races hoping to learn something new. Most importantly though, she watches her past races to see where she erred.
She avoids the same pitfalls in subsequent races. Dieting, rigorous training, observing a strict diet routine and being confident works magic for her in the tracks.
How Does Faith Kipyegon Handle Social Media Hype?
Her fame sparks positive and negative energy online. Kenyans on social media are a mix of good ambassadors full of positive energy while others spew bitterness endlessly.
It is the bitter lot that Kipyegon handles with lots of wisdom. "I move on," she says. 1500m Olympic champion winner pays no attention to critics and other naysayers.
World Athletic Award
Kipyegon was in October named in the preliminary shortlist of 10 athletes released by World Athletics.
Marathon great Eliud Kipchoge was also nominated for the male award. Kipyegon enjoyed a stellar 2021 campaign.
She clinched a gold medal at the Tokyo Olympics with a complete thrashing of the Netherlands' Sifan Hassan.  Hungry for more success, she won the 2021 Diamond League title in Zurich.
The 1500m double Olympic champion also broke the Kenyan national record twice and finished off her season with a win at the Kip Keino Continental Gold Classic Tour in Nairobi.
World Athletics President Sebastian Coe said the World Athletics Awards recognise athletes who have performed at the highest level across the year.