Kenya will have yet another team sport playing at the Tokyo Olympics after the national women's beach volleyball team earned a ticket to next month's games after beating Nigeria to win the CAVB Continental Gold Cup in Morocco.
Kenya's team of Gaudencia Makokha, Brackcedes Agala, Yvonne Wavinya and Phosca Kasisi dominated the Cup in Morocco to earn a ticket to Tokyo as Kenya progressed to play in the discipline for the first time ever.
It was a huge relief for the girls especially after missing the initial qualifiers last year due to the COVID-19 pandemic.
Nigeria hosted the Cup in April last year, just as the Coronavirus wave was beginning to sweep across the globe. With travel restrictions being enforced in most parts of the world, Democratic Republic of Congo, Cape Verde and Kenya all withdraw from the event.
This left hosts Nigeria and Zambia as the only two participating teams and they ended up earning automatic slots. However, after a petition by the Kenya Volleyball Federation, CAVB re-thought the decision and hence the rearrangement of the Cup in Morocco.
This was after world governing body FIVB extended the qualification period,
In Morocco, the Kenyan girls were in emphatic form. The first pair of Makokha and Agala came from a set down to beat the Nigerian duo of Amarachi Nwachukwu and Francisca Ikhiede 2-1.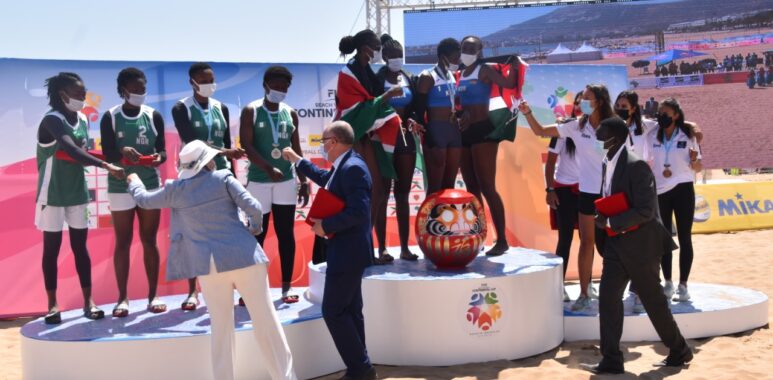 The West Africans had won the opening set 21-17, but Agala and Makokha were emphatic in their response tying the game at 1-1 with a 21-18 victory in the second set. Heading to the tie breaker, the Kenyan girls left no stone unturned as they won 15-10.
Agala has been a long time captain of the national volleyball team and switched to beach volleyball this year after the certainty that her place in the other team was to be taken by budding youngsters.
Meanwhile, the second Kenyan duo of Kasisi and Wavinya defeated Nigeria's opposites of Touch Nnoruga and Francisca Albertina by straight sets of 21-17 and 21-10.
With Kenya winning in both pairs, they ultimately clinched the crown to book a ticket to Tokyo.