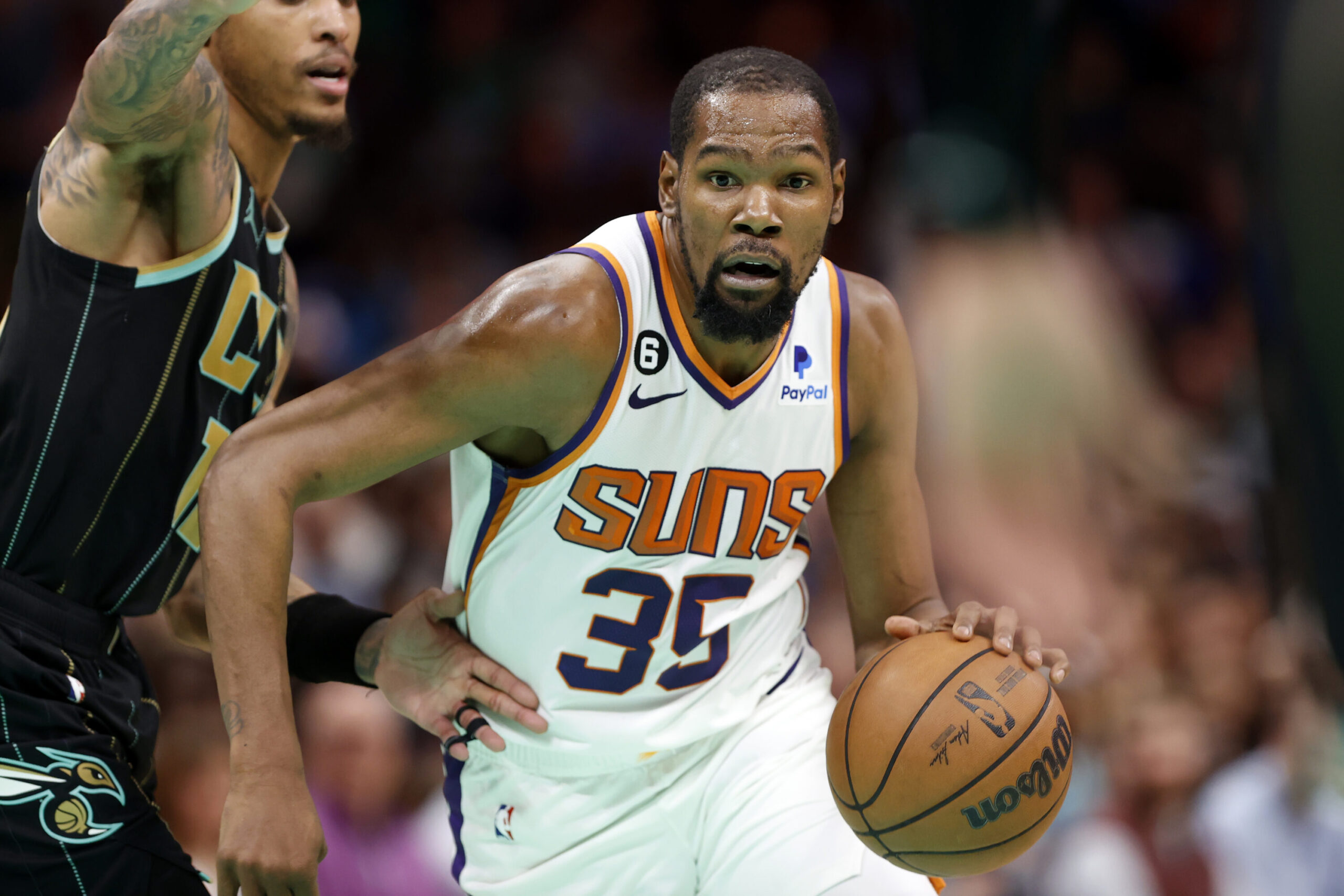 Durant dated WNBA star Monicah Wright for years
He engaged her but later broke up
He was born and raised in Washington DC
With his ranking among the top 10 NBA players in 2023, Kevin Durant biography is an interesting subject.
The 34-year-old American is a pro-league basketball star playing for Phoenix Suns. Durant's success dates back to his college days when he played for Texas Longhorns. Soon enough, he climbed the ladder of success to the NBA draft in 2007.
KEVIN DURANT BIOGRAPHY
| | |
| --- | --- |
| Full Name | Kevin Durant |
| Age | 34 |
| Nationality | American |
| Place of Birth | Washington DC |
| Height | 6'9 ft |
| Occupation | Basketball player |
| Source of Wealth | Basket Ball |
KEVIN DURANT EARLY LIFE
Wayne Pratt and his wife Wanda welcomed a bouncing baby boy who they named Kevin Durant on September 29, 1988. This was back in Washington, D.C. Sadly, Wanda and Wayne separated when he was still a toddler. They would eventually divorce leaving Wanda with the hard task of raising a son on his own.
His grandmother Barbara Davis helped in raising him while his mother worked to provide for the family. He had three other siblings, two brothers, Rayvonne and Tony and a sister Brianna. Prince George's County, Maryland has s special place in Kevin Durant biography because he grew up here.
The former Golden States Warriors was unusually tall from an early age and what he loved most was playing basketball.
PERSONAL LIFE
If there is one NBA celebrity who values privacy is Durant. Not much is known about his personal life but we know he has had two women, at least in the public knowledge. He dated WNBA star Monicah Wright for years but the two broke up in 2022.
They were both engaged and people were waiting for the wedding bells but they ended up separating. Durant publicly spoke about the reasons he called off his engagement, so did Wright.  In an interview with GQ, Durant said that he could not continue with a relationship with some he didn't know how to care for, like or love.
"I had a fiancée, but…I really didn't know how to, like, love her, you know what I'm saying? We just went our separate ways," he said.
Wright, on the other hand, said that her separation with the NBA player was on religious grounds. She couldn't compromise her faith for anything.
"In my last relationship [with NBA All-Star Kevin Durant], I had to make a decision about compromising myself as a woman. I had to make a decision to leave a relationship, which a lot of people thought I was crazy to leave. There was a lot of criticism over it. But I think God had my back in it," Wright said.  This relationship bit is a huge part of Kevin Durant biography.
CAREER
His NBA Draft by Seattle SuperSonics came in 2007 as the second choice. Then 19 years old, Durant defeated the Denver Nuggets in his debut regular-season game, tallying 18 points, five rebounds, and three steals. He was voted the NBA Rookie of the Year after finishing the 2007–08 NBA season with averages of 20.3 points, 4.4 rebounds, and 2.4 assists.
He was one of only two teens in NBA's history to average at least 20 points per game for a complete season, joining Carmelo Anthony and LeBron James. His star shone bright even as the team rebranded to the Thunder, based in Oklahoma City from Seattle. Durant became famous when won the 2013/14 (NBA) Most Valuable Player (MVP) award with Thunder.
After eight seasons with Thunder, he jumped ship to the Golden State Warriors where he played for three seasons – upto 2019. He then moved to Brooklyn Nets and played for three seasons.
In July 2022, Durant asked the Nets for a trade. The Miami Heat and the Phoenix Suns were his top trade targets. The Toronto Raptors and Boston Celtics, two teams in whom he was also intrigued, were the favourites to sign Durant but he did not let them be. After speaking with Nets management, Durant withdrew his trade request in August 2022.
He eventually moved to Phoenix Suns in 2023.
LUXURY COLLECTION
No NBA player has a collection of more expensive cars than Durant. His garage, which is worth $4,369,741, is the eighth-most expensive garage of any athlete. Here are the cars he owns.
1966 Ford GT40
Lamborghini Aventador Roadster
Rolls-Royce Phantom
Ferrari California
Custom Chevrolet Camaro
FAQS
Does Kevin Durant have children?
Kevin Durant doesn't have children yet.
How did Kevin Durant become famous?
Kevin Durant became famous when won the 2013/14 (NBA) Most Valuable Player (MVP) award.
Where did Kevin Durant grow up at?
He grew up in Washington D.C with his three other siblings.
How much money does KD make a year?
With the Phoenix Suns, he earns an annual salary of $42.7 million.
How much KD is worth?
His net worth is at least $200 million.