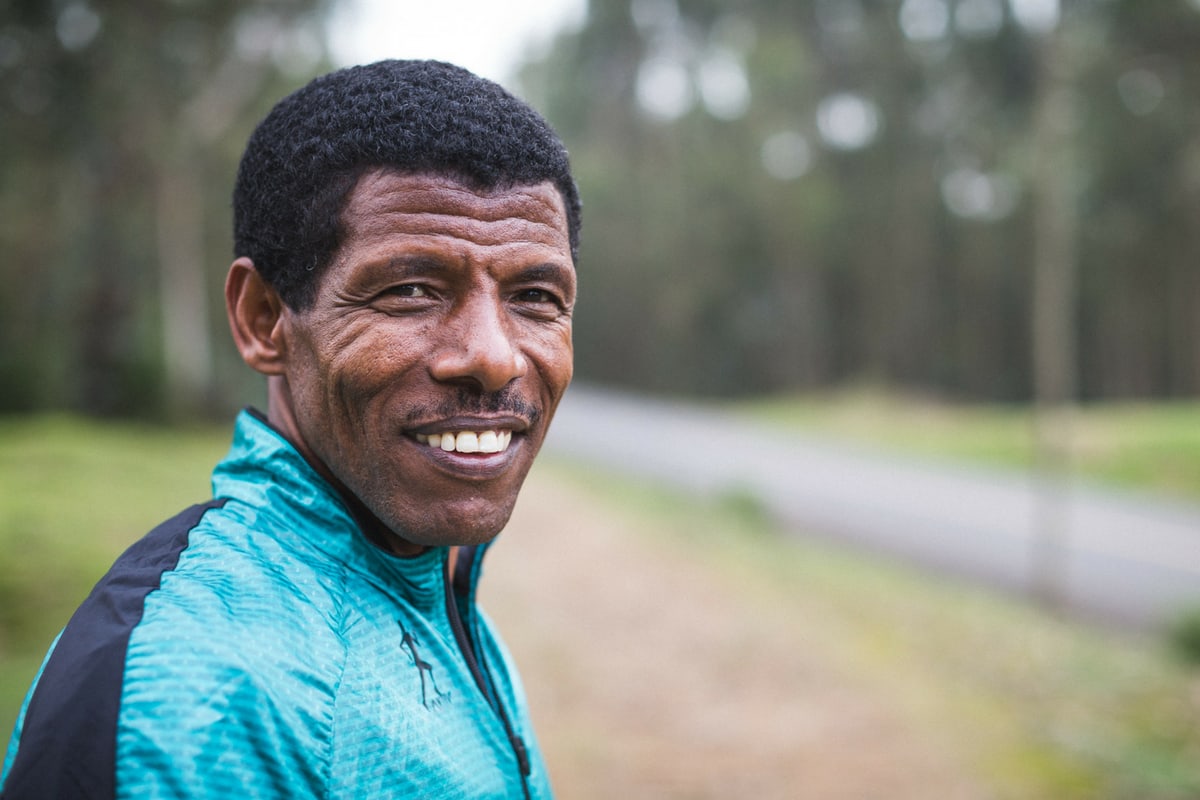 Ethiopian marathon legend Haile Gebrselassie holds Kenyans close to his heart.
Gebrselassie was the face of marathon back home and even on the international stage in the 90s and 2000s
His biggest competitor was Kenyan Paul Tergat
Although he is now retired, Ethiopian marathon legend Haile Gebrselassie holds Kenyans close to his heart.
In the late 1990s and early 2000s, Gebrselassie was the face of marathon back home and even on the international stage. So were Kenyan marathoners at the time like Paul Tergat.
Throughout his career, there was a shadow of a Kenyan who pushed him to do his best and it worked for him.
"Kenyans used to give me a headache and I thank them for that. Without them, do you think Haile would be here talking to Kenyan media?" he told Nation during a recent interview.
DID HAILE GEBRSELASSIE VISIT KENYA?
The love Haile Gebrselassie has for Kenyans is immeasurable. He visited Iten, in Kenya's Rift Valley for a second time in 2023.   He was part of an Adidas promotion t touring Iten, synonymous with producing top athletes. Its high altitude makes a to-go-to training ground for athletes drawn from all walks of life.
Iten is one of the best places in the world for any athlete to train extensively due to its elevation of 2,400 metres. June and July make the coolest months when temperatures range from 9 to 12 degrees Celsius. Further, Iten's topography is equally challenging but it builds stamina and willpower.
Gebrselassie admits that he always feels at home when in Kenya. He recalls that each morning he wakes up in Iten and sees a multitude of athletes running, it reminds him of his Ethiopian home.
With his signature smile, he notes that most of these Kenyan athletes recognize him but he doesn't know most of them because he is now retired. Most of them are young and were born while his career was at its peak.  He insists that the glory of Ethiopian and Kenyan athletic legends is symbiotic in nature.
WHAT IS HAILE GEBRSELASSIE DOING IN KENYA?
He is part of an Adidas entourage to Kenya. His visit follows that of Adidas Vice President Global Sports Marketing Jennifer Thomas two weeks ago. She visited the graveside of slain World Athletics Cross Country Champion Agnes Tirop in Nandi, Rift Valley, Kenya.
Tirop, a young Kenyan cross-country champion died on October 13, 2021. She was found dead in her house with multiple stab wounds. It wasn't immediately clear what was behind her death but police investigations determined that her husband Ibrahim Rotich was behind the gruesome murder.
Reports by family and neighbours gave an account of a couple who had a troubled relationship. Just before her death, Tirop had just returned to her home after a long period of separation from Rotich, 43.
The suspect's family had earlier tried to resolve the couple's infightings which was partly fruitful as Tirop returned to her husband's home only to be reported dead days later. Police reports indicate that Rotich called Tirop's family crying after the incident and informed them that he had done something wrong.
He later disappeared for days but a police dragnet caught up with him in Kenya's coastal city of Mombasa. He pleaded not guilty and the case is still ongoing. Unknown to many, Tirop and Rotich appeared like the perfect family with beautiful photos of them cuddling online.
But this was just a façade with a dark side to it. They constantly argued about Tirop's property which Rotich, 41, wanted to be registered under his name.  It is believed that they had this argument prior to her death when she realized that Rotich registered some of her property in his name.
WHO WAS THE BIGGEST KENYAN COMPETITOR FOR HAILE GEBRSELASSIE?
Legendary Kenyan cross-country champion Paul Tergat was Gebreselassie's biggest competitor. Tergat won five world cross-country events. His athletic demeanour always sparked a running rivalry between Kenyans and Ethiopians.
WHAT DOES HAILE GEBRESELASSIE DO AFTER RETIRING?
Haile Gebrselassie, a four-time champion of the Berlin Marathon, has accomplished a lot in his 25-year career and has no regrets. Since retiring years back, he switched his focus to running his vast empire with investments in real estate, motor and entertainment industries.
He also has had more time for his children since retiring in 2015 and he is happy about all this.