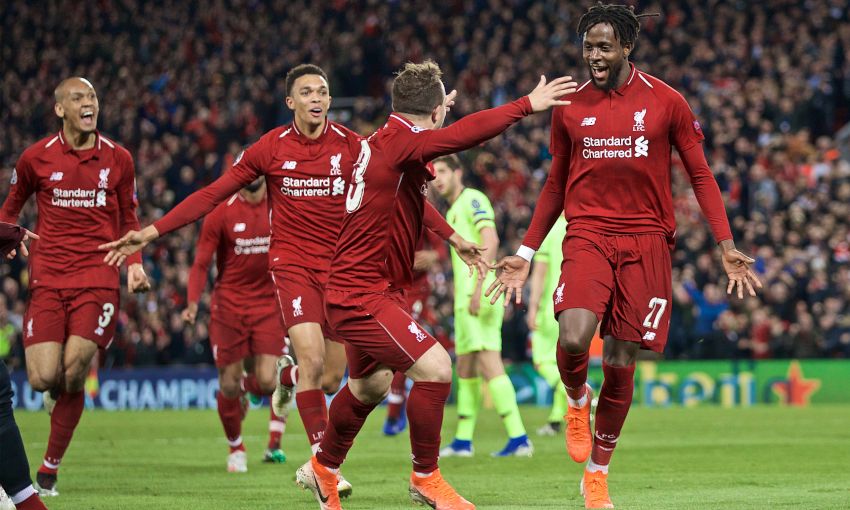 The UEFA Champions League has provided some blockbuster games including memorable comebacks
SportsLeo looks at the best Champions League comebacks
When it comes to Champions League comebacks, Liverpool has a history, but few supporters will have anticipated this most recent one on their own turf.
The Reds, who stormed out to a 2-0 lead over Real Madrid in the Round of 16 first leg, then faltered, making it extremely difficult for them to advance to the quarterfinals.
SportsLeo looks at the best Champions League comebacks.
Real Madrid v Liverpool (2022-23 last 16)
In their illustrious history, Liverpool has experienced several unforgettable European nights at Anfield, but this was one they would rather forget.
On their quest for retribution against the holders, who defeated them 1-0 in the final in Paris in 2022, everything appeared to be going so perfectly. Darwin Nunez scored the fastest Champions League goal for Liverpool at Anfield in three minutes and ten seconds with a beautiful flicked finish, and Mohamed Salah scored just ten minutes later after Thibaut Courtois made a terrible mistake.
Real Madrid, though, stands out in this battle for a reason. There was a sense of dread in the air when Vinicius Junior scored a fantastic goal; it turned into an air of inevitability after Alisson had a pass blocked into his own net by Vinicius.
Madrid assumed complete control in the second half. A deft free-kick from Luka Modric was headed in by Eder Militao, while Karim Benzema had a shot ricochet off Joe Gomez and helpless Alisson. As the game progressed, Madrid supporters were yelling "ole!" after every pass as Benzema doubled his total on a swift breakaway.
It marked the first time Liverpool had ever given up four or more goals while playing at home in a European match, and it demonstrated why Madrid has won this competition 14 times.
Real Madrid v Man City (2021-22 semifinals)
Carlo Ancelotti had miraculously guided a poor Real Madrid team to the Champions League semifinals, but it appeared that the spell had finally worn out.
As Riyad Mahrez scored in the 73rd minute to make it 5-3 overall and 4-3 after the first leg, the Madrid manager made two replacements out of desperation. He substituted Rodrygo for midfield powerhouse Toni Kroos in an effort to embrace the anarchic flair that propelled Los Blancos to this point in the first place.
It performed flawlessly. In order to offer Madrid some hope, Rodrygo scored in the 90th minute. Two minutes later, the substitute stunned Man City and forced extra time. A beautiful header with power found the top corner for the second goal.
Madrid had all the impetus as the match entered extra time with a 5-5 overall score when Karim Benzema was brought down by Ruben Dias in the penalty area. The Bernabeu erupted when the France international scored an incredible penalty to advance Madrid.
PSG v Barcelona (2016-17 Round of 16)
As PSG won the first leg 4-0, it seemed as though they would go to the quarterfinals and Lionel Messi would be eliminated from the Champions League early.
Then came the second leg, and the Messi-Neymar-Suarez combo achieved one of the most illustrious Champions League outcomes in history.
Within the first three minutes, Luis Suarez scored, and an own goal by Layvin Kurzawa just before halfway offered PSG something to consider, but it nevertheless seemed out of their reach. Barcelona had hope when a Messi penalty made it 4-3 on the overall score after the break, but Cavani countered that after the half-hour mark and appeared to finally seal PSG's fate. This gave the French team a crucial away goal, implying Barcelona would need three more goals to turn the situation around.
They scored all three in a stunning stoppage-time find. Neymar scored the first goal in the 88th minute and added a penalty three minutes later to tie the final score at 5-5. But, in the 95th minute, Barcelona advanced thanks to a stunning winner from Sergi Roberto, sending PSG home humiliated.
Liverpool v Barcelona (2018-19 semifinals)
Barcelona felt assured of advancing to the final following a 3-0 first-leg victory at Camp Nou. Even Jürgen Klopp, the manager of Liverpool, felt the burden of the hill the Reds had to conquer.
At Anfield, that opportunity materialized. With braces in each game, including the infamous winning goal off Trent Alexander-corner Arnold's that took Barcelona off guard, Divock Origi and Georginio Wijnaldum cemented their names in Liverpool history. Liverpool was seeded for the final, which the Reds would win to lift the title, after a 4-0 home victory reversed the aggregate score and sent Liverpool there.