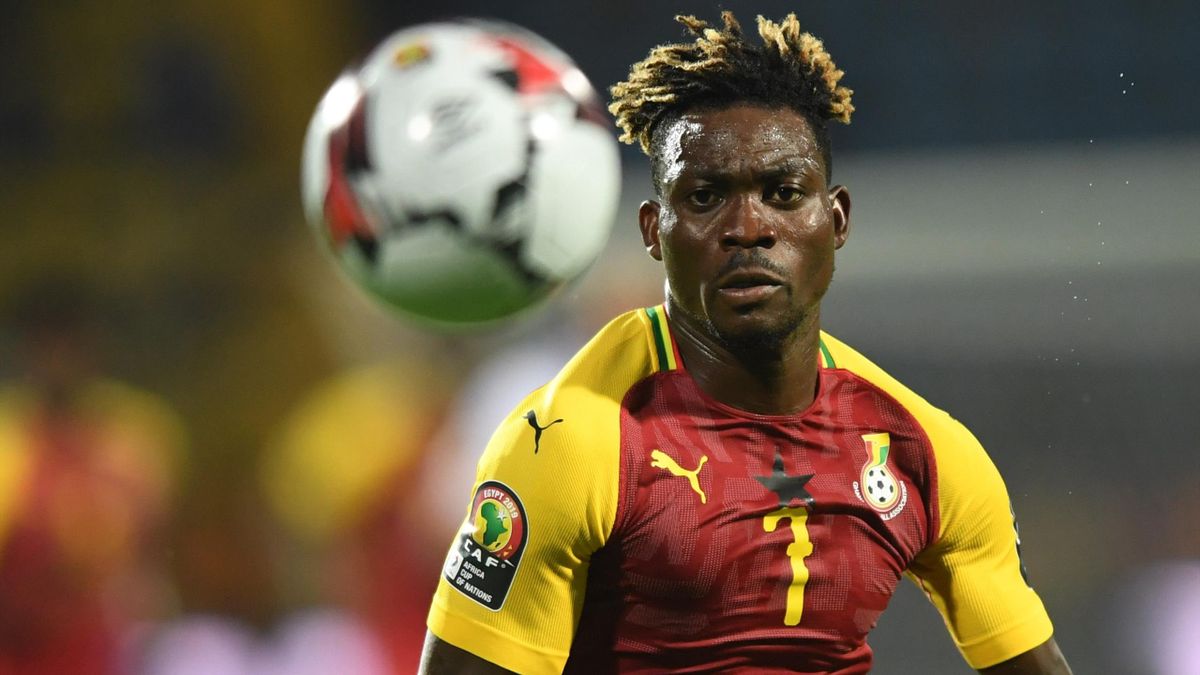 Ghana Football Association (GFA) will withdraw Black Stars jersey number 7
This is in honour of Christian Atsu
Atsu died in Turkey after an earthquake struck his 12-storey residence
Ghana Football Association (GFA) will withdraw Black Stars jersey number 7 in keeping the memory of the late Ghanaian footballer Christian Atsu.
Atsu died two weeks ago following an earthquake in Turkey killing 41,156 people. Atsu was one of those who died after the 7.8 magnitude earthquake Syria and Turkey.
Speaking during an interview with Bryt FM in Koforidua on Wednesday, Linford Boadu, the chairman Eastern Regional Football Association (RFA) reiterated GFA's move to remove the No.7 jersey.
He said that the federation deemed this the best move to honour the 31-year-old former Newcastle player who played for Turkish club Hatayspor.
"The number 7 shirt should be retired in memory of Atsu, but there should be a meeting to make that decision, according to some members of the FA's Executive Council," he affirmed.
Boadus said that Atsu had aired his reservations about Rönezans Rezidans (Renaissance Residence), a 12-story residence where he lived in Turkey.
The deceased had expressed fears over its stability before the earthquake although it was a high-end residence in the Turkish city of Antakya.
This building had 249 apartments which all came tumbling down on February 6 when the earthquake struck at 4am.
Mehmet Yasar Coskun, a property developer who oversaw its construction 10 years ago was apprehended by Turkish authorities at Istanbul airport following the building's collapse.
Rönezans Rezidans housed at least 1000 people and boasted of facilities such as a gym and an Olympic-sized swimming pool.
Atsu and scores of other residents in this building were trapped in the rubble for days before being rescued.
According to the Turkish financial journal Dünya, the block was constructed with "floating foundations" to better withstand earthquakes.
Yet, reports claim that before the tower's fall, some residents including Atsu voiced worries about the building's stability.
Eventually, it collapsed when the earthquake struck. Atsu remained under the rubble for over a week and his body was found after days of futile searches at the scene where several other blocks collapsed.
On February 7, Hatayspor reported that he had been rescued and rushed to the hospital with breathing difficulties. However, the same club changed tune on February 8 saying he was yet to be found.
Portuguese publication A Bola reported that Atsu's whereabouts remained widely unknown despite his teammates being saved. It later published a report that Atsu was rescued 24 hours after the earthquake and rushed to hospital.
The publication added that he sustained a right foot injury and was having breathing problems. Sadly, this was not the case.
His agent Nana Sechere confirmed Atsu's death on February 18.
"It is with the heaviest of hearts that I have to announce to all well-wishers that sadly Christian Atsu's body was recovered this morning. My deepest condolences go to his family and loved ones. I would like to take this opportunity to thank everyone for their prayers and support," Sechere says.
Atsu was a young player when he first transferred from Porto to Chelsea in 2013 and later went on several loans. Prior to moving permanently to Newcastle United in 2017, having never played a Premier League game for Chelsea, he briefly played for Everton and Bournemouth.