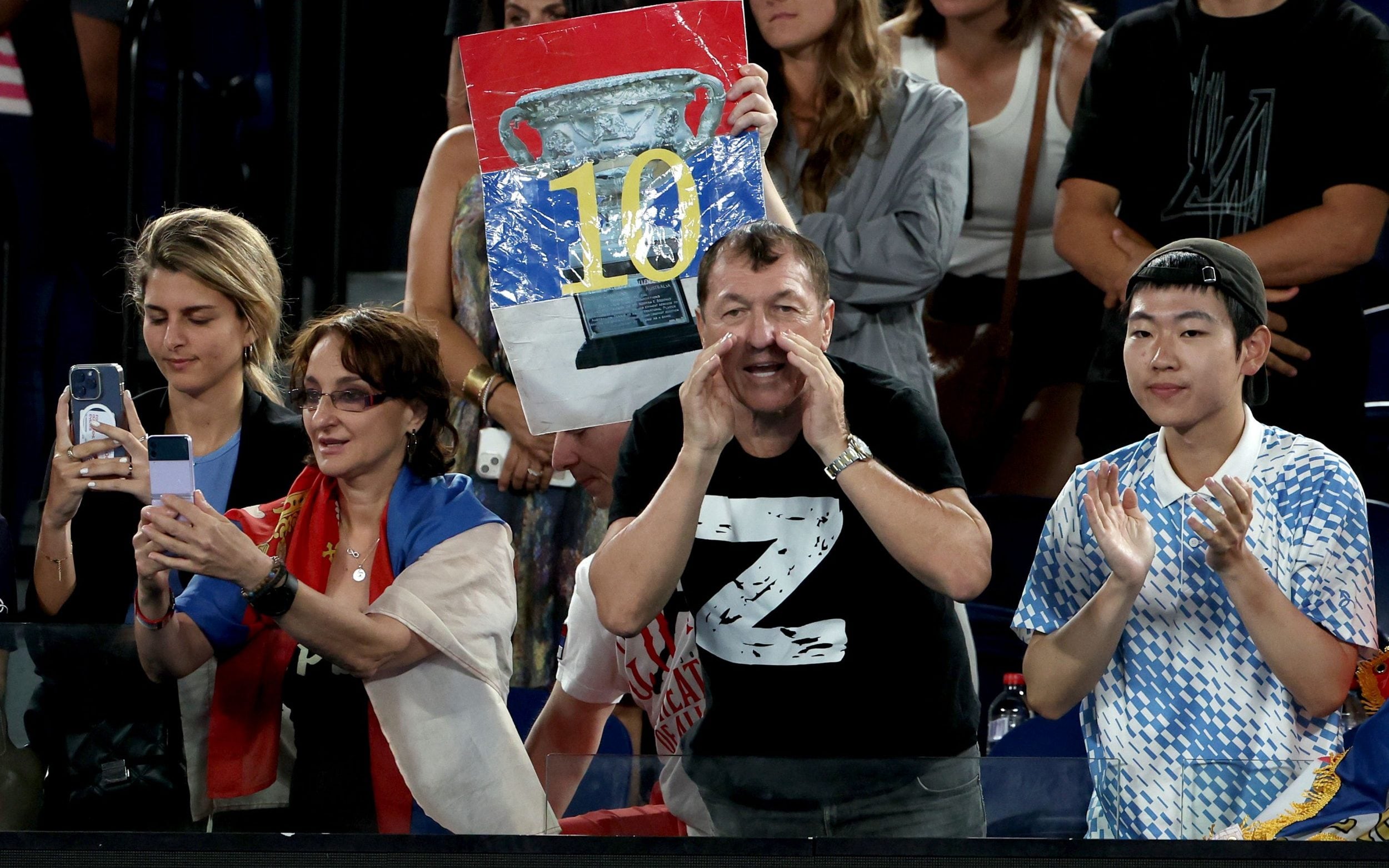 Tennis Australia warned the Djokovic's against promoting political quests at the Australian Open
Srdjan Djokovic was seen on Wednesday night with Pro-Russian demonstrators
He also spoke after the match and uttered something praising Russia
Novak Djokovic is under fresh scrutiny as Tennis Australia warned him and his family against promoting political quests at the Australian Open following pro-Russian flags brandishing during his Wednesday match.
His father Srdjan Djokovic posed with a group of Russian fans in the stands who waved the Russian flag, some with President Vladmir Putin's face in them.
This was as Djokovic played Russian Andry Rublev seeded sixth in the world. On Wednesday night, pro-Russian protesters waived small flags bearing Putin's image and chanted, "Russia, Serbia, Russia, Serbia" forcing the match to be halted.
Shortly after his son Novak defeated Rublev in straight sets, Srdjan was captured in a YouTube video talking to the gang's ringleader on the steps of Rod Laver Arena.
Here, a man donning a T-shirt engraved with a 'Z' emblem which is a sign of pro-war, started talking. He sent greetings to one Alexander Zalostanov, who is in Moscow.
Zalostanov is the leader of a Moscow-based motorcycle gang known as Night Wolves, who are Putin's purists.
Then Srdjan appears to remark "ivjeli Russiyani," a Serbo-Croatian expression that means "Long live the Russians." He then walks away to join Djokovic.
Now, Tennis Australia has cautioned Serbia and his family against any act perceived to be promoting a political cause. The tournament issued the following statement.
"A small group of people displayed inappropriate flags and symbols and threatened security guards following a match on Wednesday night and were evicted. One patron is now assisting police with unrelated matters.
"Players and their teams have been briefed and reminded of the event policy regarding flags and symbols and to avoid any situation that has the potential to disrupt. We continue to work closely with event security and law-enforcement agencies," read the statement.
Victoria Police questioned four tennis spectators at the Australian Open on Wednesday after they displayed Russian flags, including one with Vladimir Putin's image.
According to accounts, some Russian fans allegedly threatened members of the security team at the tournament during Djokovic's match with Rublev.
Russian flags were prohibited by Tennis Australia when one was flown during a match between Russian Kamilla Rakhimova and Ukrainian Kateryna Baindl in the opening round.
The four people questioned by the Victoria police were the keynote speaker with a 'Z' branded T-Shirt,  a second man brandishing a Russian flag, a third person waving a Night Wolves flag, and the stadium patron who took off a white shirt with Djokovic's name to show a black T-shirt with the "Z" logo underneath.
After defeating Rublev 6-1, 6-2, 6-4, Djokovic unknowingly signed this man's white shirt as he walked around the Serbian supporters inside the stadium.
Simeon Boikov, a pro-Russian activist wanted by Australian police for allegedly beating a 76-year-old man at a demonstration for Ukraine in Sydney, shared the video of Djokovic's father on his YouTube channel.
Vasyl Myroshnychenko, the Ukrainian ambassador to Australia, condemned the events at Rod Laver Arena on Wednesday night.