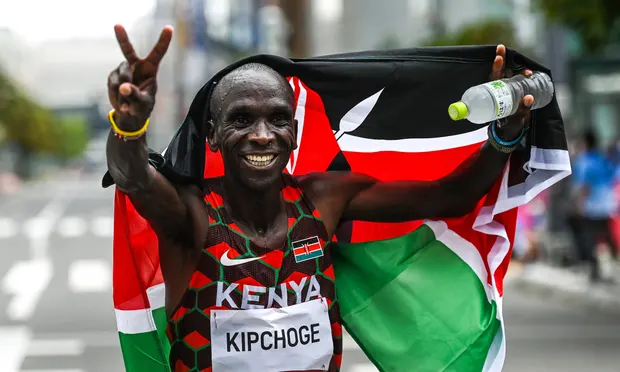 Kipchoge will be making his debut in Boston
He is competing in his fifth of six World Marathon Majors
There are eight more Kenyans confirmed
World Record Holder Eliud Kipchoge has been busy testing new shoes that he will use for his Boston Marathon debut in April, and he says he is ready to battle for the top honors.
Kipchoge is seeking to become the first man to win all six of the World Marathon Majors and Boston will be his fifth hunt of the six, only remaining with New York after that.
"I am excited to be setting foot on the streets of Boston. So far, my preparations are going on well and I am really looking forward to run a good race," noted the double Olympic champion.
"I have had a good time to rest and reflect from my last marathon and now training has gone on smooth. The focus is there and now it is time to put the work into the race. I am looking forward to run a good race and to inspire people," noted Kipchoge.
He says the fact that this year's Boston Marathon will be the 10th anniversary since the unfortunate shooting incident at the Marathon's finish line is an extra motivation for him to run in the American city.
On April 15, 2013, two terrorists planted two homemade pressure cooker bombs, which detonated 14 seconds apart near the finish line of the race, killing three people and injuring hundreds of others, including 17 who lost limbs.
Send positive vibes around the world 
"The reason number one I am excited is because this year will be the 10th anniversary of the bomb attack in Boston and I feel I should be there to be with them at this time and also send positive vibes around the world and show that we are brothers and sisters," Kipchoge said.
He added; "We need to show the world that we are one and that sports is what brings us together and promotes peace."
He is among a group of eight Kenyans who will compete on the streets of Boston.
Also confirmed for the race is defending champion Evans Chebet and 2021 winner Benson Kipruto as well as compatriots John Korir, Norbert Kigen, Albert Korir, Michael Githae and Mark Korir.
Paris Olympics also a target 
After Boston, Kipchoge's next confirmed race is the Paris Olympic Games in 2024, where he will seek to become the first person to win the Olympic title three times.
He is however still coy on whether the allure of running in New York in November appeals to him to complete the perfect six before the Olympic Games, which many pundits see as his final race before hanging his shoes.
"I chase one thing at a time and now, I am focusing on Boston. After that, we will sit with my management and decide what next for us. I don't know whether we will do New York," he said.
Kipchoge just recently set the Marathon World Record in berlin in September 2022, and was voted Kenya's Sports Personality of the Year at the annual SOYA Awards.