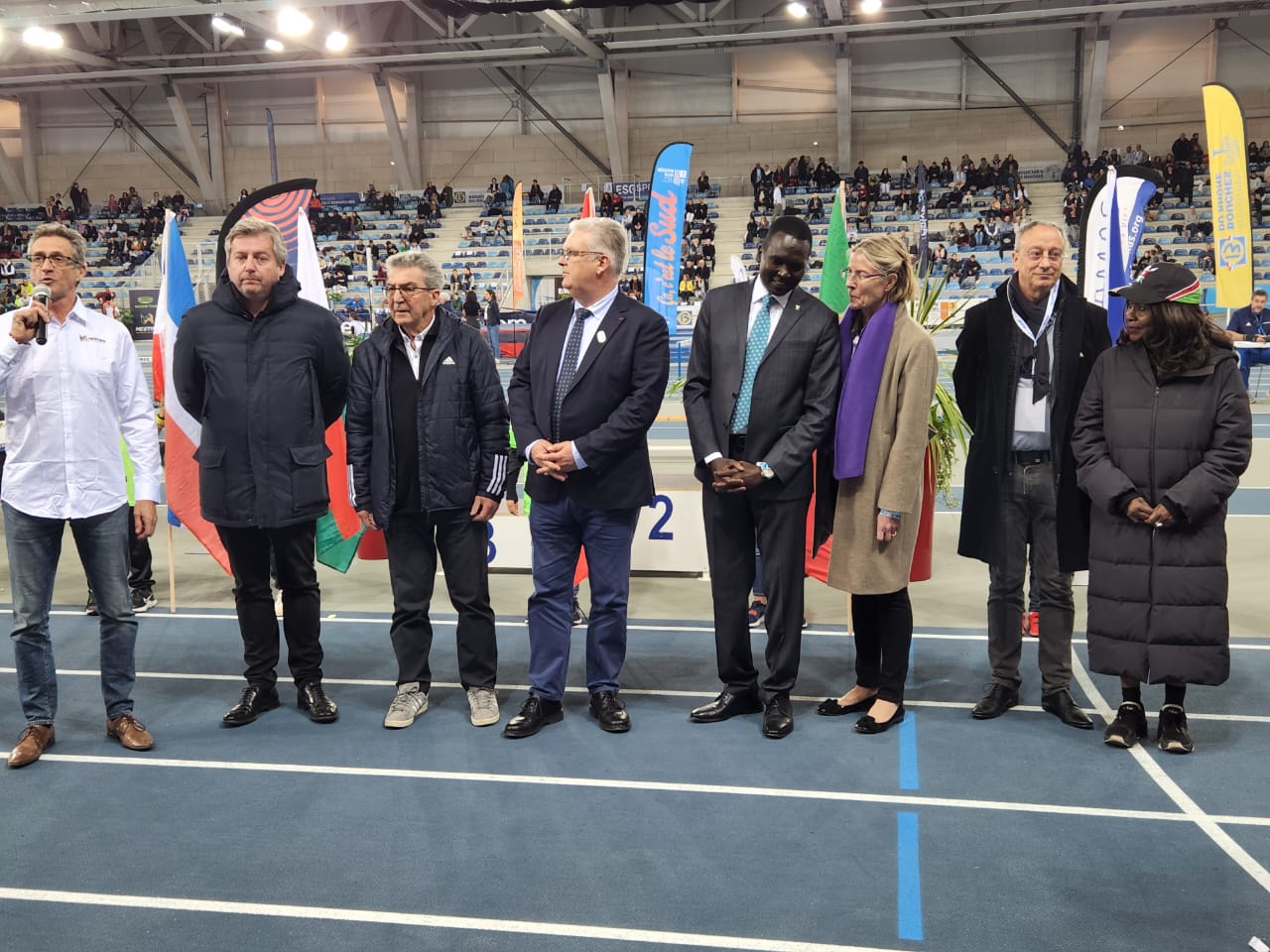 NOCK has signed a partnership with Miramas City
Athletes will train in Miramas for a month
Before Tokyo, Kenyan athletes trained at Kurume City
Kenyan athletes will train in Miramas, France, before the Olympic Games in Paris in 2024 after National Olympic Committee of Kenya President, Paul Tergat signed the Memorandum of Understanding for Kenya Pre-Games Preparations.
The event was held at the Stadium Miramas Métropole,  during the World Athletics Indoor meeting in the presence of the President of the Bouches-du-Rhône Departmental Council and the Aix-Marseille-Provence Metropolis – Martine Vassal, Mayor of Miramas – Frederic Vigouroux and French Athletics Federation President – André Giraud.
Tergat was accompanied by NOC-K Secretary General, Francis Mutuku, Treasurer, Eliud Kariuki and Kenya's Ambassador to France, Prof Judi Wakhungu.
Opens way for training in better facilities
In a move that fits in to the NOC-K Paris 2024  Olympic Games strategy, the MOU  opens the way for prospective Kenyan athletes to take advantage of the state of the art sports facilities and technical support in the Marseille Region of Southern France and train for the crucial Games that NOC-K hopes to make the best ever Olympic outing for Team Kenya.
In July 2024 Olympic Games, the entire Kenyan delegation will settle in Miramas to prepare for the competition.
As part of the MOU residents will have the opportunity to fully experience the Olympic spirit when Kenya sets base in Miramas. They will have access to some of the trainings and cultural activities around Kenya, in addition to the schools being involved in activities around the Kenya team.
Miramas will accommodate the delegation with the Stadium Miramas Métropole as the main training ground.
Games preparation centres
The Bouches-du-Rhône department also has 34 sports sites labeled by Paris 2024 as "Games preparation centers" that are able to host other Olympic and Paralympic teams.
Dr. Paul Tergat said that the ceremony was a culmination of many months of engagement with the three parties in France and expressed great satisfaction at the opportunities the association heralds for Kenyan athletes and subsequent Pre-Games acclimatization Camps for Team Kenya.
Fastest man in Africa over 100m Ferdinand Omanyala added an icing on the cake in the men's 60m dash where he clocked 6.60 to set yet another national record over the distance, his previous time was 6.63.
On Kenya's training in Miramas Omanyala said; "It is really great that we can come here months to the Games and be able to train and acclimatize. Last year before Tokyo, training in Kurume really helped us and this is a noble idea from NOCK. We know we will perform better."
Omanyala is preparing for his second appearance at the Olympic Games where he hopes to battle for a medal.