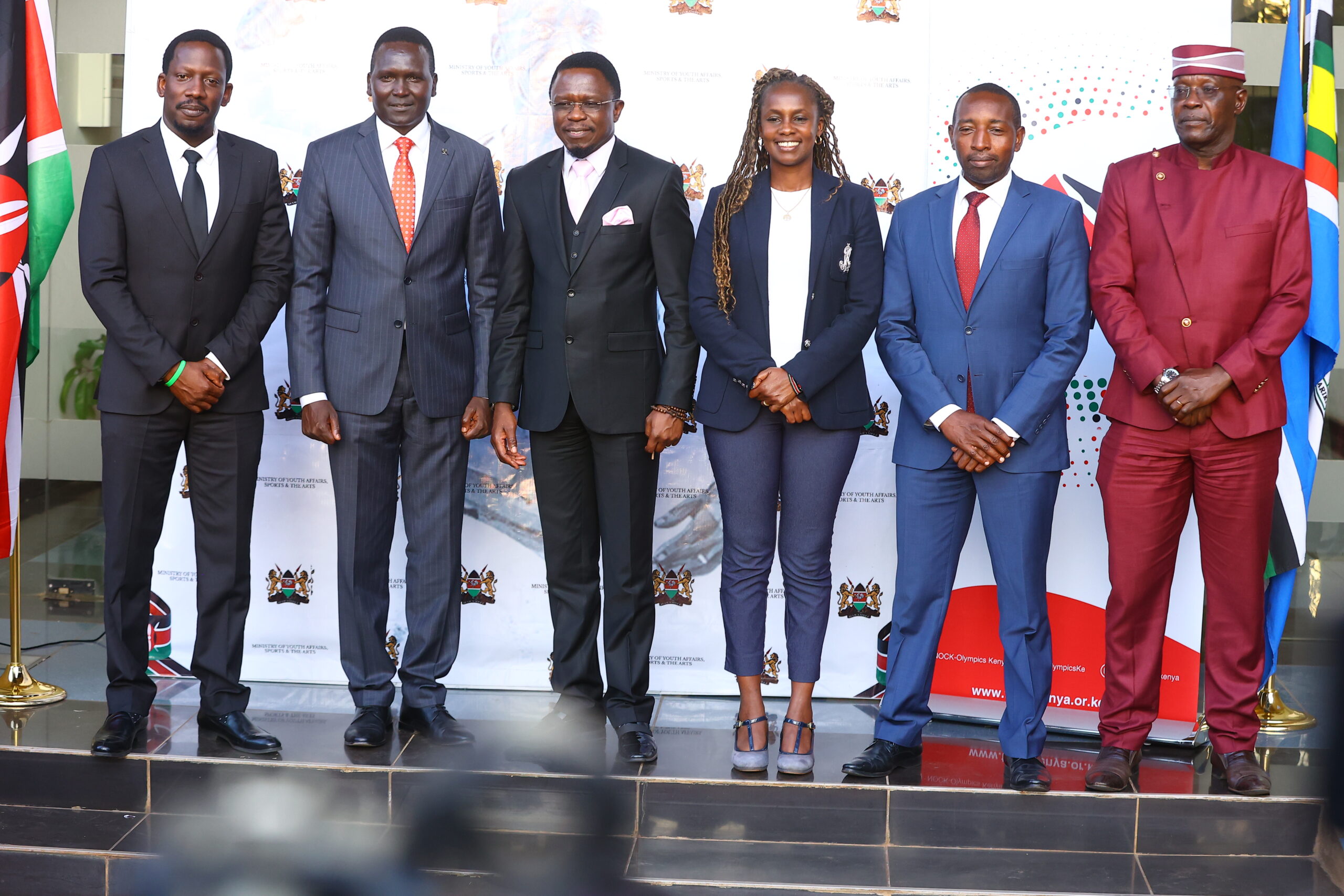 Judo boss Maluki will be the CDM
Tennis Kenya's Karani has been named the CEO
Kenya has named its team almost 18 months before the Games
The National Olympic Committee has appointed Shadrack Maluki as the Chief de Mission (CDM to the Paris 2024 Olympic Games. The announcement was made by the Cabinet Secretary Sports, Ababu Namwamba.
With 543 days to what will be its 18th appearance at the Games, NOC-K has handed over the lead team names to the Cabinet Secretary with a promise- Delivering exceptional Results.
"This is a position you should all hold with great responsibility.  We look forward to working with integrity and principles of governance. To ensure we deliver one of the best organized and managed teams. We had a meeting this morning with the previous management and the new team and we can confidently say, the ship has disembarked." Said Dr. Paul Tergat.
Maluki, who is the president of the Judo federation, who was recently elected as the Chairman of the continental federation, reflected on the past performance at the Tokyo Games where Kenya bagged four gold, four silver and two bronze medals.
Optimistic Kenya will perform better 
He is optimistic that Team Kenya will surpass that historic performance under his leadership as he picks from former CDM Waithaka Kioni.
The Cabinet Secretary applauded NOC-K for constituting the management team 18 months in advance adding this is the direction National Sports bodies and federations should follow.
"Kenya's road to Paris 2024 has hit the superhighway and I want to thank Tergat and his team for accelerating the preparations for the games," said Namwamba, adding that other members of the lead team and those in the Steering Committee will be made public soon."
NOC-K has also announced the Chief Executive Officer as Wanjiru Karani. The former tennis player is also a Secretary General Tennis Kenya and holds a level II Coaches Certificate and an Executive Masters in Sports Organization Management (MEMOS).
Values of sport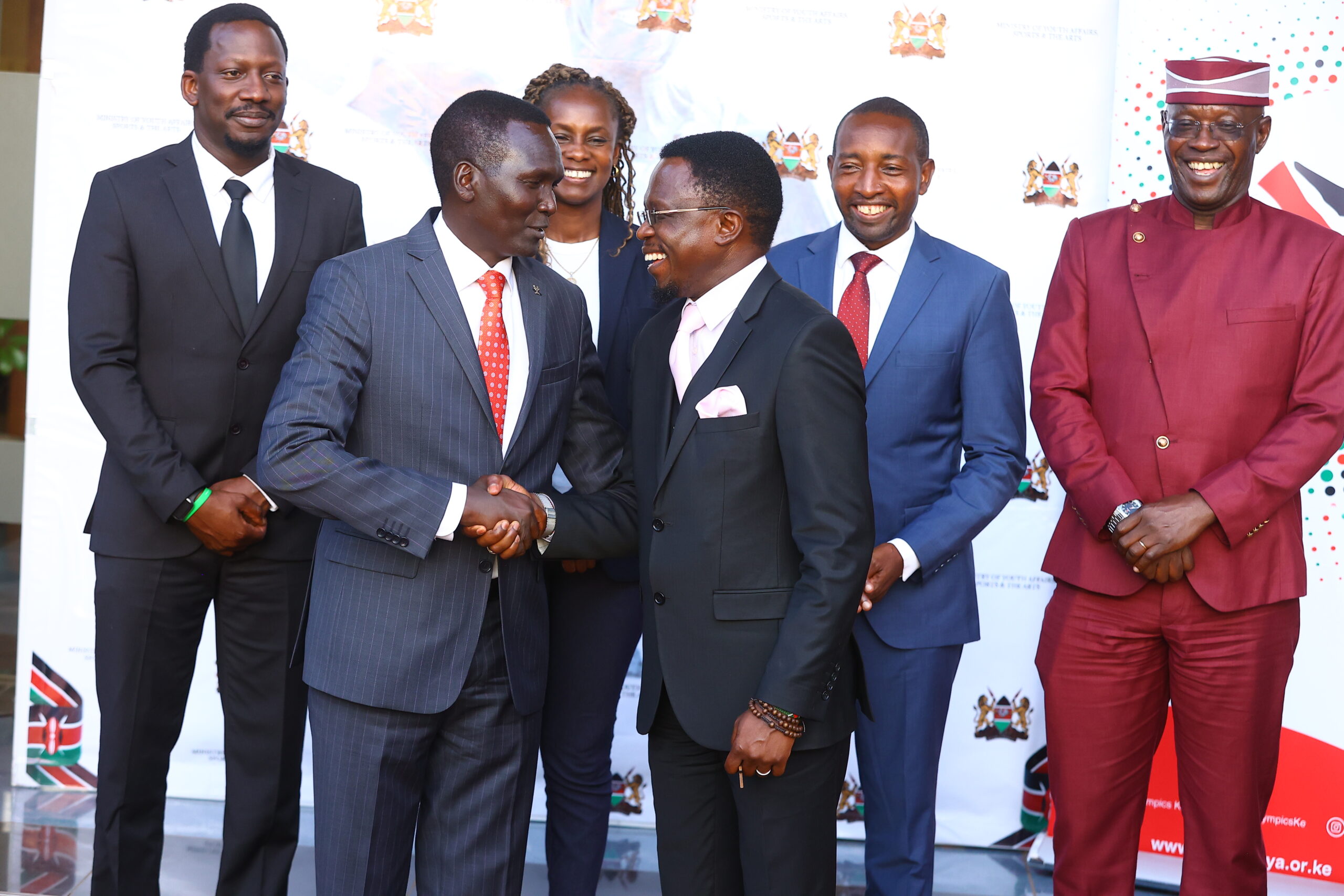 "My working philosophy is founded on the Values of sport- Fair Play, Respect, Friendship, courage and equity. My role is key in leading the secretariat and the Games Management in ensuring the dreams of our athletes are actualized. We are the backbone of good performance at the Games. Performance starts at preparation."
The General Team Manager is Dimmy Kisalu. The Athletics Kenya National Vice-Treasurer has been team Manager to Africa Games, Maputo 2011, Congo 2015, Morocco 2019. He was also the World Cross Country Team Manager Japan 2003 and 2006.
"I am humbled and excited to be appointed at the GTM. I will work with all team managers to ensure we are aligned and ready to support our athletes' dreams of being Olympians." He spoke.
The Chief Medical Officer is James Odenge. The former Mwamba Rugby Club is the Medical Officer Kenya Rugby Union and has World Rugby Level III Medical Accreditation.
"I hope to manage Player Welfare adequately and effectively. I hold the opinion; a happy player is a successful player. Not just physically, but mentally and emotionally. We're also going in, knowing we have to maneuver the doping menace currently in the country. So, I'll be working closely with ADAK and helping the management with athlete well-being."
James has been a Member Rugby Africa Player Welfare Steering Committee (2022- ) Medical Officer Team Kenya Commonwealth Games 2022, Chief Medical Officer (Local) AfricaDeaflympics Ball Games Qualifiers Men & Women, Nairobi, 2021 and Member MOSCH Committee on Return to Play in sports during COVID 2020.
NOC-K explained that it has this lead team early enough so that we can focus on preparing more athletes and teams to qualify.
Mutuku explained that it is the qualification path that will enable them to get athletes to make it.
"Qualification for almost everyone has started and the peak period is between now and March next year,"said Mutuku, adding that they will know how many team sports will have qualified by December this year.
The cut off in most disciplines will be March next year, except for athletics that will be in June next year, Boxing will be among the first with qualifications expected in Tunis, this year.