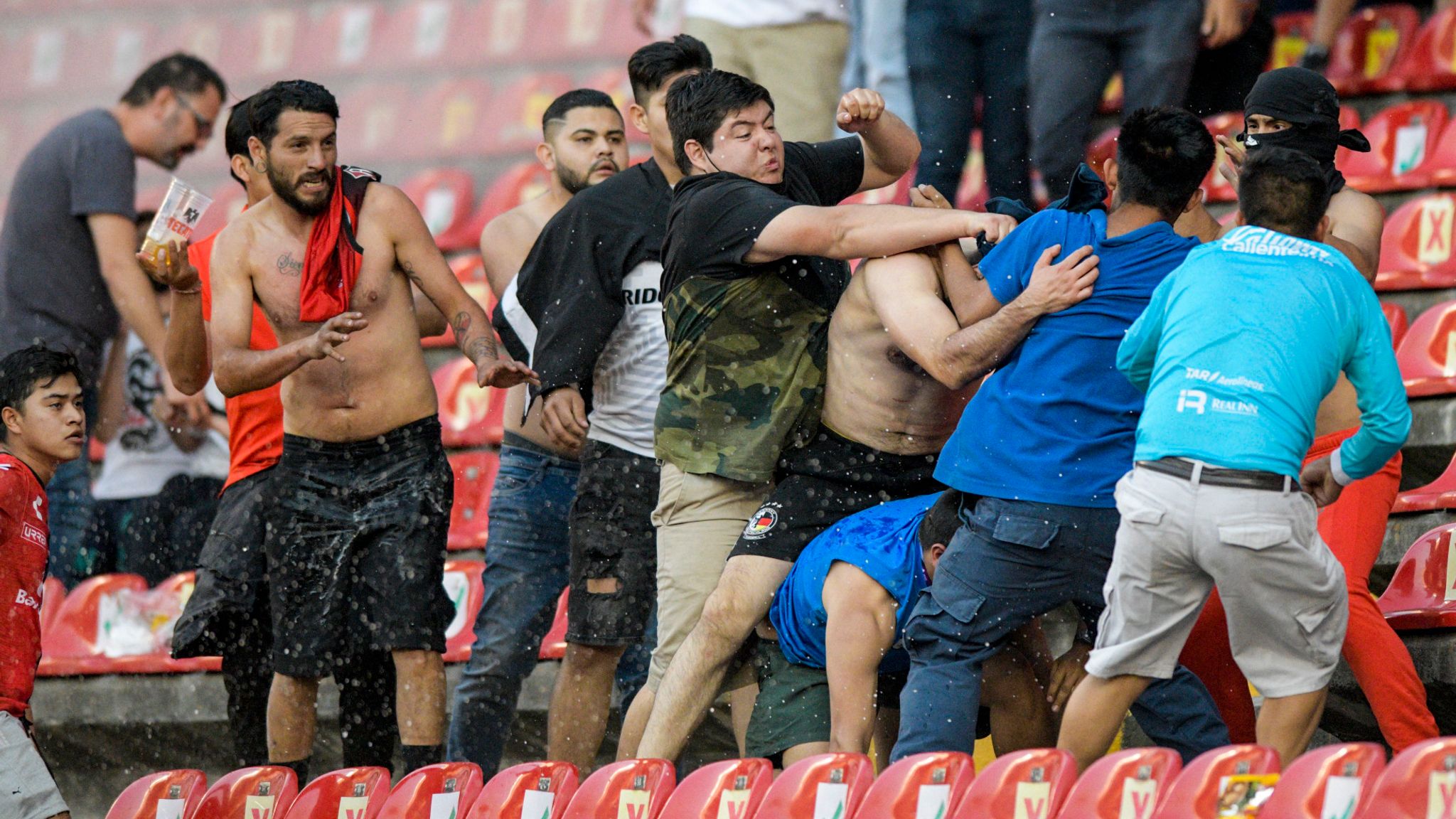 The brawl paints a picture of a high-stakes match
There is already a sense of apprehension with the match only three days away
Argentina will be reviving its lost glory after losing to Saudi Arabia
A recent brawl between Mexico and Argentina fans paints a picture of a high-stakes match only three days away at the Qatar World Cup.
There is already a sense of apprehension at the tournament site, particularly among the spectators, because they were the main participants in a brawl that dents everything.
On their way to a game that will be difficult for the players, fans of both sides engaged in a violent altercation. Both teams' fans fought, according to a video that is becoming viral on social media. It is reported that some persons were hurt, despite the absence of an official report.
Three days remain until the game at the Lusail Stadium, where 80,000 fans are anticipated, eager for excitement and to see their national team win and move closer to the round of 16.
Besides, there is also no report regarding the presence of authorities from the World Cup host nation, and they are not seen in the video. However, the situation appears complicated.
In the video that has gone viral on social media, Mexicans can be seen abusing and mispronouncing Lionel Messi's name while being watched by dozens of onlookers who are just documenting the incident.
After the heated altercation, the Argentines prefer to continue their journey, but other Tricolor supporters continue agitating them. Guillermo Ochoa saved a penalty kick during Mexico's match against Poland, which ended in a scoreless draw.
On the other hand, Argentina comes into this match following a shocking 2-1 loss to Saudi Arabia, which jeopardises their World Cup participation because a loss this weekend could eliminate them from the competition.
This is one of the major cases FIFA has to deal with, besides several others. So far, FIFA has launched an investigation into Femexfut for alleged discriminatory chants shouted by its fans against Poland.
This will undoubtedly be repeated in bigger numbers because of the rivalry with Argentina; thus, Mexico might be penalised during that match but off the field.
Meanwhile, FIFA is investigating Ecuador for the actions of their supporters during their World Cup opener against Qatar in Group A.
Some Ecuadorian supporters reportedly chanted against Chile during the team's 2-0 victory. The disciplinary committee of FIFA says an investigation into this is ongoing.
Article 13 of the FIFA disciplinary code carries potential penalties, such as playing a game behind closed doors or being barred from certain stadiums.
Following a Chilean appeal about the eligibility of defender Byron Castillo, Ecuador was permitted to participate in the World Cup earlier this month.
Chile and Peru filed a complaint with the global football lobby challenging Castillo's participation in Ecuador's qualification games on the basis that he was a Colombian and had lied about his age.
In June, by FIFA, Castillo, 23, was allowed to represent Ecuador in the Qatar World Cup. Chile and Peru then appealed the decision to the Court of Arbitration for Sport (CAS).
This stirred bad blood between Ecuador and Chile, culminating in a booing match that caught FIFA's attention. Nevertheless, this South American delivered its first victory against the host nation, Qatar.