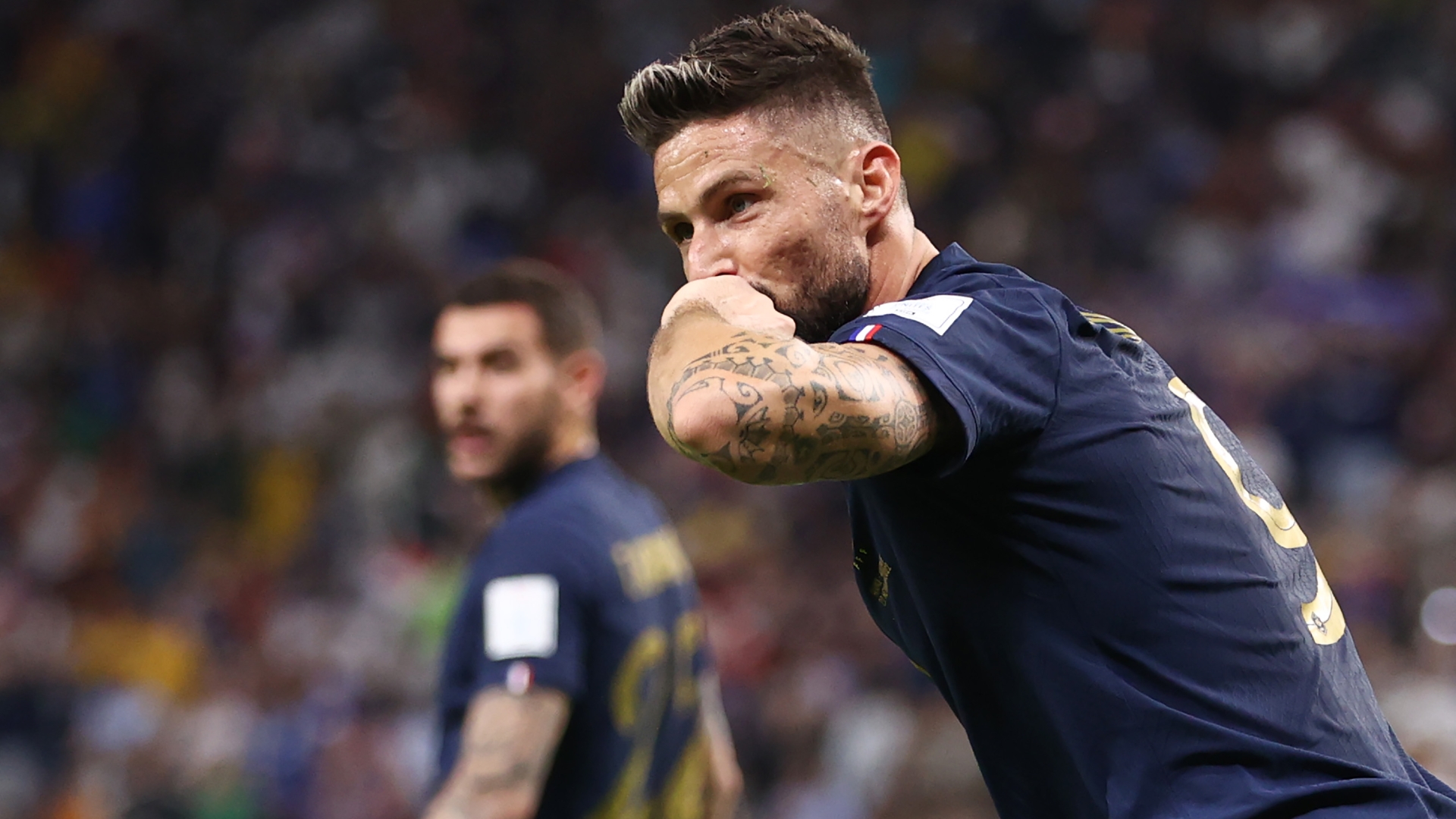 On Tuesday evening, Olivier Giroud scored a header in the second half against Australia to equal Thierry Henry's all-time goalscoring record for France. 

France defeated Australia 4-1 to go top of Group D which also has Denmark and Tunisia. 
Olivier Giroud equalled Thierry Henry's goalscoring record for France on Tuesday evening against Australia. 
Olivier Giroud scored his 51st goal for France last night as Les Bleus defeated Australia 4-2 in a thrilling match at the Al Janoub Stadium.
Giroud had scored his 50th goal in the first half of the match. He only needs one goal to make history as France's all-time goalscorer. 
The AC Milan attacker also became the fourth player in the ongoing FIFA World Cup tournament to score two goals. 
 At the age of 36 years and 53 days, he became the second oldest player to score a brace at a World Cup tournament. 
Olivier Giroud is not an absolute elite like his compatriot Karim Benzema, but with such a performance, France might not feel the absence of the Real Madrid forward. 
Giroud has a better strike rate than Thierry Henry, and to make it even more interesting, he is 14 goals ahead of Karim Benzema. 
France Defeat Australia 
France suffered a shock early in the match when they went behind after just nine minutes. Craig Goodwin gave Australia the lead as he fired into the roof after winger Mathew Leckie managed to go past Lucas Hernandez on the right side. 
Lucas Hernandez suffered an injury in the process and walked away with the help of the medical staff. He was replaced by his brother, who plays for AC Milan, Theo Hernandez.
The Socceroos tried to hold onto their lead, but it soon became clear that France was too powerful after Adrien Rabiot scored the equalizer. 
Lucas Hernandez gave a delightful cross to the Juventus midfielder, who headed home past Mat Ryan. 
The Les Bleus finally got the momentum they needed as they added another goal five minutes later. 
Australian defender Nathaniel Atkinson lost the ball to Adrien Rabiot close to his own goal. The star midfielder played a one-two with Kylian Mbappe, who found Giroud in the box. And the AC Milan veteran had only one role, put the ball into the back of the net, which he did. 
Kylian Mbappe, who had been a threat throughout the match, finally found the goal he needed in the 68th minute. The Paris Saint-Germain attacker headed home Ousmane Dembele's cross. 
Giroud scored his second goal of the night, the one that equalized Thierry Henry's record, in the 71st minute. France held their win until the last minute of the game.
Didier Deschamps' side are now on top of Group D, which also includes Tunisia and Denmark. Australia are at the bottom of the group, but they still have a chance due to the fact that Denmark and Tunisia drew 0-0.