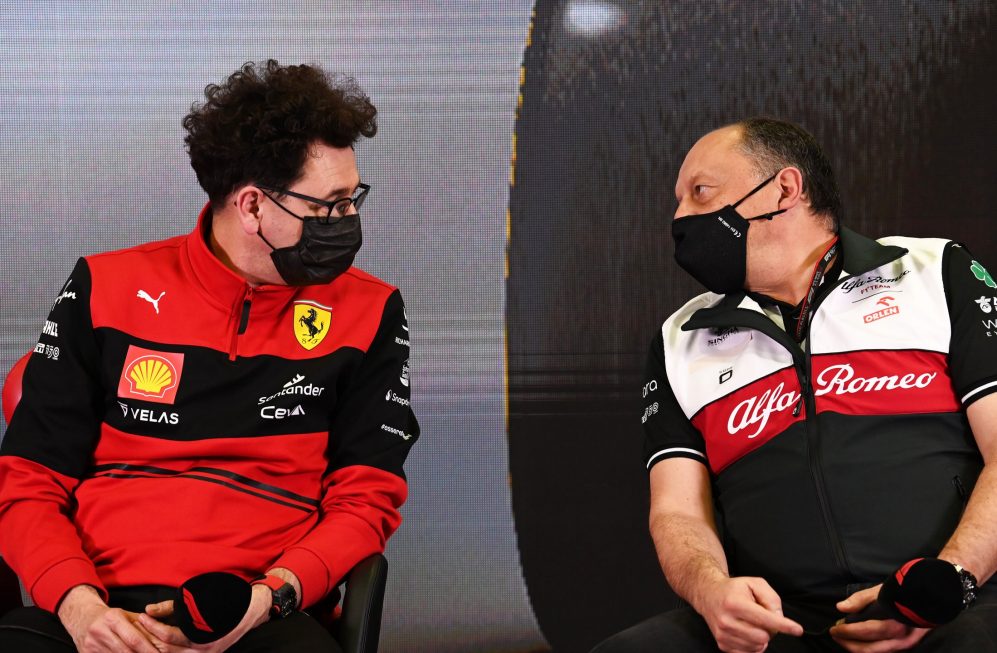 Mattia Binotto has been Ferrari's team boss since 2019.
The Italian team had a promising start to the 2022 season but failed to win any of the final 11 races
Binnoto leaves the team as they hunt for a new one
Past Offers
As Mattia Binotto prepares to leave Ferrari's Maranello headquarters, it has been reported that the Scuderia approached Andreas Seidl and Christian Horner a year ago, offering them the Italian's position.
Both said NO.
That is now over, with the 53-year-old handing in his resignation – "leaving a company that I love, which I have been a part of for 28 years" – with reports claiming he chose to jump rather than be pushed.
Binotto's departure comes after a season in which Ferrari won their first race since 2019 but fell short of competing for championship titles due to strategy blunders and an unreliable engine.
However, it appears that Binotto was always living on borrowed time.
According to Andreas Haupt of Auto Motor und Sport, Ferrari "put out feelers" last winter, but "preferred candidates Andreas Seidl and Christian Horner did not want to sit in the ejection seat."
Both the German, who is the team boss at McLaren, and the British, who is the team boss at Red Bull, want to stay with their current teams rather than accept the poisoned chalice that is the Ferrari team boss's job.
"The top shots don't dare to approach Maranello," Haupt added. That says a lot about the Scuderia's current state. If the newcomer must go as a World Championship runner-up, the World Championship title is also required. Nobody can make that promise.
"The job is already in jeopardy before you even begin."
Frederic Vasseur leads
They've now narrowed their search to Alfa Romeo team boss Frederic Vasseur, who tops the list of potential candidates. The Scuderia is said to have already begun talks with the Frenchman, but it could all come down to whether Alfa Romeo-Sauber is willing to let him go.
"Vasseur might take a chance," Haupt added. "Perhaps because his long-term future at Sauber following Audi's entry is uncertain."
"One thing is certain if the parties reach an agreement: Ferrari will demand everything from him." A team like the Scuderia, with its internal politics and power games, which Binotto was intimately familiar with, necessitates far more attention than the Swiss racing team Sauber.
"Vasseur would have to hunker down at Maranello if he wants to make friends and allies in the team – and take Ferrari to where it believes it belongs: at the top of the World Championship." "Only there."
If Vasseur accepts the position, it could be great news for Charles Leclerc, who spent his first season on the F1 grid with Vasseur at Sauber.
Unhappy Leclerc
According to Carlo Vanzini of Sky Italia, all was not well between Binotto and 2022 runner-up Charles Leclerc, with Silverstone being the tipping point in their relationship.
The early championship leader, Charles Leclerc, was frustrated by Ferrari's strategy blunders, which were exacerbated by a call at the British Grand Prix that favoured Carlos Sainz.
On that particular Sunday, Leclerc was leading the race when there was a late Safety Car, with Ferrari pitting Sainz for new tyres but leaving Leclerc out. Sainz quickly pounced, winning the race, while Leclerc dropped to fourth.
He was later seen with Binotto, the team boss, wagging his finger in the face of his driver.
"I don't think the finger would have remained intact if he had done that with a driver from the '90s," Vanzini said.