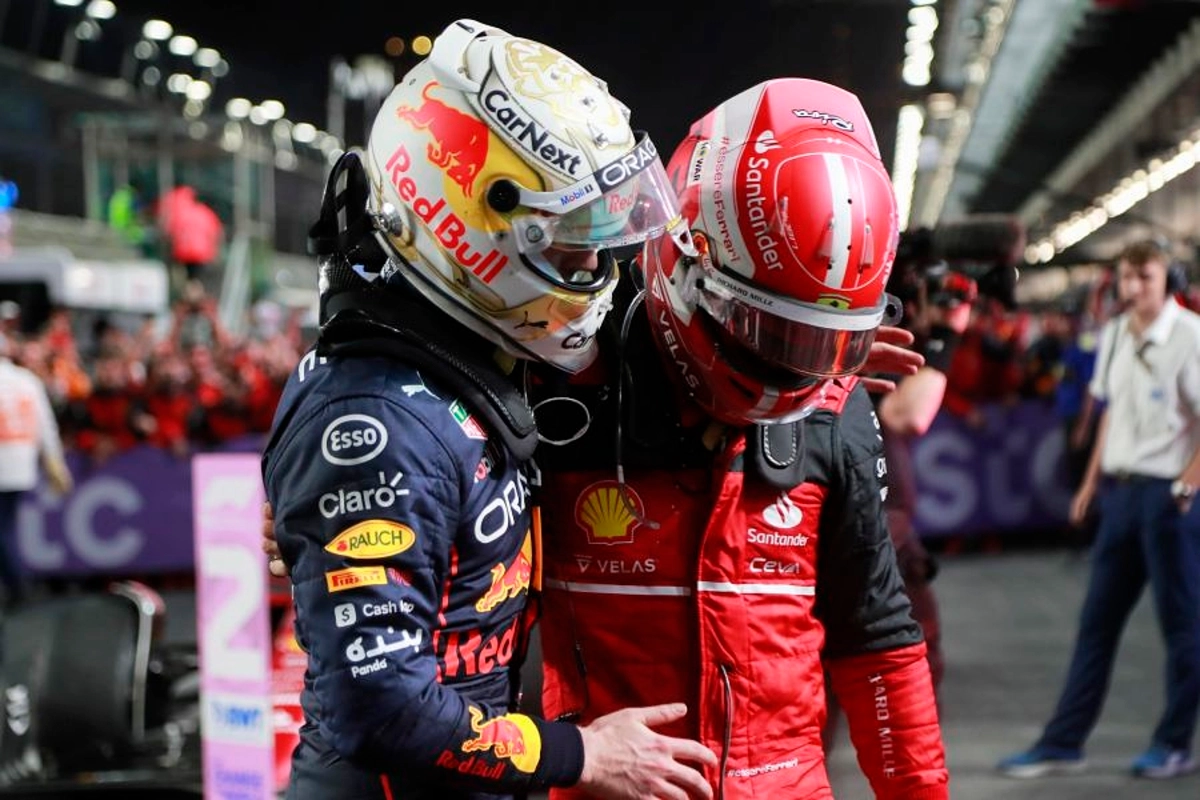 A recap of the best drivers of the just concluded 2022 F1 season
Max Verstappen won the championship for the second season in a row
Mercedes struggled with their car as they performed dismally for a big team
The most recent F1 season did not produce widespread success across the grid, with only five individual race winners.
Here is SportsLeo's top five drivers list from the just concluded 2022 season.
5 Sergio Perez (Points: 305, Championship: 3rd)
Perez was almost second in the standings, but the context for his ranking is the dominant car he was driving and comparison to his – admittedly exceptional – teammate.
Two race wins were an acceptable return, given that they doubled his previous total, but there were a few moments when it was difficult to shake the feeling that the Mexican could have produced a little more.
His form, in particular, plummeted just before the summer break after being awarded a new contract, with Helmut Marko even implying Perez was psychologically "on the beach" already.
Best Moment
Perez's victories on drying street circuits were both majestic, as he held on under intense pressure. Monaco was memorable, but we agree with Christian Horner when he says Singapore was his best drive ever.
Worst Moment
Friday and Sunday in Austria were scruffy, sandwiching a strong sprint performance.
Perez was punished for exceeding track limits in qualifying, dropping him to 13th for the sprint grid, while in the race, he was first to retire, having struggled following an early collision with Russell.
4 Lewis Hamilton (Points: 240, Championship: 6th)
He had a winless F1 season and his lowest career standings position, but we all know why. It was the Mercedes W13, not Hamilton, who was to blame.
The seven-time World Champion paid for essentially being the team's 'guinea pig' in terms of experimenting with different set-up tweaks to try and find improvement. Still, his results developed much greater consistency from the early summer onwards.
It was far from a flawless campaign, but Hamilton's brilliance shone through when rare winning opportunities arose, and with a better car next year, he can look forward to even more glory days.
Best Moment
Five runner-up finishes for the 37-year-old Briton, and if we had to pick one, it would be Austin. Although Max Verstappen was helped by a slow pit stop and eventually passed for the win, it was the first of three weekends on the American swing when Mercedes took a significant step forward.
Worst Moment
When Hamilton was stuck behind Gasly's AlphaTauri for lap after lap in a DRS train at Imola, finishing 13th, a subsequent eight podium finishes seemed a long way off.
3 George Russell (Points: 275, Championship: 4th)
If Russell had been told in February that he would finish 35 points ahead of Hamilton in his first season with Mercedes, he would have accepted the offer immediately.
The only problem was that it only had one win and no championship challenge, but this has to go down as an excellent and highly encouraging start to his Mercedes career at a time when they were producing a challenging car.
Consistency was a massive plus in the circumstances, and the 24-year-old Briton finished in the top five at 19 of the 22 grand Prix – a real feather in his cap, especially given the battles the Silver Arrows faced with the W13.
Best Moment
Russell won the Sao Paulo sprint from third on the grid and then went on to win the Grand Prix. Fully deserved, and it won't be long before win number two comes along.
Worst Moment
Russell's perfect record of top-five finishes came to an end at round 10, the British Grand Prix, in a collision that resulted in a terrifying crash for Alfa Romeo's Zhou Guanyu.
2 Charles Leclerc (Points: 308, Championship: 2nd)
After leading the World Championship by 34 points after three races, missing out on the title by 146 points must be a huge disappointment for Leclerc.
While no one at Ferrari can be blamed for how their season turned out, Leclerc had less to be ashamed of than most, despite the fact that his three race victories could have been doubled.
The Monegasque's campaign was probably best described as 'character building,' and he deserves great credit for how he handled himself in the face of adversity, producing a fantastic drive to hold off Perez and clinch P2 in the championship at the Abu Dhabi finale.
Best Moment
Verstappen believes the championship may have already passed Leclerc when he returned from Australia with two wins and a close second place. How quickly things changed.
Worst Moment
From the driver's point of view, it has to be the French Grand Prix, where Leclerc was leading but crashed into the wall, letting out an anguished cry as he sensed a turning point in the title race.
1 Max Verstappen (Points: 454, Championship: 1st)
As certain as we were that Nicholas Latifi would be at the bottom of our list, we were equally certain that Verstappen would be at the top.
Fifteen race victories – a new season high – including nine out of eleven from France onwards, tells its own story, as the Dutchman's second Drivers' title was won in a completely different manner than his first.
He is an absolute masterclass from a competitor at the pinnacle of his abilities and one who, as his Sao Paulo team orders disobedience demonstrated, also possesses the ruthless streak possessed by many of his F1 predecessors.
Best Moment
The Red Bull maestro won from pole position in Japan, and Johnny Herbert confirmed his second World Championship during the parc ferme interviews.
Worst Moment
Back to Australia, where Verstappen was forced to retire for the second time in three races due to teething problems with the RB18, a game that quickly became very one-sided after an emphatic turnaround.