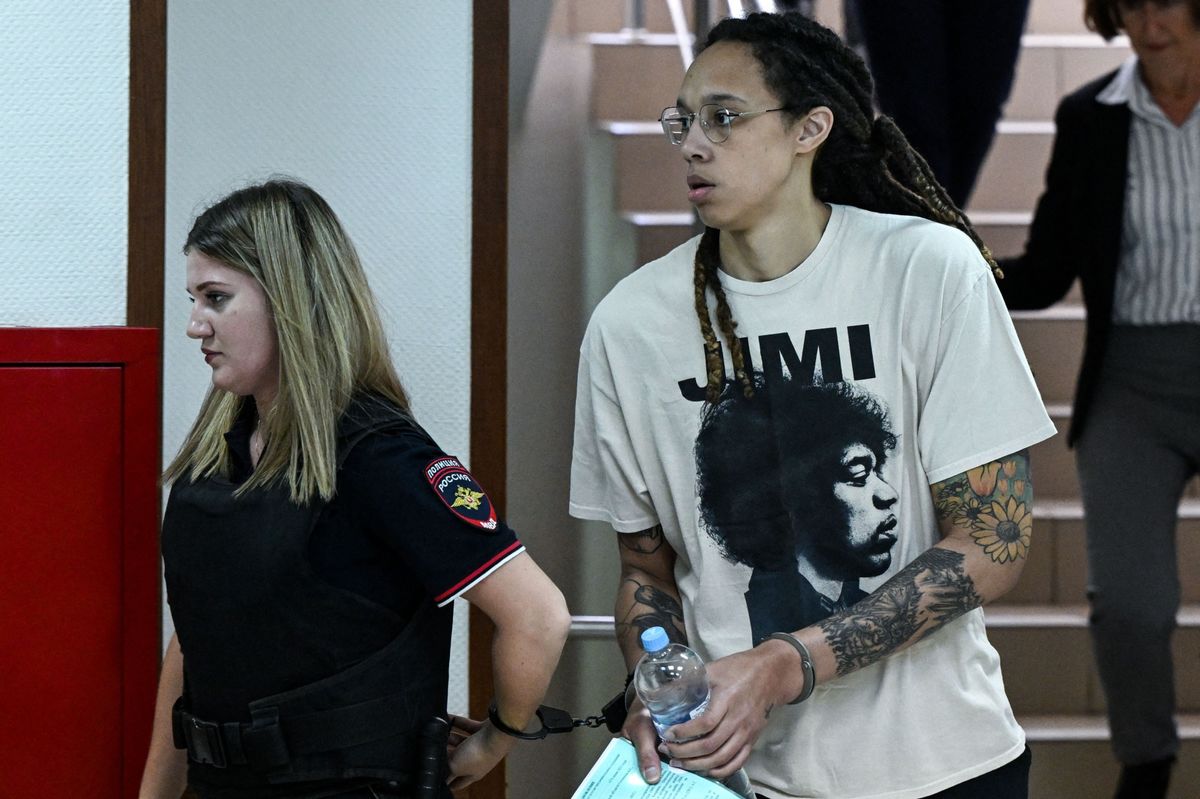 Brittney Griner has been transferred to a Russian penal colony
Russian colony prisons are infamous for their filth and lack of access to medical care
Her lawyers and the US Embassy are still not aware where she was transferred to
Jailed American WNBA Brittney Griner has been transferred to a Russian penal colony where she will finish her sentence following the upholding of her nine-year sentence in October.
Griner was arrested on February 17 at Moscow's Sheremetyevo airport with vape cartridges carrying hashish oil in her luggage. She says that she was prescribed medical cannabis in the United States to ease pain from longstanding injuries.
Cannabis use, whether for medical or recreational purposes, is prohibited in Russia. As she hurried to catch her flight to Russia, Griner said she packed her vape cartridges by accident and pled guilty to the charge.
At the time of sentencing on August 4, Judge Anna Sotnikova stated that she determined that Griner knowingly broke the law. The judge also fined Griner one million roubles.
Her lawyers Maria Blagovolina and Alexander Boykov filed an appeal hoping for shorter sentencing, but the court upheld her previous sentencing. Her legal team told CNN that she would serve the rest of her sentence in a penal colony jail.
Russian colony prisons are infamous for their filth and lack of access to medical care and frequently force inmates to work by hand.
Griner's team stated in a statement that they are unaware of her location or health status.
"Our primary concern continues to be BG's health and well-being," Griner's agent, Lindsay Colas, said.
"As we work through this very difficult phase of not knowing exactly where BG is or how she is doing, we ask for the public's support in continuing to write letters and express their love and care for her."
Her attorneys said that the Russian government is required by law to inform the US Embassy of the prisoner's new correctional facility. This process takes at least two weeks and is done via email, copying her legal team.
According to a senior State Department official, Russia did not notify the United States before transporting Griner. US officials were unaware of Griner's relocation until they heard about it from her legal counsel and media sources, despite having anticipated it.
US officials have sought Russia for details on Griner but have not received any responses. Griner's incarceration has sparked worries that she is being exploited as a pawn in Russia's conflict with Ukraine on the political front.
The US State Department denounced the rejection of her appeal last week, calling it another repudiation of justice further compounding the fundamental injustice of her arrest.
Her transfer was described as "another injustice placed on top of her prolonged unjust and unlawful confinement by US Secretary of State Antony Blinken.
Before her transfer, Griner was serving her time at IK-1 prison. It's one of the most dreaded prisons in Russia, with about 1,200 female prisoners. The prison sits 50 miles from the Russian capital of Moscow.
She slept in a modified bed to accommodate her height. Speaking to her family, her wife Cherelle is hard because she cannot get her phone rights. The prison also gets too hot during summer and very cold during winter. It's part of an intimidating outlook the Prison harbours. Formerly a children's orphanage, the structure underwent a 2012 conversion to become a prison.