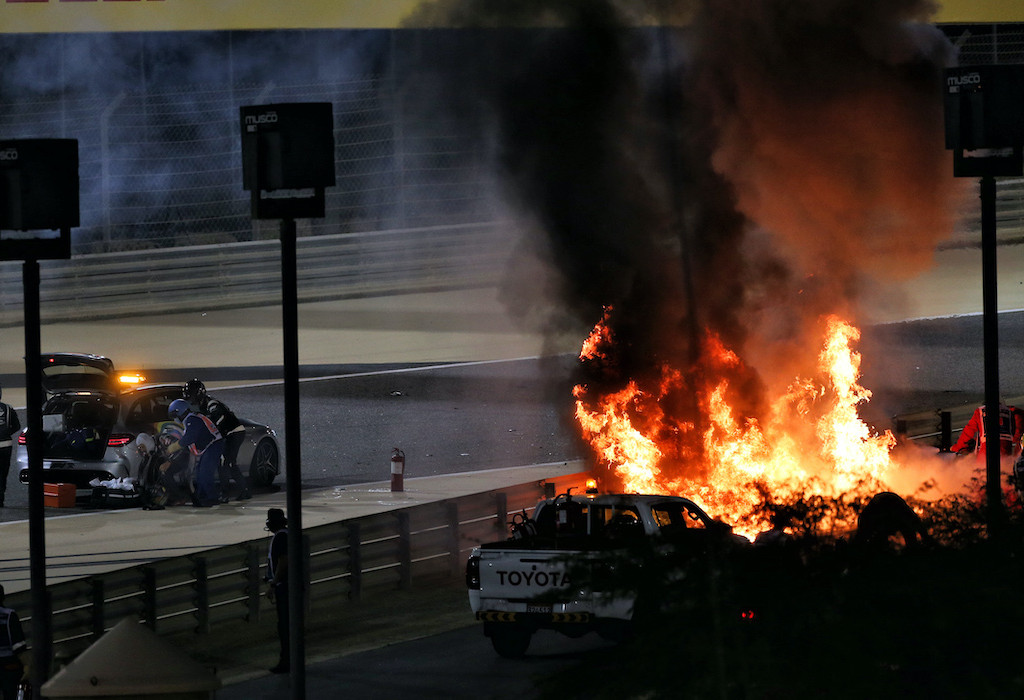 F1 History has witnessed several big accidents that have changed how we do things now.
From escaping death to some of them not making out alive
SportsLeo samples some of the worst crashes in Formula 1 History
Even for professional drivers with years of experience, driving and controlling a supercar that exceeds 200 mph is difficult. Formula One drivers learn the skills required to control these wild horses over time but are always at risk of accidents and injuries.
The risk of fatal accidents in Formula One has been reduced thanks to advanced engineering, new technology, and materials science, and drivers can now drive with greater ease. Remember the 2020 Bahrain Grand Prix, when Romain Grosjean walked away from a fireball crash with only minor injuries?
However, not all Formula One driver have been as fortunate as Romain Grosjean. This list looks at the top 8 worst Formula One crashes in history.
8. 1961 Italian Grand Prix – Wolfgang Von Trips
Formula One does not only harm drivers, but it can also endanger spectators. In the 1961 Italian Grand Prix, Wolfgang von Trips was racing for the World Championship in a tight competition at the Monza race track when one of Formula One's worst and most tragic events occurred.
When Von Trips' front wheels collided with Jim Clark's rear wheels, he lost control and rushed into the spectator area. As a result of this terrible accident, 15 spectators, including von Trips, were killed.
7. 1967 Monaco Grand Prix – Lorenzo Bandini
Lorenzo Bandini is yet another Formula One victim. Bandini was driving in second place behind Denny Hulme in the 1967 Monaco Grand Prix when he lost control of the vehicle and crashed into the guard rails and straw bales. The fuel tank rupture ignited the car, causing Bandini to fall into the flames.
Lorenzo Bandini was diagnosed with a third-degree burn, the most serious type of burn. Three days later, he died in Monte Carlo. Following Bandini's death, Formula One officials banned straw bales from all competitions.
6. 1978 Italian Grand Prix – Ronnie Peterson
Ronnie Peterson had a string of bad luck during the 1978 Italian Grand Prix. His first car, a Lotus 79, was damaged during a practice session, forcing him to begin with an older model. In addition, the race had some technical issues, and Peterson had a bad start. While attempting to return to the track, Peterson's car collided with the barriers and caught fire.
His legs were severely injured, and doctors discovered 27 fractures. However, Peterson's injuries went beyond simple fractures. He was told he had a fat embolism and kidney failure. Finally, on September 11, he died.
5.  1980 German Grand Prix – Patrick Depailler
Not all fatal accidents occur in the main racing, and testing cars prior to the competition can be hazardous. This happened to Alfa Romeo driver Patrick Depailler in the 1980 German Grand Prix, which cost him his life.
Depailler's car overturned during a testing session at the Hockenheimring Baden-Württemberg circuit due to high speed, resulting in serious head injuries. Following the fatal accident, authorities modified the Hockenheim circuit to allow drivers to control the vehicle at high speeds.
4. 1982 Belgian Grand Prix – Gilles Villeneuve
Fans of Formula One will never forget the 1982 Belgian Grand Prix, where Gilles Villeneuve died. Ferrari's Canadian driver was racing in the final qualifying session, and he had eight minutes to improve his time. As a result, he attempted to approach Jochen Mass, who was driving at a slower speed. Jochen Mass turned to the right to allow Villeneuve to pass, but Villeneuve was racing in the opposite direction and collided with Jochen Mass's car at high speed.
Gilles Villeneuve's car was thrown into the air and nosedived to the ground at a speed estimated to be between 124 and 140 mph. Gilles Villeneuve died several hours after arriving at the hospital.
3. 1994 San Marino Grand Prix – Ayrton Senna
The death of Ratzenberger was not the only tragic event in the 1994 San Marino Grand Prix. In 1994, this ominous racing track also saw the death of legendary Formula One driver Ayrton Senna. Following Ratzenberger's accident, doctors advised Senna to withdraw from competitions and retire, which he refused.
Senna's vehicle hit the barriers next to the track at 145 mph and shattered. Senna suffered excessive bleeding and a weak heartbeat and was taken to Bologna's Maggiore Hospital. But he passed away due to hard brain injuries and ruptured arteries.
2. 2014 Japan Grand Prix – Jules Bianchi
The 2014 Japan Grand Prix witnessed one of the most tragic moments in Formula One history. Due to heavy rain on the Suzuka track, Adrian Suti lost control of his vehicle and came to a stop at the run-off zone. A crane arrived to assist Suti, and while they were assisting Suti, Jules Bianchi's car lost control and collided directly with the crane.
This collision caused severe injuries to Bianchi. Finally, in July 2015, and while he was only 25 years old, Jules Bianchi passed away after months of struggling with his injuries.
1. 2020 Bahrain Grand Prix – Romain Grosjean
The 2020 Bahrain Grand Prix demonstrated the significance of new technology and engineering in Formula One. Romain Grosjean had a hard collision with the barriers on the first lap, and he claimed that death was on its way to him.
Grosjean's car caught fire, trapping him inside. His rescue resembled a miracle, and he only had minor burns on his hands and neck.
Grosjean's life was saved by a safety device known as Halo. The Halo is made of carbon fibre and protects the driver's head while also allowing for a quick exit from the cockpit in an emergency.