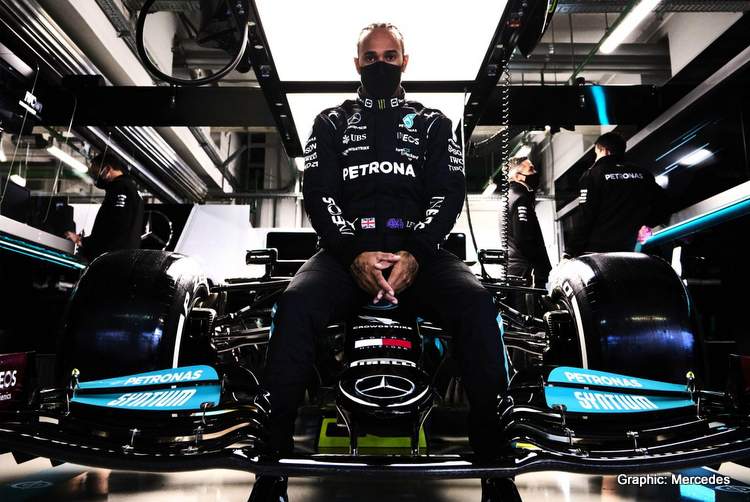 Mercedes knows that Lewis Hamilton will have to retire at some point
Hamilton is among the most successful drivers in Formula 1
We look at some of Hamilton's best wins in his F1 Career
Lewis Hamilton is one of the most successful F1 Drivers with numerous race wins, we look at some of his best wins in his F1 Career.
Hamilton will enter the final year of his Mercedes contract next season, but all signs point to him staying with the team.
Despite previously implying that he was nearing the end of his career, Hamilton appears to be changing his tune, with Mercedes team boss Toto Wolff revealing that Hamilton told him he still had five years in him.
And while he did not confirm any figures, Hamilton stated that the time for him to retire is not yet on the horizon.
"It isn't forever, but something inside me says, 'You're not done yet.' You must keep pushing. You have more to do and more to accomplish, "According to The New York Times, Hamilton stated.
SportsLeo looks at some of the best Wins in his Formula 1 career.
5. German GP, 2018
After qualifying in 14th place due to hydraulic problems, Hamilton quickly passed the slower cars ahead and was fourth when rain began to fall, and Vettel slid out of first place, bringing out the safety car.
Hamilton stayed out after aborting a pit stop and driving across the grass while others pitted. When he got ahead of a freshly-shod Valtteri Bottas, the team called 'hold station,' and Hamilton won.
4. Bahrain GP, 2014
One of the greatest teammate battles in F1 history occurred during the 'Duel in the Desert.' Hamilton was leading the 2014 Bahrain Grand Prix from Mercedes teammate Nico Rosberg, but he couldn't get away.
On two occasions, Rosberg chose to attack Hamilton just before the first round of pit stops. As Hamilton defended vehemently, the German was unable to make either move stick.
Hamilton either fended off Rosberg or immediately repassed him through Turns 1, 2, 3, 4, and 5.
After the first pit stops, Hamilton built up a lead over Rosberg, who was on a harder tyre. However, his lead was erased when the Safety Car was deployed following a collision between Pastor Maldonado and Esteban Gutierrez, which resulted in Gutierrez flipping upside down.
Attack from Rosberg was unavoidable on the Soft tyre and Hamilton on the Medium. Rosberg applied pressure, but Hamilton brilliantly defended each time to keep the lead.
3. Turkish GP, 2020
During the first half of the 2020 Turkish Grand Prix, Hamilton appeared to have no chance of winning as he lingered in sixth place with little pace.
On the wet Istanbul circuit, his Intermediate tyres were wearing out, and he was stuck behind a train of cars.
While everyone else pitted for new Intermediates, Hamilton kept going and made a significant overtake on Sergio Perez. While everyone expected Hamilton to pit again, he managed to keep going as the track dried out, turning his Intermediates into a semi-dry tyre.
Despite having almost no rubber left on his tyres, Hamilton kept a strong pace and won by 31 seconds in a race that defined his career.
2. 2018 Italian GP, Monza
The Ferraris were faster at home, but Hamilton tipped Vettel into a spin at the start, allowing him to finish second. He briefly took the lead during a safety car period, but Kimi Raikkonen reclaimed it, and Hamilton went into hounding mode.
He reeled in Raikkonen thanks to teammate Bottas slowing the Ferrari on fresher rubber after the stops. He won by 8.7 seconds after making a move stick around the outside into the first chicane.
1. 2008 British GP, Silverstone
Hamilton, in only his second F1 season, put on one of the best wet-weather drives at his home grand Prix at Silverstone. And one that did not necessitate a lot of luck, unlike his 2008 Monaco victory.
Hamilton had dropped to fourth in the points after a couple of poor races, including his infamous pitlane gaffe in Canada, and needed a good weekend.
Hamilton made a fantastic start from row two and nearly passed teammate and polesitter Kovalainen at Copse, the two McLarens briefly touching.
Hamilton put on a masterclass similar to his impressive wet-weather victory at Fuji in 2007. While the rest of the field struggled and spun out, Hamilton was lapping seconds faster and completely in the zone.
Despite the torrential rain, he made it look easy and stamped his authority at Silverstone, much to the delight of the British crowd.
It is difficult to drive an F1 car in the rain, and Hamilton has proven over the last 14 years that he is arguably the benchmark in the sport when the track becomes wet.
His winning margin was the largest of his career, with him finishing 68 seconds ahead of Nick Heidfeld.