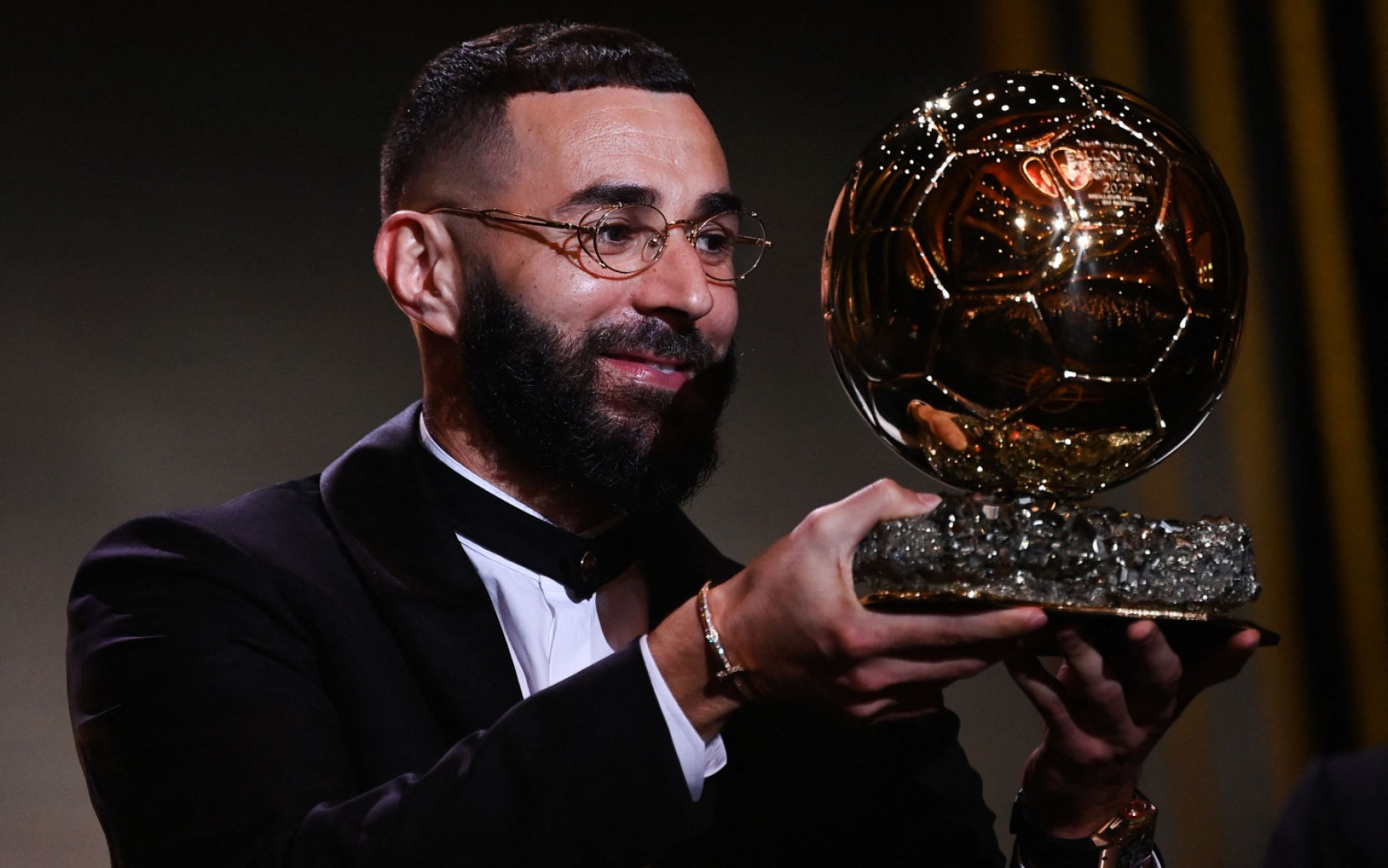 Karim Benzema has played for Real Madrid for 13 years now since his arrival as a teenager in 2009
Benzema was Cristiano Ronaldo's biggest supporter and always voted for him in the Ballon d'Or
This year it was finally his time, deservedly winning the 2022 Ballon d'Or award
Its finally his time, Karim Benzema has finally won football's most prestigious award, the Ballon d'Or after years of clapping for his idol and former team mate Cristiano Ronaldo.
Karim Benzema has gone from jeers to cheers at Real Madrid, with his 13-year stay in Spain having been a tale of survival at times.
How many times was he touted for a move to Arsenal during the Arsene Wenger era?, almost every transfer window, but the Frenchman kept on hanging.
Wenger's consistent statement that he did not need Benzema because Arsenal already had plenty of quality forwards has not aged particularly well.
Today in October 2022, we need to talk about Karim, because it would be hard to think of a worthier Ballon d'Or winner than the Real Madrid top scorer in the 2021/22 season.
His 44 goals in 46 games last season came in a double-winning cause, with Real Madrid taking home the UEFA Champions League and LaLiga trophies. Make it a treble if you're counting the Supercopa, where the final saw Benzema score from the spot against Athletic Bilbao.
He has spent much of the year skippering Los Blancos, given club captain Marcelo was just a fringe figure in Carlo Ancelotti's team before leaving at the end of last season after the expiration of his contract.
You might ask yourself: is this the same Karim Benzema as the player heckled from the Santiago Bernabeu stands five years ago? The player whose five goals in 32 LaLiga games in 2017-18 had some supporters ready to wave him off?
Many fans and pundits asked of what use the striker was to the La Liga giants.
Benzema backed himself then as he backs himself today, and with his former manager Zinedine Zidane and the current one Ancelotti similarly convinced, the Frenchman has gradually moved into the spotlight, the last survivor of the BBC combination that rivalled Barcelona's MSN.
Just like Messi-Suarez-Neymar, Real Madrid's Bale-Benzema-Cristiano all-star trio was staggering, but there was often a sense it was two thoroughbreds and a workhorse, the latter constrained by the dutiful role he was asked to fulfil.
When Ronaldo left to join Juventus in 2018, and as Bale's contributions waned, for the first time Benzema found himself the talisman at Santiago Bernabeu.
The striker had been overshadowed all the way back to his first week at the club, when his presentation followed three days on from Ronaldo's own first big welcome at the Bernabeu – one of the biggest introductions to date.
Ronaldo's unveiling came on July 6, 2009, in front of an 80,000 crowd. Some of those returned for Benzema's own bow, but most had other things on.
Benzema was signed for €35million from Ligue 1 side Lyon amid an extraordinary spree, one that saw Florentino Perez's second term as president begin with not only Ronaldo and Benzema coming in, but Kaka, Xabi Alonso, Alvaro Negredo and Alvaro Arbeloa too.
An impressive yet difficult first season (nine goals in 33 games) followed for Benzema, but in each of the next six campaigns he managed at least 20. Even in the Jose Mourinho era when he and Gonzalo Higuain would typically be fighting for one place.
Never mind that Ronaldo hit the 50-goal barrier in each of those seasons, Benzema was the magician's most trustworthy assistant.
In 2015, not long after losing his job at Madrid, Ancelotti told AS: "To me, Karim is the best player in the world in his position and not just as a goalscorer. Talking about whether he should score 30 goals is a false debate. He has great qualities; he is a complete player."
Ancelotti's short-lived successor, Rafael Benitez, made similar claims but also questioned Benzema's finishing and began to substitute him regularly, saying: "He is a phenomenon. Let him get mad. Next day, make sure you score twice instead of once."
It was tough love from Benitez, who was replaced in mid-season by Zidane. Benzema finished the season with 28 goals in 36 games across all competitions, scoring at a rate of one every 92.75 minutes.
In 2016-17, as the goals began to dry up, Zidane kept faith in his fellow countryman.
A poll conducted by sports daily AS showed that 88 per cent of Madrid fans preferred Benzema to start games as a substitute, but Zidane said: "We're not concerned, he's having a great season.
"We know what Karim can offer the side but the fans always want more from their players and that's something we must accept. He has the right character, he can accept the fans' point of view. He won't hide and he will always have my support."
In April 2018, Benzema spoke out in that great football bible, Vanity Fair, as he struggled to put the ball in the back of the net. All the while, Zidane had his back, and crucially another Champions League title was on the way that season.
"What I don't like is when people attack me when I play well, even if I don't score," Benzema said. "I play for the people who value what I do on the pitch.
"Those that come to the stadium to whistle, let them whistle. I'm not going to change their opinion."
In that season's LaLiga campaign, Benzema's five goals put him in a tie for fifth among the team's top scorers, alongside midfielders Casemiro and Toni Kroos. Ahead of him were Ronaldo (26 goals in 27 games), Bale (16 goals), Isco with 7 goals and Marco Asensio who had 6.
Benzema was way behind his XG of a total of 13.22, which reflects the quality of his chances and likelihood of scoring.
When Ronaldo left, it was like a turn on for Benzy. In LaLiga alone, Benzema had not had consecutive 20-goal seasons while Ronaldo was at Madrid, but four followed in succession: 21, 21, 23, and last season's 27-goal league haul.
He was thriving not merely on responsibility, for that had always been there, but on prominence. Previously a glorified gofer, he has become the go-to man.
And now, with Ronaldo and Bale withering in Manchester and MLS side Los Angeles respectively, Benzema is shining as his 35th birthday approaches.
He is club captain, and although Zidane has departed, it would have heartened Benzema to see Ancelotti recalled to Madrid last year, his old advocate returning.
By now five times a Champions League winner and four times a LaLiga victor, the individual accolades have been flowing for Benzema since Ronaldo headed over the horizon.
He was UEFA men's player of the year and Champions League player of the season for 2021-22, having finished as top scorer in Madrid's glory run. He took the Pichichi prize as LaLiga's leading goal-getter last term, too.
Despite intense lobbying from Madridistas, Benzema finished just fourth in Ballon d'Or voting last year, as Lionel Messi took the award for a seventh time, ahead of him was Chelsea's Jorginho and the then Bayern Munich star Robert Lewandowski.
There was ample reason for Benzema to be a strong contender in 2021, but his case has become utterly compelling since. In a sense this is a lifetime achievement award and a single-season accolade rolled up into one.
Everything has led to this moment. The wait has been massively worth it and if we are to learn a lesson from it is, 'Clap for others for your time is coming'.