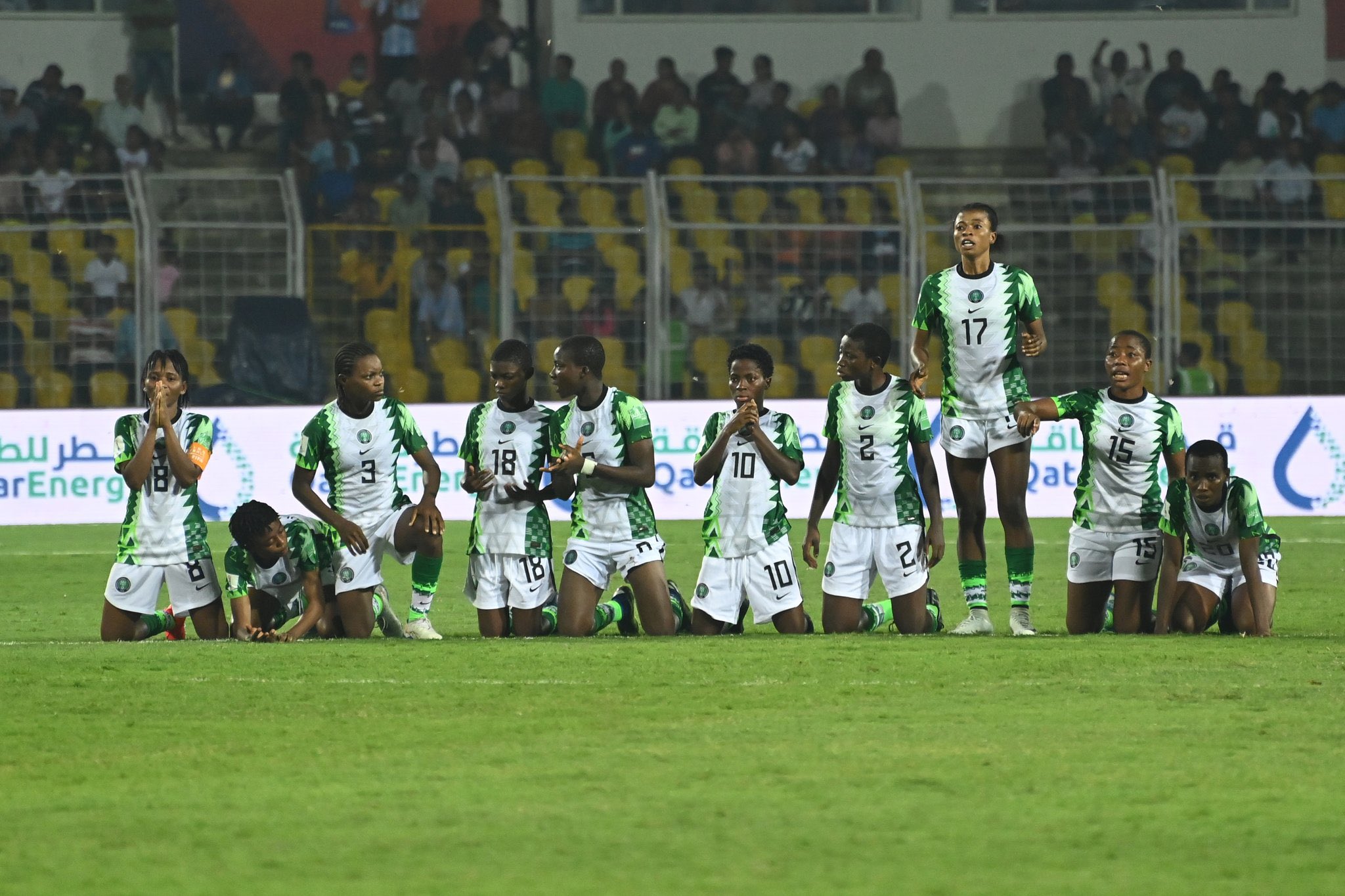 Nigeria lost 6-5 to Colombia in the semis
This is the furthest Nigeria have ever gone in the competition
Tanzania exited in the quarters in their first ever attempt
Nigeria will have to contend for the bronze medal at the FIFA Under-17 Women's World Cup after their fairytale journey ended in the semi-finals with a loss on post-match penalties to Colombia.
Nigeria were beaten 6-5 by the Southern Americans after a 0-0 draw in regulation time.
The Flamingos had beaten favourites USA in the quarter-finals and were the favourites for the clash, but they weren't as efficient as they had hoped in penalties. However, this is the furthest Nigeria have gone at the championship since its inception in 2008.
On penalties, Nigeria scored their first four kicks through Immaculata Offiong, Etim Edidiong, Miracle Usani and Taiwo Afolabi. Their keeper Chilamso Jiwuaku had given them the advantage after saving Colombia's third kick taken by Yesica Munoc.
Gabriela Rodriguez, Stefania Perlaza and Espitaleta had scored three of the first four. Nigeria were within touching distance of the final if they scored their final kick, but defender Omamuzo Edafe, who had scored Nigeria's winner against USA in the quarter-finals, struck her kick against the upright.
Caicedo then stepped up to score for Colombia to take the game to sudden death.
Colombian Juana Ortegon scored, just as Shakirat Oyinlola, but after Nathalia Hernandez beat Jiwuaku, Comfort Folorunsho saw her effort saved.
Despite the exit, head coach Bankole Olowookere was pleased with the effort shown by the girls and said they have learnt lessons and will now look to finish off their campaign with a medal when they take on Germany in the play-off.
"This was a big stage, but I am proud of the girls. It was a tough stage, but we gave our best. On penalties it is anyone's game. Anyone can miss a penalty and so it is not a big thing. They should be proud because they have taken us this far. But we will rise from here and ensure we do well next time," he said.
Tanzania leave heads high
Meanwhile, Tanzania's Serengeti Girls exited the Under-17 World Cup after a 3-0 loss at the hands of the Colombians in the quarter finals in India, but will leave with their heads high after advancing to the knockout phases in their very first attempt.
Head coach Bakari Shime says he was proud of the girls.
"We went to represent Tanzania and we are proud of what we achieved. We are still growing in world football and it was a moment of pride for us to go all the way to the quarter finals. We have now picked experience and we come back home better," said the coach.
He added; "There are very many lessons we picked from the tournament and now we know what to improve on and what to do better. For now, the task is not to qualify, but to do better than we have done this time, when we qualify for the tournament again."
Against Colombia, Tanzania could not fire as they did in the group stages and skipper Linda Caicedo, Yesica Munoz and Gabriela Rodriguez scored to give the Colombia the lead inside the first half.
It went from bad to worse for the Serengeti Girls as they had Zainabu Ally and captain Noela Luhala sent-off.
The Serengeti Girls started with a 4-0 defeat to Japan, and went on to defeat France 2-1. They battled to a 1-1 draw against Canada in the last group match.