6 Most accomplished long-distance runners of all time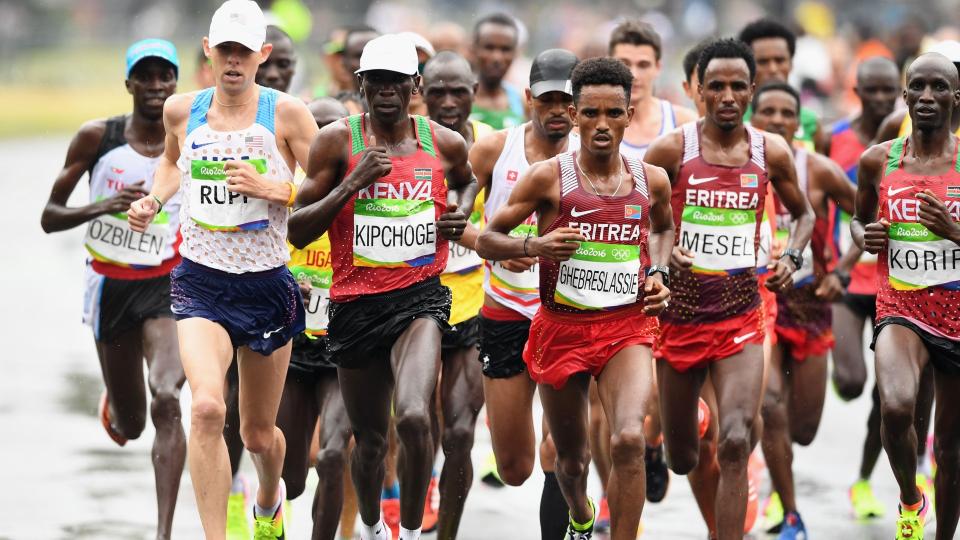 Men's qualifying time in a World Marathon Major race is 2:11:30 or faster and 2:29:30 or faster for women.
Some marathon races allow runners from as low as 7 years of age, but most require that runners be at least 18 years.
London Marathon, Berlin Marathon and Chicago Marathon are among the top six world marathon majors.
Long-distance running is among the major category in the Track and Field Athletics disciplines with its distance ranging from3,000 meters to 10,000, 20,000, and 30,000 meters.
Marathons and cross-country running are also considered long-distance races.
The below lists some of the most accomplished long-distance runners globally.
1. Haile Gebrselassie
Topping our list is Ethiopia's retired long-distance runner Haile Gebrselassie who specialized in both long-distance track and road running putting his country's name on the world record in the late 90s and early 2000.
The 49-year-old athlete is among the most decorated sportsmen in long-distance running having won two gold medals at the Olympic games in 10,000 meters distance with up to four titles in the World Championship.
At the Berlin Marathon, he recorded four times wins consecutively with three undisputed wins at the Dubai Marathon in the same discipline.
He also competed in the indoor competition where he recorded four world titles including the 2001 World Half marathon champion.
Gebrselassie set up 27 astounding world athletics records and broke 61 Ethiopian national records an accomplishment that has not been broken yet.
He retired with a personal best of 2:03:59 set at the Berlin Marathon in 2008.
2. Eliud Kipchoge
Eliud Kipchoge is a Kenyan professional long-distance runner specializing in marathon running.
It is his racing tactics and records that earned him the 'greatest marathoner of modern times' title.
Prior to Marathon running, he competed in the 5000 meters where he hold an Olympic bronze medal with two silver medals and a world junior record at the IAAF World Cross Country Championships.
Later in 2003 at the age of eighteen became the senior 5000 m world champion at the World Championships in Athletics setting a championships record.
He later shifted to marathon running in 2012 where he recorded his first win in Hamburg.
He has since won five Chicago Marathon records, Four London Marathon records, and five-time World Championship 5000.
At the Olympic Competition, he won the 2016 and 2020 Olympic Marathons.
He holds a personal best of 2:01:39 set at the Berlin Marathon in 2018.
3. Mo Farah
Mo Farah is a British long-distance runner who has been competing since the mid-90s.
Farah holds ten global championship gold medals among then four Olympic titles and six World titles making him one of the most decorated male track distance runners.
In the period between 2010 and 2017, he recorded up to eighteen first-place finishes in the world's famous marathons and even the Olympics.
4. Paula Radcliffe
Radcliffe, a former British long-distance runner is a three-time winner of the London Marathon in 2002, 2003, and 2005 respectively.
She is also a three-time New York Marathon champion in 2004, 2007, and 2008 respectively, and also the 2002 Chicago Marathon winner.
She was the fastest female marathoner of all time for 16 years (2003-2019) holding a personal best of 2:15:25 but later Kenya's Brigid Kosgei broke the record and up to date, she is the fastest female long-distance runner of all time.
5. Dean Karnazes
Karnazes is an American ultramarathon runner and author.
He earned his place among the elite long-distance runners through his extraordinary feat of running 350 miles in 80 hours and 44 minutes continuously without sleeping.
Karnazes has competed in the most intense ultra-marathons in the world, including the Badwater Ultramarathon held across Death Valley in America and the Vermont Trail 100-Mile Endurance Run successfully.
He successfully attempted to run 50 marathons in more than 50 nations on 50 consecutive days.
6. Kenenisa Bekele
Bekele is an Ethiopian long-distance runner.
He competed in both 5000m and 10,000 where he holds a world record in both categories from 2004 to 2020.
He won the gold medal in the 10,000 m and the silver medal in the 5000 m t the 2004 Olympics that was held in Southern Europe.
At the 2008 Summer Olympics that were held in China, he won the gold medal in both the 5000 m and 10,000 m.
He has also successfully competed in cross-country running a move that made him the most successful runner at the IAAF World Cross Country Championships with an astounding 11 long and short course victories.
He won both the 5000 meters and 10,000 meters respectively at the 2009 World Championships