Ten Hag punishes Man United flops following 4-0 brentford defeat
The players for Manchester United were scheduled to get the day off on Sunday,

 but they were instead required to participate in additional training following their humiliating loss to Brentford.

Erik ten Hag insisted that the players complete a distance of eight and a half kilometres of running

The club's morale may deteriorate due to Cristiano Ronaldo's negative attitude, which is a cause for concern.
Ten Hag punishes his boys
After a humiliating 4-0 loss at Brentford on Saturday, Erik ten Hag called his  players into the clubhouse for further training on Sunday.
The outraged manager of Manchester United referred to the performance as "rubbish". Hewent a head to cancel a day off that had been scheduled for the players and ordering them to report to the Carrington training camp instead.
Ten Hag's team had to run the same distance on Sunday in temperatures over 30 degrees as a form of punishment for the fact that they ran 8.5 fewer miles than Brentford did in total.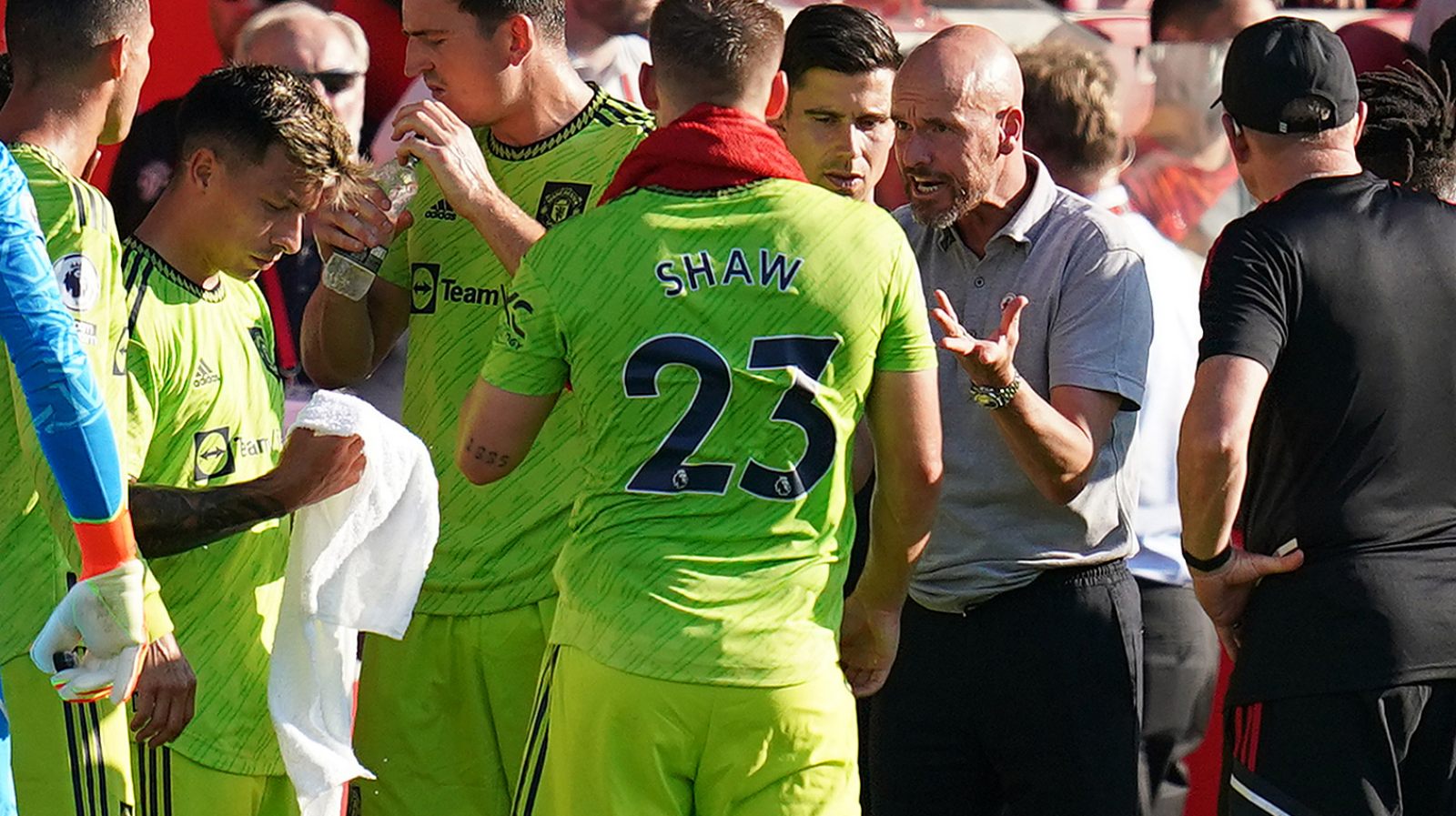 It has been said that Cristiano Ronaldo is performing well in training. Still, he had words with Ten Hag's No. 2 Steve McClaren after declining to applaud United's travelling fans. There is a suspicion that his attitude is detrimental to the dressing room.
However, Manchester United has shut down rumours that Cristiano Ronaldo's contract could be terminated. The club reaffirmed that the player will continue to play for the club.
READ ALSO: Problems Eric ten Hag must fix after humiliation by Brentford
Ten Hag decided to be strict with his talents who were not performing to their potential. He arrived early on Sunday morning before presiding over an investigation into the most recent embarrassment.
A humiliating 2-1 loss to Brighton at Old Trafford on the first weekend of the season set the tone for the thumping that took place away at Brentford.
Ten Hag is the first United Manager in the 21st century to start a season with two loses in a row
Ten Hag is the only United manager in more than a century to start his tenure with two straight defeats.
The team that has won the English title 20 times, is currently in last place in the Premier League rankings.
Concerningly, the next match will take place at home and will be against bitter rivals Liverpool. United lost  by a score of 5-0 during Liverpool's most recent visit to Old Trafford in October.
As Manchester United teeters on the edge of a full-blown catastrophe, additional demonstrations directed against the club's owners are scheduled to take place during that game.
Ten Hag will use the loss they suffered on Saturday as motivation to increase his demands for new recruits before the transfer market ends on September 1.
After the fact, he admitted that Manchester United sorely needs to enhance their team. However, the club has not yet signed a defensive midfielder or a forwards.
Adrien Rabiot, a midfielder for Juventus, could be headed to Manchester United in a move valued up to £19 million and now stands at £15.2 million.
 Football Director John Murtough is scheduled to continue conversations with the Frenchman's mother as well as his agent Veronique.
De Jong is rumoured to prefer joining Chelsea if he departs Barcelona. However, sources suggest that United would not stop pursuing him even if they sign another player.