Lando Norris' mind games with Fernando Alonso at French GP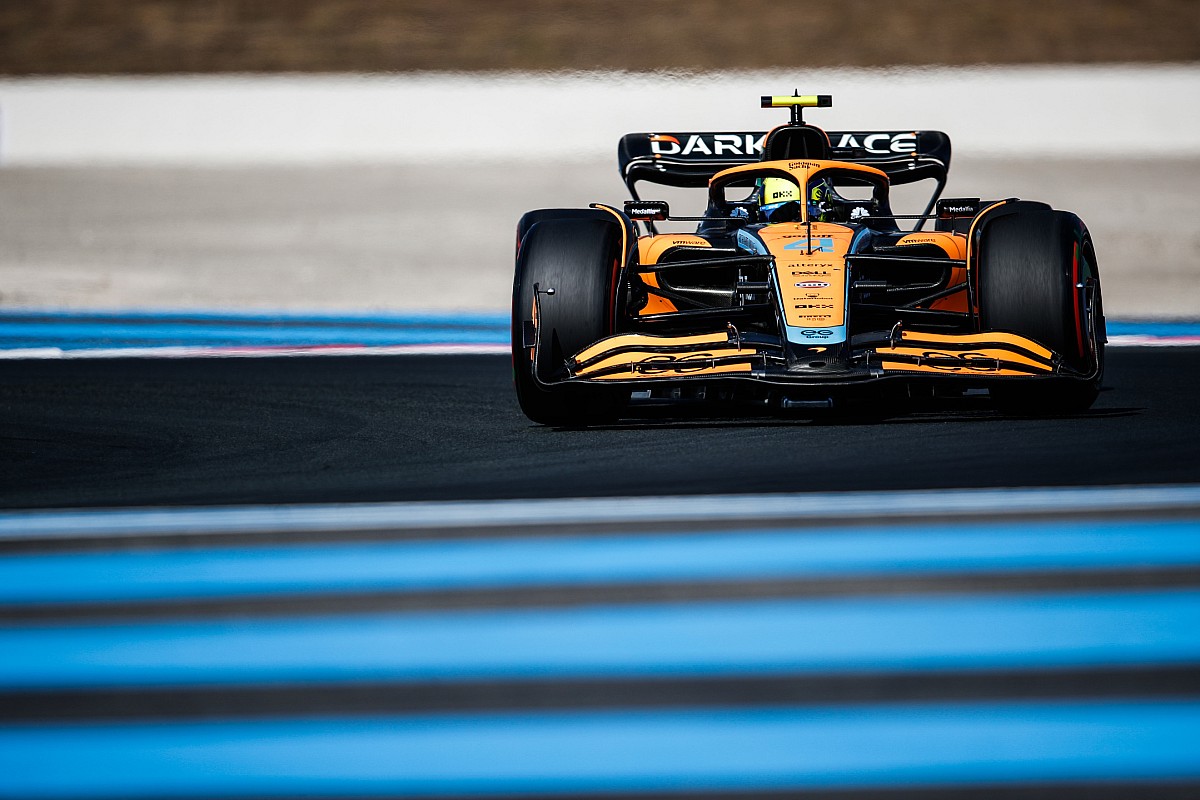 Fernando Alonso of Alpine sought to get into Lando Norris's mind after the race
Alonso's narrative was to undersell McLaren after a spirited battle in the French GP
Lando Norris presently holds a secure position in seventh place in the driver rankings
The performance of Lando Norris and the Papaya team in the French Grand Prix was quite successful.
The highly important points haul was essential to the team's success, as they finished seventh in the heat of the Le Castellet race.
On the other hand, according to a peculiar new piece of information, the toll may have been too much for the McLaren challenger to bear. As Norris stepped out of his vehicle at the race's conclusion, he was slightly taken aback to discover that his vehicle was dismantling itself.
After stepping outside, the Britton observed a large piece of carbon fibre lying there. As Norris picked up the piece, examined it over, and tossed it into his vehicle, he appeared bewildered. The item is now his mechanic's problem.
Norris must be giving thanks to his lucky stars that his MCL36 did not break down while he was competing, as this would have added him to the high number of competitors who did not finish the race.
A great deal of excitement surrounded the Grand Prix of France because several teams debuted upgraded vehicles at the Circuit Paul Ricard. One of them was the British team McLaren, which was excited about their opportunities in the race.
On the other hand, Fernando Alonso of Alpine made an underhanded attempt to get one over on Norris on Saturday.
During a display of the art of battle, the Spaniard sought to get into Norris' brain by saying things like, 'Lando being half a second in front of us is a little bit too much, unreachable for us, and that is a little bit troubling.'
However, he added, let's see their racing speed, how they manage their tires, and everything else. It is my hope that we will be able to challenge him.
But Norris is not one to be underestimated, and he immediately called out this bluff by stating, that Alonso was trying to mess with people's minds. The McLaren driver added that Fernando was aware that he would go after him.
It turns out that Norris was correct, as the Briton finished a significant distance behind the Alpine driven by Alonso. Although Alonso's strategy of underselling their performance may not have worked exactly as planned, the fact that he finished ahead of Norris will make him less concerned about the outcome.
In the meantime, Norris will be hoping for a performance at Hungary that is comparable to or even better than the one he had in the previous race.
The Briton presently holds a secure position in seventh place in the driver rankings, and he will want to finish the season in that same spot, as his chances of overtaking Lewis Hamilton in the standings are extremely remote at this point.