Gabriel Jesus biography and net worth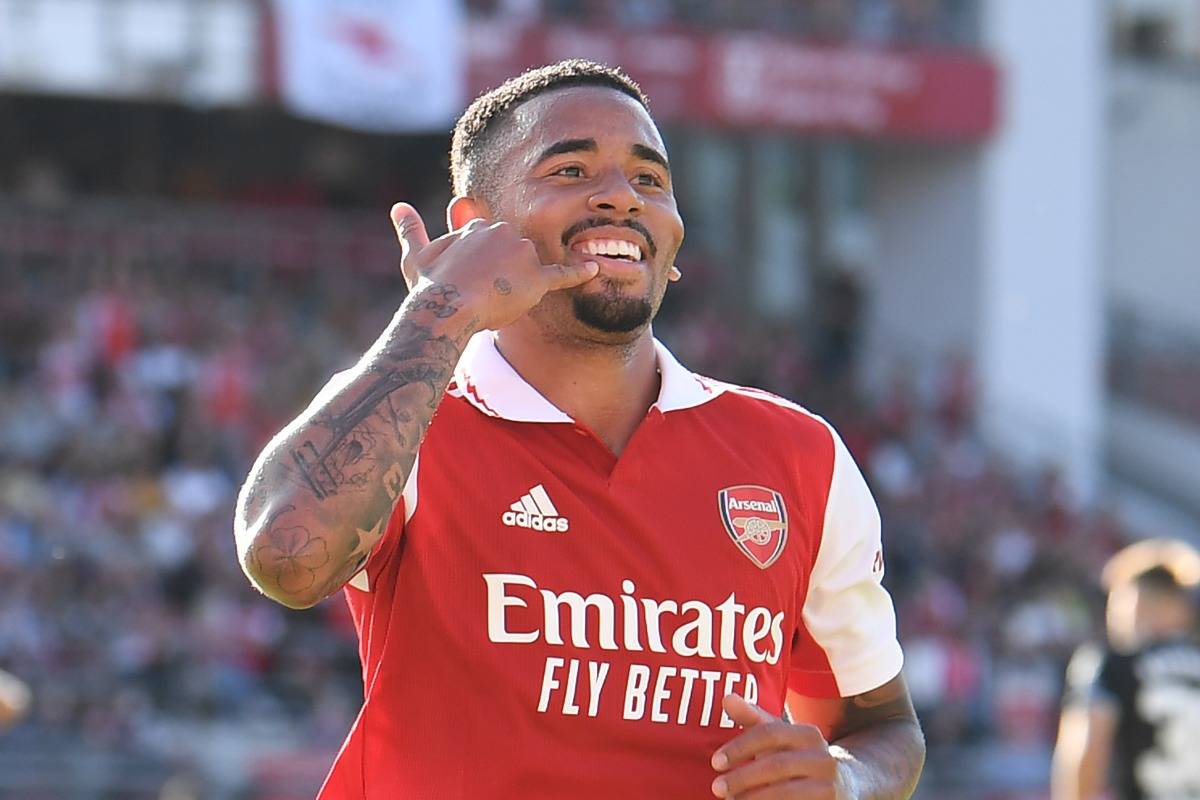 Gabriel Jesus plays for Arsenal and the Brazil national team. He can play in any attacking position. 

Jesus joined Arsenal from Manchester City this summer transfer window. The Brazilian earns 265,000 euros at Arsenal. 

Gabriel Jesus is dating Raiane Lima. The two have a daughter who was born this year. 
Gabriel Jesus is a professional footballer who plays for Arsenal and the Brazil national team. Gabriel is one of the best strikers in the world. 
The Brazilian international is a versatile and highly talented player. Gabriel Jesus can play in any attacking position. He proved his ability to play at various positions during his time with Manchester City. 
Jesus played as a centre forward, winger, false 9, attacking midfielder, as well as an inside forward. The attacker plays confidently as he dribbles and beats his opponents with pace.
Gabriel Jesus is one of the most successful Brazilian footballers to ever play in the English Premier League. Jesus won four Premier League titles and one FA Cup, among other trophies with Manchester City. 
Gabriel Jesus Biography
Full Name                       Gabriel Fernando de Jesus
Date of Birth                   April 3, 1997
Age                                    25
Place of Birth                  Sao Paulo, Brazil
Height                              1.75 m (5 ft 9 in)
Nationality                      Brazilian
Occupation                      Footballer
Marital Status                 Single
Early Life
Gabriel Jesus was born on April 3, 1997, in Sao Paulo, Brazil. Diniz de Jesus (father) and Vera Lucia Jesus (mother) are his parents. 
Jesus grew up in the neighbourhood of Jardim Peri. He showed the potential to become a professional footballer at a very tender age. He used to play street football with other kids his age in the streets of his home town. Jesus began playing football when he was just 5.
Gabriel Jesus initially played as a central midfielder. He was among the most talented kids in his neighbourhood. The young Gabriel Jesus converted into a striker after the 2002 FIFA World Cup. Jesus became a striker so he could play like his idol, Ronaldo de Lima. 
Gabriel Jesus played for amateur club Associacao Atletica Anhanguera before he got the attention of Palmeiras in 2010. He spent time at Palmeiras academy before being promoted to the club's senior team in 2015. 
Career
Gabriel Jesus made his debut as a professional footballer at Palmeiras. He was voted as Palmeira's Best Newcomer in his debut season, where he won the Campeonato Brasileiro Serie A, and the Copa do Brasil. 
Jesus played a crucial role in 2016 as Palmeiras won their first national league title in 22 years. He also won his first major individual award, Bola de Ouro, which is given annually by Brazilian sports magazine Placar to the best player in the Campeonato Brasileiro.
Jesus was already attracting attention from European clubs during his time with Palmeiras. Manchester City signed Jesus in the summer of 2016 for 27 million euros. The transfer was fully completed during the 2017 January transfer window. 
The Brazilian scored and provided an assist in his first Premier League match for Manchester City. He ended the 2016-17 season with seven goals and four assists in 11 games. He quickly became a fan favourite at the City of Manchester Stadium due to his goalscoring ability. 
Jesus helped Manchester City win four Premier League titles during his time with the club. He was also crucial to Pep Guardiola's side as they reached the UEFA Champions League final in 2021. Manchester City finished as runner-up after losing 1-0 to Chelsea. 
Jesus, who had one more year in his contract with Manchester City, joined Arsenal this summer for 45 million euros.
Personal Life
Gabriel Jesus comes from a very religious family. He chose to wear jersey number 33 in his first season at Manchester City in tribute to the age Jesus Christ is believed to have died. 
Gabriel Jesus is banned by his mother from going out on town to smoke, drink or party with girls. According to Jesus' mother, the striker lowers his head when speaking to him as a sign of respect. Gabriel Jesus' mother controls his salary. 
Gabriel Jesus and Neymar Jr. are very close friends. The two have matching tattoos of a boy overlooking a favela.  
FAQs
Is Gabriel Jesus married?
Gabriel Jesus is not married. However, he has a baby, Helena (born in June 2022). He is dating Raiane Lima. 
What is Gabriel Jesus' net worth?
Gabriel Jesus has a net worth of $27 million. 
What is Gabriel Jesus' salary at Arsenal?
Gabriel Jesus earns 265,000 euros every week.