Chespol reveals she nearly pulled out of the steeple final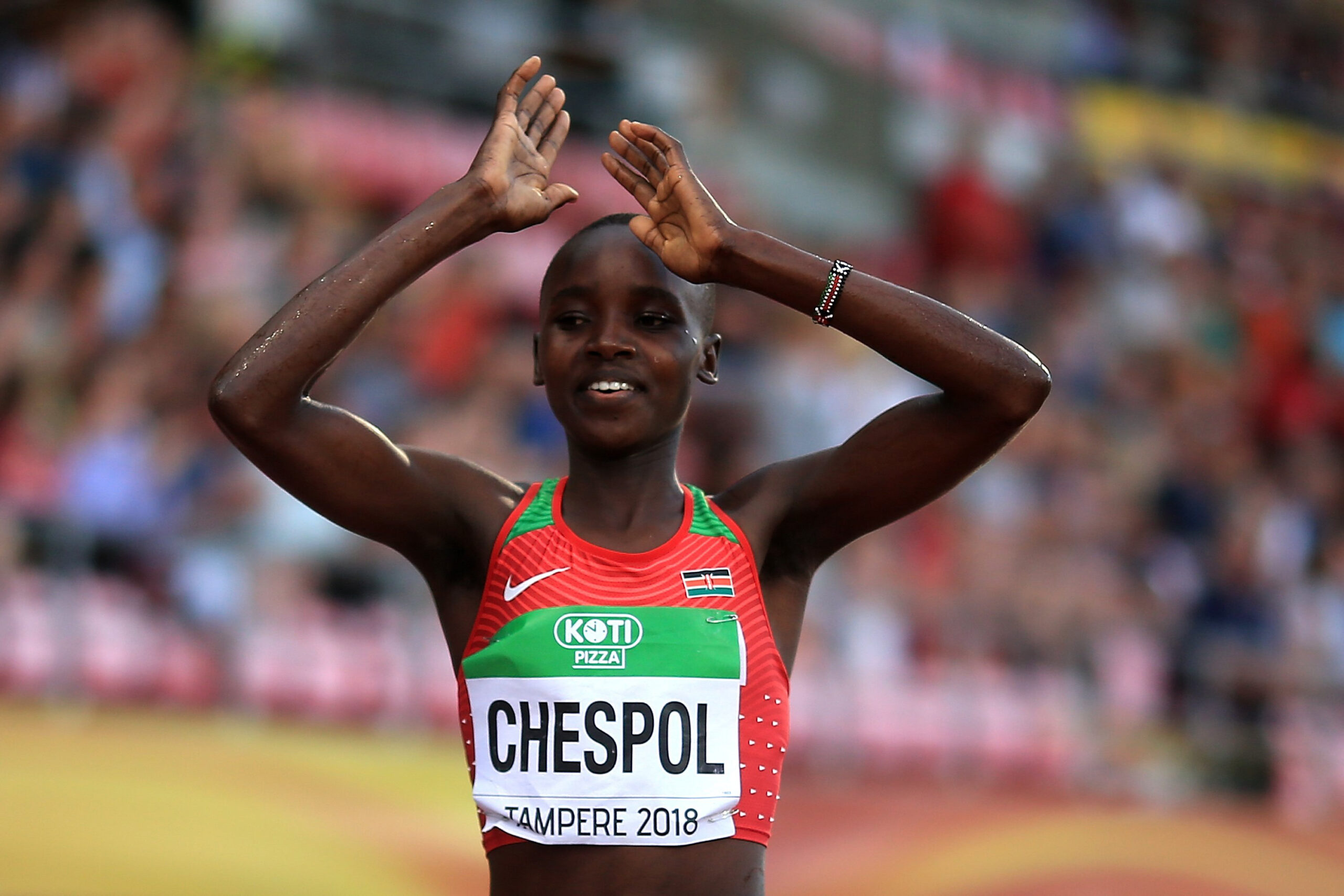 Chespol said she started feeling a sore knee during warm up
She blamed her poor performance to lack of a physio in the Kenyan team
The 22-year old is uncertain she will compete at the Commonwealth Games
Former World Under-20 and World Under-18 Champion Celiphine Chespol has revealed she nearly pulled out of the final of the 3,000m steeplechase on Thursday morning due to a knee strain.
Chespol finished a disappointing 13th in the race won by Kenyan born Norah Jeruto who now runs for Kazakhstan.
Jeruto clocked the third fastest time in history and a championship record of 8min 53.02sec for the steeplechase victory in Eugene, with Ethiopian Werkuha Getachew claiming silver in a national record of 8:54.61.
A second Ethiopian, Mekides Abebe, made the most of a mistake by Kenyan-born Bahraini Winfred Mutile Yavi on the final water barrier, to snatch bronze in 8:56.08.
Speaking after the race, Chespol said the fact that Kenya did not travel with enough physios to the Championships was a huge let down and said she had to rely on Jeruto's coach to help her get through initial pain and race.
"I had thought about pulling out because during the warm up I felt pain in my knee. The bad thing is that we don't have enough physios. We run from the heats to the semis and final and there is no one to even give you a massage," said Chespol after the race.
Jeruto's coach comes in handy
"When I picked the pain, Norah's coach helped me a bit to stretch out and massage to help me get on the start line. Even through the race, I could also feel it and that is why I am even more thankful that I finished," she added.
Kenya has now failed to defend the title in both the men and women's steeple, with Conseslus Kipruto finishing third while there was no Kenyan medalist among the women. Defending champion Beatrice Chepkoech did not travel to Eugene to defend her crown due to a hairline fracture.
Meanwhile, Kenya's athletes all made it to the next stage of the 800m and 5,000m.
Margaret Chelimo, Beatrice Chebet and Gloria Kite all qualified for the final of the women's 5,000m while the quartet of Olympic champion Emmanuel Korir led the Kenyan duo of World U20 champion Emmanuel Wanyonyi , Commonwealth Games champion Wycliffe Kinyamal and Noah Kibet into the semi-final of the men's 800m.
In the women's 5,000m, Chebet and Chelimo finished third and fourth in their heats while Kite finished sixth in hers, but still squeezed in as one of the non-automatic qualifers.
Chebet finish third
Chebet timed 14:53.34 for third while Chelimo went through with a time of 14:53.45. Gudaf Tsegay won the race while Dewit Seyaum finished second.
In the men's 800m, Korir won his heat in 1:49.05, Wanyonyi meanwhile finished third in his Heat won by Morocco's Moad Zahafi who timed 1:46.15. the Kenyan timed 1:46.45, faster than Korir's winning time.
Kinyamal finished second in his heat in a time of 1:45.08 to progress. Kibet meanwhile could not match up to a strong finish in his Heat as Canada's Marco Arop won in 1:44.56. However, the fast times in the Heat allowed him to squeeze in as one of the non-automatic qualifiers.