Five reasons why 2022 is being unkind to Gerard Pique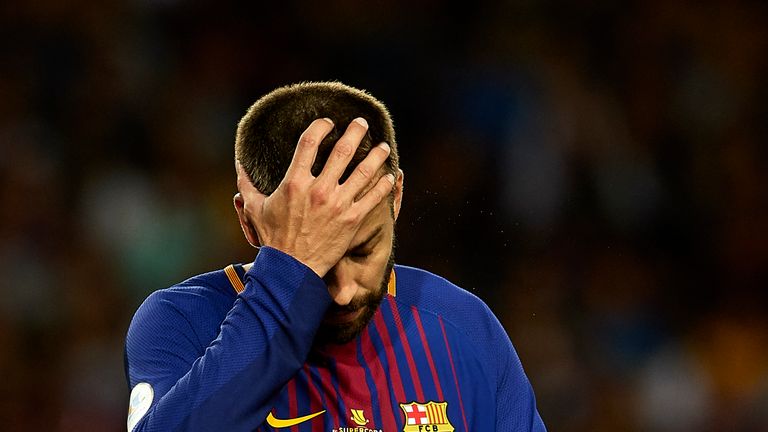 Having won four Champions Leagues, one World Cup, and two Euros, Pique is considered one of the most excellent defender

However, he hasn't been at the top of his game in recent seasons, and the club is reportedly unhappy with his performances 

He recently separated from his partner, with whom they have been together for 12 years, which has affected him
Gerard Pique is a modern-day game legend. And headlines and rumours are a regular part of his life. In 2022, he has been the subject of scandal after scandal involving his name. His life has been turned upside down in just six months in 2022.
The Spaniard is a game champion, having won nearly every award available. He has won four Champions Leagues, one World Cup, and two Euros.
Above all, he has earned the respect of his fans and colleagues. After these severe developments in 2022, he risks losing everything.
Pique is 35 years old and has about two years of top-level football left in him. However, a recent string of allegations has put him under scrutiny.
And if he doesn't find a way, it could be one of the unhappiest endings for a player who was once one of FC Barcelona's most influential figures.
It all began in 2022, and we're here to find out why 2022 hasn't been kind to Gerard.
Exposed corrupt deals
Gerard Pique is an FC Barcelona legend. Because of his devotion to the club, many see him as the club's future president. Last season, he took a significant pay cut to assist the club during a period of financial uncertainty, which was a powerful demonstration of his selfless behaviour.
However, in 2022, a sensational report by El Confidencial ruined his credibility. It alleged him of some serious charges.
As per the leaked documents and recordings, pique persuaded Spanish football president Rubiales to hold the Spanish Super Cup in Saudi Arabia.
According to the reports, his company, Kosmos, made a lot of money. Pique was awarded €6 million, according to the recordings.
Even though the Spaniard denied all allegations, the participation of his company Kosmos, in which he has a significant stake, adds fuel to the fire.
Barcelona woes
The Blaugrana team is in the process of rebuilding. They have failed to win a trophy in the last three seasons. On top of that, financial insecurity has added to the club's woes.
With Joan Laporta's re-appointment and Ronald Koeman's dismissal, FC Barcelona has undergone significant structural changes both on and off the field.
Pique is also caught up in this mess and even cuts short his lucrative contract to help the club.
The multiple Champions League winner is regarded as one of FC Barcelona's finest defenders. And the club's poor performance hasn't helped him.
The secret agent behind Messi's departure
Lionel Messi's exit was one of the biggest transfer storylines in history, and one year later, this shocking departure has had major findings.
Joan Laporta, the club president, handled the negotiations and cited the club's financial constraints as the primary reason for Messi's departure.
Every Barcelona fan was devastated by that move, and even the Argentine couldn't believe what happened after an agreement to take a significant cut.
According to the Spanish news outlet EL Paris, Gerard Pique directed Joan Laporta to release Messi to reduce financial insecurity. Furthermore, the Spaniard did not accept the pay cut until Messi left the club.
Their relationship has reportedly been shattered as a result of these revelations. And Messi did not invite Pique to his January reunion with Barcelona.
 Separation from Shakira
Not only has Pique's professional life suffered in 2022, but his personal life has also suffered significantly.
The Spanish defender and his long-term partner Shakira recently announced their split after the Colombian singer allegedly caught Pique red-handed.
The celebrity power couple had been married for 12 years. They have two children.
They first met in 2010 during the FIFA World Cup, when Shakira stole the Spanish centre-back's heart.
Pique and Shakira confirmed their relationship publicly in 2011 and were named the "World's Most Powerful Couple" by Forbes.
Shakira was seen shivering her love for the Spanish defender on Instagram a few weeks ago, so their split was a surprise.
Barcelona reportedly wants him to retire
Gerard Pique is 35 years old and has a contract with FC Barcelona until 2024. The experienced defender hasn't been at the top of his game recently, and the club is reportedly unhappy with his performances.
He may have two to three years left to compete at the highest level, but his current performances have not been at the level of Barcelona.
Pique's agent previously denied any plans to retire in December 2021, but the latest events in Spain have reignited the story. The Barcelona board reportedly wants Pique to retire, which would significantly reduce the club's wage bill.