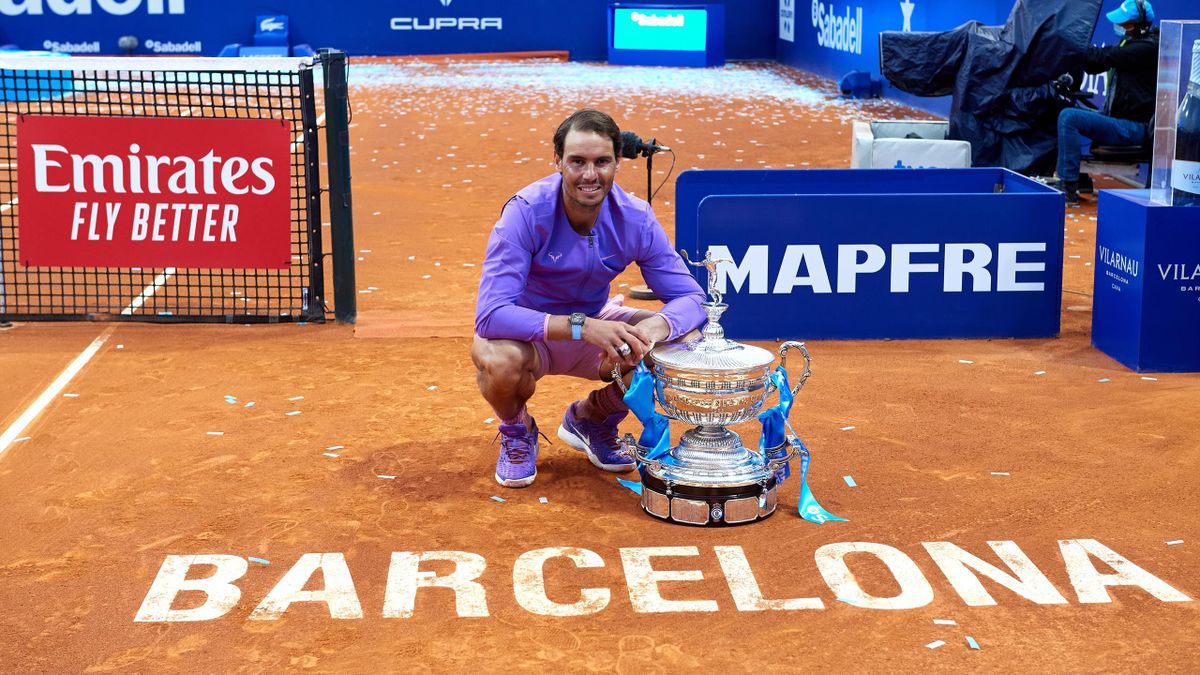 Rafael Nadal has been forced to withdraw from this year's tournament because of an injury
He injured one of his ribs at the Indian Wells Open where he lost to Taylor Fritz
Nadal has never lost the Barcelona Open in the last 10 years
He misses an opportunity to defend his championship at the tournament
Reigning Barcelona Open champion Rafael Nadal has been forced to withdraw from this year's tournament because of an injury.
The 21-time Grand Slam champion was sidelined for between four and six weeks after injuring his rib at the Indian Wells Open in mid-March.
While it had been expected that he would return sooner rather than later in order to begin his preparations for the French Open, he is yet to reach full fitness.
His team made the announcement to Reuters saying he has withdrawn from the tournament.
"Rafa has just been withdrawn from the entry list in Barcelona."
Last year, Nadal beat Stefanos Tsitsipas in three sets to win his 12th Barcelona Open title.
Before he was sidelined by an injury, the Spaniard won the Melbourne Summer Set, the Australian Open, and the Rio Open in stunning fashion. Before losing to Taylor Fritz at Indian Wells, he was undefeated on the season.
If he does play on clay in 2022, it's likely to be at the Madrid Open, which begins on May 2nd, or the Italian Open, which begins a week later.
Nadal suffered from chest problems that made it difficult for him to breathe during his final Indian Wells match against Fritz who eventually won the tournament.
Speaking to the press post-match, the Spaniard opened up on his breathing difficulties at the tournament. He lost 3-6, 6-7(5) loss to Fritz.
"Only thing I can say is it's tough to breathe for me. I feel very, very – when I try to breathe, it's painful and it's very uncomfortable," he said.
At the end of his semi-final match against Carlos Alcaraz on Saturday, Rafael Nadal required medical attention.
After losing his first four games in the final on Sunday, it was evident that Nadal was not in the best of spirits. He refused to chase down balls and kept scratching his chest.
In the second set, despite his difficulties, he returned to the court and won the second set despite the doctor's intervention.
He said his focus now is finding out what is ailing him.
When I'm breathing, when I'm moving, it's like a needle all the time inside. I get dizzy a little bit because it's painful. It's a kind of pain that limits me a lot. It's not only about pain, I don't feel very well because it affects my breathing," Tennis365 reports.
He, however, said that he is not taking this as an excuse for losing to Fritz adding that he did the best he could.
The 21st Grand Slam champion had won his first 20 matches of the season, collecting three titles, including a 21st grand slam victory at the Australian Open.
He was considered the favourite to win the inaugural Masters event in 2022 but luck was not on his side.
Nadal already withdrew from Miami Open which begins in two weeks. He said that he will take time off to relax while getting ready for the clay court in May.
Nadal's loss in the final of Indian Wells in straight sets was his first loss of the year.