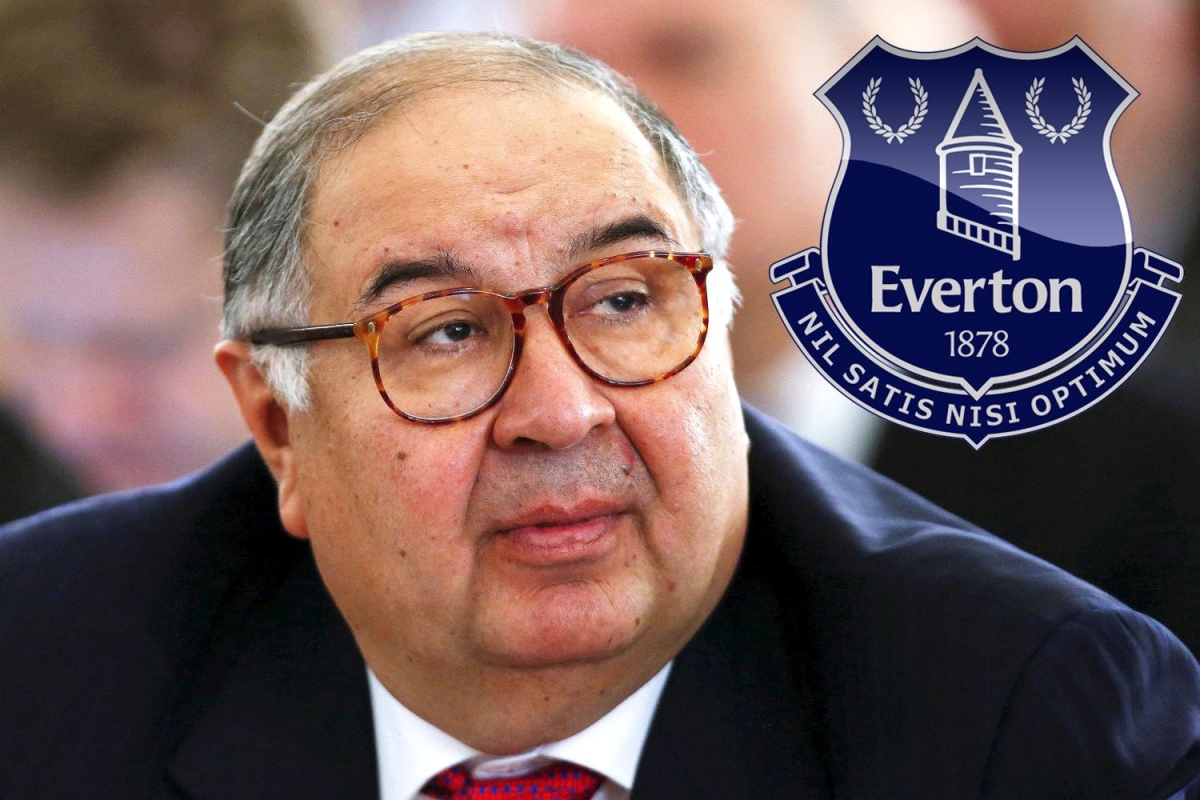 Russian billionaire Alisher Usmanov has had his assets frozen by the UK amid Russia's invasion of Ukraine
Usmanov's company USM Holdings sponsors Everton's training ground and Everton Women's Team
What next for Everton without the Russian sponsorship?
Usmanov fighting to save his empire states the sanctions are based on defamatory charges
Everton- linked Russian billionaire Alisher Usmanov has been sanctioned by the UK government following Russia's invasion of Ukraine.
It is said that the Russian billionaire has had ties with President Putin.
Everton fans are now wondering how the club's suspension of sponsorship agreements with Alisher Usmanov and his firm, USM, would influence matters in the short and long term,
The Russian invasion of Ukraine has had far-reaching consequences in the sporting world.
Manchester United recently declared that its partnership with Russian airline Aeroflot will come to an end, while
Chelsea owner Roman Abramovich stated that he would be selling the club, bringing his 20-year ownership to an end.
President Putin's decision to use military action to invade Ukraine has created an international crisis.
with the US, EU, and others imposing sanctions on wealthy individuals and Russian enterprises in an attempt to put pressure on Putin to end the conflict.
The EU Council said: 'Alisher Usmanov is a pro-Kremlin oligarch with particularly close ties to Russian president Vladimir Putin.'
Usmanov, who owns no shares in Everton but whose companies such as USM and MegaFon have boosted revenues significantly through sponsorship deals.
Has been named in the EU sanctions report as
someone who "actively supported materially or financially Russian decision-makers responsible for the cession of Crimea and the destabilization of Ukraine"
and "actively supported the Russian government's destabilization policies in Ukraine."
"Our message to Putin and his allies has been clear from day one – invading Ukraine would have serious and crippling economic consequences.
"Sanctioning Usmanov sends a clear message that we will hit oligarchs and individuals closely associated with the Putin regime and his barbarous war.
"We won't stop here. Our aim is to cripple the Russian economy and starve Putin's war machine."
Said The Secretary of State for Foreign, Common Wealth and Development Affairs of the United Kingdom Liz Truss
USM Holdings Sponsorships
USM Holding, a Russian firm, sponsors the club's training ground and has already paid for the Bramley-Moore Dock stadium's name rights.
The new Everton stadium is scheduled to open in the next three years.
The USM sponsorship package for Everton's training ground, Finch Farm, is worth roughly £6 million each year, however, the contract expires in the summer.
Megafon, a USM-affiliated company, and YOTA, a Russian-based internet corporation, are both sponsors of the Everton Women's team.
Their backing added up to a sizable piece of cash for the club, especially when combined with other commercial agreements such as LED pitch advertising, branding, and match day efforts.
Usmanov is close to Everton owner Farhad Moshiri, and his firms have donated important sponsorships to the club.
This includes the training ground, naming rights for the new stadium, and USM's sponsorship of the women's squad.
What next for Everton without the Russian sponsorship?
Everton said yesterday that it was dissolving its sponsorship relationships with its Russian partners, suspending partnerships with USM, Megafon, and Yota with immediate effect.
Usmanov, on the other hand, will not be concerned by this because he has already walked out the door.
Everton's problems are more serious, as they will need to find new funding and sponsors.
It will be up to Moshiri to decide whether or not to sell his stake.
Bill Kenwright, the club's former primary owner, still has authority over the club, although he lacks the financial means to fund a real Premier League bid and is unlikely to put his money back in.
Usmanov fighting to save his empire
Furthermore, both in the economic and sporting sectors, Usmanov is fighting to save his empire and image.
He resigned as president of the International Fencing Federation (FIE) last week, citing restrictive measures imposed by the European Union in a statement:
"On February 28, 2022, I became the target of restrictive measures imposed by the European Union.
" I feel that such a judgment is unjust and that the justifications for the sanctions are based on a series of false and defamatory charges that have harmed my honor (sic), dignity, and company reputation.
"I shall defend my honor and reputation with any legal means at my disposal."